Christian Life
6 Things All Christians Must Do Outside Preaching The Gospel
6 Things All Christians Must Do Outside Preaching The Gospel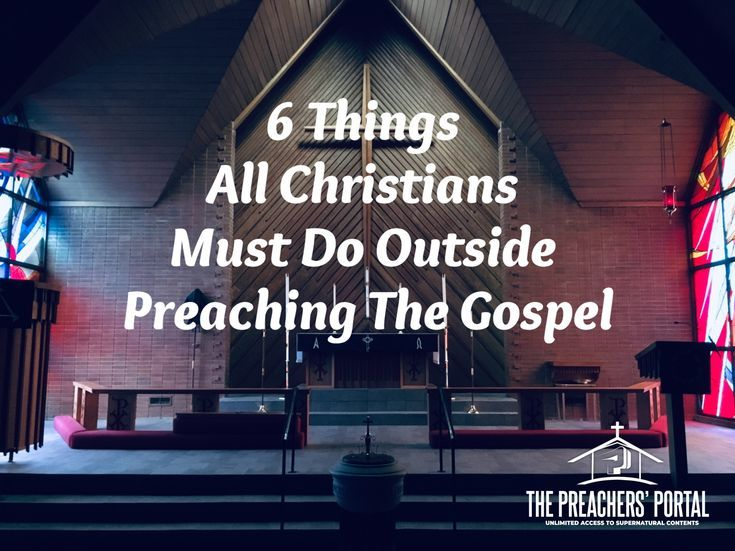 6 Things All Christians Must Do Outside Preaching The Gospel
6 Things All Christians Must Do Outside Preaching The Gospel
The word is  Mark 16: 15And He said to them, "Go into all the world and preach the gospel to every creature. The world is the marketplace. We live in it, but we are not of it. We are under the government's rules and regulations, but our very being is under the regulation of The Kingdom. 
But there are many things we lack as Christians which make us miss out on taking dominion and subduing the earth.  Christians don't want to get involved with the things that define their existence here on earth. You are IN the world and not OF the WORLD. But you take over the affairs of the world by contending for it and having the victory.  Deut. 2:24 I have delivered into your hand Sihon the Amorite, king of Heshbon, and his land. Begin to take possession of it and engage him in battle.
ALSO, READ What Does The Bible Say About Life Insurance?
In the past, some churches saw social media as a demonic tool to advance immorality and warned their followers to desist from it. But as an organic system, the internet media has gathered more followers and thus more people have been lost because Satan goes where the traffic is.
All Christians Must Do This Outside Preaching The Gospel
Now we are waking up and gradually the gospel is spreading with teachings and short clips that touch lives all over the world in the same medium. A lot of revivals are happening all over the media, and the devil is not happy about it. But there are other areas we need to get into, and this article lists some of them.
Below are some aspects that all believers should get involved in and not leave it to chance. 
1. Get Insurance 
This is very uncommon, especially in most African nations, Christians don't get insured or subscribe to a plan. Getting Life Insurance does not mean you don't believe in God. Also, Getting Health Insurance does not mean you don't believe in the healing power of God. Getting Auto Insurance does not mean you don't believe in the protective power of God. These policies and coverage are of great necessity in times of need. No one prays to fall ill or lose property but getting insurance is a necessity.
The Bible says 'the Horse is prepared for battle but safety is of the Lord. Preparing the horse is a necessity, but not a guarantee of victory because when we trust in our horses we forget the protective power of God. God wants us to do the necessary while we trust in Him. He loves principles and when we obey them we enjoy the fullness of His Grace
The Benefits Of Insurance 
Insurance Keeps Business Alive
Insurance Is A Requirement For Investors
insurance is required In Some States
Insurance Provides Comfort
Insurance Provides Financial Security for Families and Businesses
Insurance Provides Coverage for Small Businesses
Purchasing insurance is a wise decision.
2.. Invest, in Crypto, Stock and Shares 
It's not a sin to INVEST. The Bible mentions that you cast your bread upon many waters and you shall find it after many days  ECCL 11: 1 Cast your bread upon the waters, for after many days you will find it again. Give portions to seven, yes to eight, for you do not know what disaster may come upon the land. If clouds are full of water, they pour rain upon the earth.
Buying stocks and shares to secure a formidable future is not a sign of lack of faith or disbelief. When you invest in stocks, you have a futuristic mindset and also a channel through which God can bless you. It's the work of Satan to make Christians believe that poverty is their heritage, and therefore prosperity should not be associated with them. The Bible says Thus saith the Lord of hosts; My cities through prosperity shall yet be spread abroad – Zech.1:17
When money is in the hand of a believer and God is in his heart, there is nothing that can not be achieved in the body of Christ.  Don't be deceived, money answers all things ECCL 10:19. It is not a carnal statement but the truth. The evil is the love of money above the love of God, not the use of money. 1 TIM 6;10
All Christians Must Do This Outside Preaching The Gospel
The gospel of the resurrection of Jesus is still questioned today because money was used to attack the truth. Soldiers were paid to tell a lie that the disciples came and stole his body and till this day it's been said in Matthew 28:12-14.  Jesus Christ said it himself, you cannot serve God and Mammon (the god of money) meaning Satan is not as powerful as money. MATT 6;24
This is why financial security is important to a believer. You must save and invest to enjoy financial rest. Investing in cryptocurrency, shares, stocks, and so on is not a sin. Get involved now, while the world is moving in that direction. 
3. Going for Scheduled Medical Checkup 
Christians don't like to go to the hospital until they get Ill or even worse. When you're healthy, you should once in a while go for a checkup. It's not a lack of faith or fear, but at a certain age, you should put your health on a schedule for checkups. 
Some sicknesses underlie until they become dangerous. Not all illnesses need prayer. God has given us the wisdom to solve many issues that don't require prayers. When your sugar level is high, you don't pray it down, you reduce your intake of sugar and carbs. 
Christians find it weird to go for a check-up without any ailment or symptoms, but this is the right thing to do. Your faith is intact; your mind is sharp. This leads to the next point 
4. Regular Exercise and Fitness Plan 
A disciplined and consistent fitness plan is one thing we shy away from. People think of the word "bodily exercise" as a reason to not keep the body fit but the spirit alone. The body is the vessel that carries the spirit all around. If your body fails, you will have to transfer the spirit or anointing to a healthier body. 
When the body is weak and the spirit is willing, you can be restricted and limited. A healthy anointed servant of God can do more than a sick one. 
As you keep your spirit man fit let your body be fit to carry the mandate too. Be disciplined in your eating habits and diet as well. Eat healthily and watch what you eat. 
You don't pray for self-induced fat to go away, live a life of fasting and breaking with nutritious meals that will regenerate cells and tissues and add vitality to your body. This way, you come back fresher and stronger physically and spiritually. 
Note, that keeping fit is not building a heavy body or muscle for competition or sports. You can be slim or chubby and still be fit without extra muscles.
5. Civil Rights Participation (Politics)
Many Christians, especially in Africa, don't participate in politics and elections. This is the reason why there is religious bigotry and tyranny, as one sect dominates the political landscape of the nations.
When you have more Christians involved in politics, they tend to have roles in the highest offices and this could bring stability.  Christians in the past have been told by their leaders and clerics that politics is a dirty game and no politician is righteous. Some say you have to soil your hands to be a successful politician. 
So this boomeranged and now that the awareness and need for good leadership are high, there are no believers or rather fewer believers in the space to bring good and righteous governance.
ALSO, READ  Proper Praying Positions And Patterns With Biblical References
This must change. You don't have to be a killer or a murderer to be a politician. You can play right and do right without stealing. The Bible says when the righteous rule, the people rejoice. How can this be if no one is running for the office? 
Christians must wake up and get involved.
6. Social Activities and Competitions
There are many reality shows and activities that engage youths and people of all races to participate. In recent times, we have had some people take their Christian faith to these competitions and still come out with the Grand prize. You can take the gospel to the voice. British Got Talent, West African Idol, Nigerian Idol, and still be the winner without discrimination. 
When Christians see themselves in a social space, they hide their faith to avoid discrimination. No! Even Apostle Paul was smart enough to blend into the social space that by all means, he won some. There must be a difference and you're the light don't be hidden  This is an open article up for discussion if you feel some points were not mentioned, you can comment below and add your quota.
JESUS IS COMING SOON !!!
ARE YOU BORN AGAIN? IF NO
Accept Jesus Christ today and secure a life of eternal rest and Glory …
Say this 1 Minute Prayer 

Lord Jesus, I believe you died for my sins, Forgive me of all my iniquities. I accept you as my Lord and Saviour from today and forevermore. Come and Be the Lord of my life and I am willing to obey your command and live according to your will as you help me, Thank you for accepting me into your fold. AMEN

JOHN 3: 3 Jesus answered and said unto him, Verily, verily, I say unto thee, Except a man be born again, he cannot see the kingdom of God