Billy Graham Devotional
Billy Graham Devotional Today 6th December 2021
Billy Graham Devotional Today 6th December 2021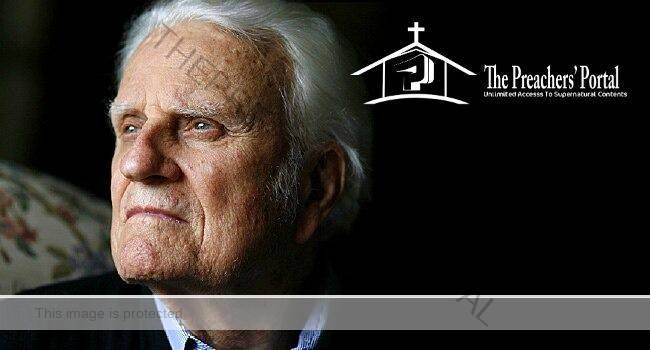 Billy Graham Devotional Today 6th December 2021
Billy Graham Devotional Today 6th December 2021
CLICK HERE FOR PREVIOUS READING 
Billy Graham Daily Devotional For Today 6 December 2021 Monday Message Written By Billy Graham Ministries
TOPIC: Relying on Grace
SCRIPTURE: Yet not I, but the grace of God which was with me. — 1 Corinthians 15:10
MESSAGE
Let us face this fact: We came into the world with nothing, and we will leave it with nothing. Where do we get the notion that man's idea of success and God's are the same? You have written a book; you are a clever manager and promoter, you are a talented artist, you are independently rich; you have achieved fame and fortune. Without the gifts of intelligence, imagination, personality, and physical energy-which are all endowed by God-where would you be? Are we not born poor? Do we not die poor? And would we not be poor indeed without God's infinite mercy and love?
ALSO, READ Billy Graham Devotional Today 1st November 2021
We came out of nothing; and if we are anything, it is because God is everything. If He were to withhold His power for one brief instant from us, if He were to hold in check the breath of life for one moment, our physical existence would shrivel into nothingness, and our souls would be whisked away into an endless eternity.
Billy Graham Devotional 6th December 2021
Those who are poor in spirit recognize their creatureliness and their sinfulness-but more, they are ready to confess their sins and renounce them.
ALSO, READ Billy Graham Devotional Today 2nd December 2021
PRAYER FOR THE DAY: All I have or am, Lord God, has been given to me by Your almighty hands. Forgive me when I tend to boast about my own accomplishments—for I am nothing without Your grace and love.
Billy Graham Devotional 6th December 2021 Message was written by Billy Graham, Founder of Billy Graham Evangelistic Association (BGEA). BGEA exists to proclaim the Gospel of Jesus Christ by every effective means and to equip the church and others to do the same.
ALSO, READ Billy Graham Devotional 4 May 2021
ARE YOU BORN AGAIN? IF NO ACCEPT JESUS NOW
Accept Jesus Christ today and secure a life of eternal rest and Glory …
Say this 1 Minute Prayer 

Lord Jesus, I believe you died for my sins, Forgive me of all my iniquities. I accept you as my Lord and Saviour from today and forevermore. Come and Be the Lord of my life and I am willing to obey your command and live according to your will as you help me, Thank you for accepting me into your fold. AMEN

JOHN 3: 3 Jesus answered and said unto him, Verily, verily, I say unto thee, Except a man be born again, he cannot see the kingdom of God