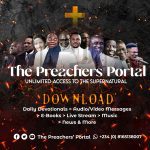 Daily Hope Devotional | 5 September 2021 | Rick Warren
Daily Hope Devotional | 5 September 2021 | Rick Warren
CLICK HERE FOR PREVIOUS READING 
Daily Hope Devotional 5th September 2021: Can You Really Be Thankful in All Circumstances? – Written By Rick Warren
Can You Really Be Thankful in All Circumstances?
By Rick Warren
"Give thanks in all circumstances; for this is God's will for you in Christ Jesus." 1 Thessalonians 5:18 (NIV)
MESSAGE
No matter what you ask God for, you need to ask with an attitude of gratitude. You can ask God for whatever you need, but do it with a thankful heart for what he's already done.
The Bible says, "Give thanks in all circumstances; for this is God's will for you in Christ Jesus" (1 Thessalonians 5:18 NIV). A lot of people want to know what God's will is for their lives. But God's not going to show you step two until you do step one. Here's step one: Be grateful. This is God's will.
ALSO, READ  Apostle Joshua Selman 5 September 2021 | Koinonia Live Service
First be grateful for what God has already given you—your life, mind, freedom, food. Everything you have is a gift from God! Be grateful for all of it.
Daily Hope Devotional | 5 September 2021 | Rick Warren
The Bible says to give thanks in all circumstances. Notice it does not say to give thanks for all circumstances. There is a big difference. There are a lot of things in life you should not be thankful for. You should never be thankful for evil, for example.
It says to give thanks in every circumstance, not for, because God can bring good even out of bad things. There is a lot of bad in the world, and these days, you may see more of it than you think you can bear. You shouldn't be grateful for those things. God is bigger than sin. He can bring promises out of pain, blessings out of suffering. He turns crucifixions into resurrections.
ALSO, READ  Seeds Of Destiny 5 September 2021 | Sunday Devotional
God transforms the bad things in your life into good things and uses them for good. You can be grateful in everything for several reasons: God has a plan for your life. He can use everything in your life for good. The pain is not going to last forever. If you know Jesus as Savior, you're going to heaven. And he's going to use even the hard things in life to build your character.
Daily Hope Devotional | 5 September 2021 | Rick Warren
Do you know what will help you be thankful for all things? When bad things happen, don't ask, "Why is this happening to me?" Instead, ask, "God, what do you want me to learn from this?"
When you learn from God, then you grow more like Christ. Then you'll be able to better see how he is working in your life and give him thanks in all circumstances.
PLAY today's audio teaching from Pastor Rick
For more Daily Hope with Rick Warren, please visit pastorrick.com!
---

When you want to see transformation in your life—whether in your health, career, finances, or relationships—you have two choices. You can either look to man-made solutions to meet your needs, which may work for a little while . . .
Or you can look to God—the only dependable source for all your needs.
Daily Hope Devotional | 5 September 2021 | Rick Warren
To help you tap into God's power by developing a more persistent, faith-building prayer life, we want to send you Pastor Rick's guided study book, Experience God's Power Through Prayer.
This dynamic, hardcover book, filled with full-colour devotionals, Bible teachings, Scripture, and engaging exercises, provides inspiration that will dramatically transform your prayer life. And it's our way to say thanks for your gift to help bring the life-changing love of Jesus to more people through the ministry of Daily Hope today.
And if you're able to become a Partner in Hope with your first monthly gift below, we'll also send you an exclusive Daily Hope welcome gift to say thanks.
Request your resources below—and take the first step toward seeing God unleash his power in your life!
This devotional © 2018 by Rick Warren. All rights reserved. Used by permission
ARE YOU BORN AGAIN? IF NO ACCEPT JESUS NOW
Accept Jesus Christ today and secure a life of eternal rest and Glory …
Say this 1 Minute Prayer

Lord Jesus, I believe you died for my sins, Forgive me of all my iniquities. I accept you as my Lord and Saviour from today and forevermore. Come and Be the Lord of my life and I am willing to obey your command and live according to your will as you help me, Thank you for accepting me into your fold. AMEN

JOHN 3: 3 Jesus answered and said unto him, Verily, verily, I say unto thee, Except a man be born again, he cannot see the kingdom of God