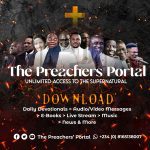 Daily Hope Devotional | 7 September 2021 | Rick Warren
Daily Hope Devotional | 7 September 2021 | Rick Warren
CLICK HERE FOR PREVIOUS READING 
Daily Hope Devotional 7th September 2021: For a Breakthrough, Stay Focused on God – Written By Rick Warren
For a Breakthrough, Stay Focused on God
By Rick Warren
"Jehoshaphat was frightened and prayed to the LORD for guidance." 2 Chronicles 20:3 (GNT)
MESSAGE
In a crisis, it's natural to start explaining to God what's going on and asking him for help. He wants you to talk to him and pour out your heart to him. But don't start your prayer by telling God what you need. First, he wants you to focus on him.
When three enemy nations decided to team up against King Jehoshaphat and Israel, the king knew there was no way he could overcome those odds, and so he prayed. His prayer shows you how to start your prayers by focusing on God.
First, remind yourself of God's greatness. 
Jehoshaphat prayed, "O LORD God of our ancestors, you rule in heaven over all the nations of the world. You are powerful and mighty, and no one can oppose you" (2 Chronicles 20:6 GNT).
When you're praying for something you can't control, don't focus on the problem. Focus on God's greatness. The bigger God gets in your mind, the smaller the problem becomes.
Daily Hope Devotional | 7 September 2021 | Rick Warren
Next, remind yourself of God's unlimited power.
"When your people Israel moved into this land, you drove out the people who were living here and gave the land to the descendants of Abraham, your friend, to be theirs forever" (2 Chronicles 20:7 GNT).
ALSO, READ  Greg Laurie Devotional | 7 September 2021 | Tuesday
When you realize that God has all the power in the world, you can just trust him. As you pray, think of all the ways God has helped you, other people, and people in the Bible.
Then, remind God of his promises.
Jehoshaphat reminded God he promised Israel that the land would be theirs forever. God has made promises to you too. In fact, there are thousands of promises for you in the Bible. When your kids remind you of the promises you've made to them, it can be frustrating. But God loves to have his Word quoted back to him.
ALSO, READ  NSPPD Live | 7 September 2021 | Tuesday With Pastor Jerry Eze
Finally, ask God for a breakthrough.
Daily Hope Devotional | 7 September 2021 | Rick Warren
Jehoshaphat said of the attacking forces, "Punish them, for we are helpless in the face of this large army that is attacking us. We do not know what to do, but we look to you for help" (2 Chronicles 20:12 GNT).
Don't just ask God to bless your life. Focus on him and then tell him the specific thing you need for your breakthrough. Then you'll see him provide as you pray like Jehoshaphat.
PLAY today's audio teaching from Pastor Rick
For more Daily Hope with Rick Warren, please visit pastorrick.com!
---

When you want to see transformation in your life—whether in your health, career, finances, or relationships—you have two choices. You can either look to man-made solutions to meet your needs, which may work for a little while . . .
Daily Hope Devotional | 7 September 2021 | Rick Warren
Or you can look to God—the only dependable source for all your needs.
To help you tap into God's power by developing a more persistent, faith-building prayer life, we want to send you Pastor Rick's guided study book, Experience God's Power Through Prayer.
This dynamic, hardcover book, filled with full-color devotionals, Bible teachings, Scripture, and engaging exercises, provides inspiration that will dramatically transform your prayer life. And it's our way to say thanks for your gift to help bring the life-changing love of Jesus to more people through the ministry of Daily Hope today.
This devotional © 2018 by Rick Warren. All rights reserved. Used by permission
ARE YOU BORN AGAIN? IF NO ACCEPT JESUS NOW
Accept Jesus Christ today and secure a life of eternal rest and Glory …
Say this 1 Minute Prayer

Lord Jesus, I believe you died for my sins, Forgive me of all my iniquities. I accept you as my Lord and Saviour from today and forevermore. Come and Be the Lord of my life and I am willing to obey your command and live according to your will as you help me, Thank you for accepting me into your fold. AMEN

JOHN 3: 3 Jesus answered and said unto him, Verily, verily, I say unto thee, Except a man be born again, he cannot see the kingdom of God