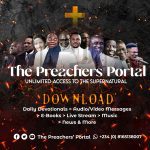 Daily Hope Devotional Today | 27 July 2022 | Rick Warren
Daily Hope Devotional Today | 27 July 2022 | Rick Warren
CLICK HERE FOR PREVIOUS READING 
Daily Hope Devotional 27 July 2022 Written By Rick Warren – Five Things You Must Learn in Your Family
TOPIC: Five Things You Must Learn in Your Family
TODAY'S SCRIPTURE: "Jesus grew in wisdom and stature, and in favor with God and man." -Luke 2:52 (NIV)
MESSAGE
Awesome families encourage growth.
How? They create an atmosphere of lifelong learning. And they help each other develop. They encourage the discovery of each person's spiritual gifts and abilities. And allow people to learn new things and develop new interests.
ALSO READ, Daily Hope Devotional Today | 13 July 2022 | Rick Warren
But you don't necessarily need a biological family to help you grow. Your church family can—and should—be a force for growth in your life.
There are some things that you're never going to learn if you don't learn them in relationship with others. You can't learn them at school. Neither can you learn them at work. You only can learn them with other people.
You need community.
Daily Hope Devotional Today | 27 July 2022 | Rick Warren
In fact, most of your problems as an adult come from the fact that you didn't learn certain things correctly as a child. Here are five things you must learn in your family—whether biological or otherwise:
1. You learn what to do with feelings. In a healthy family, you learn how to identify, own up to, express, and deal with your feelings. Awesome families should let everyone be honest and let kids express their emotions too.
2. You learn how to handle conflict. Kids need to see their parents working problems out in front of them and dealing with differences in a healthy way.
3. You learn how to handle loss. You don't want your kids to win all the time. If they do, they'll find it devastating when they face inevitable losses as adults in the real world. They need to learn that failure won't destroy them, that a loss isn't the end of life. 
4. You learn which values matter most. It's important to teach kids the three basic temptations of life so they are not swayed by what the world values. Those temptations have to do with how you feel, what you do, and what you get in life—in other words, sex, salary, and status.
5. You learn good habits. Habits determine your character. Families should help each other grow so that everyone's character is more like Jesus Christ.
Start to make changes today so that your family—whether it's biological, adoptive, or spiritual—is a safe place for everyone to learn and grow.
Daily Hope Devotional Today | 27 July 2022 | Rick Warren
Rick Warren Daily Devotional 27 July 2022, Will You Choose Comparison or Contentment? appeared first on Pastor Rick's Daily Hope.
JESUS IS COMING SOON!!!
ARE YOU BORN AGAIN? IF NOT ACCEPT JESUS NOW
Accept Jesus Christ today and secure a life of eternal rest and Glory …
SAY THIS 1 MINUTE PRAYER

LORD JESUS, I BELIEVE YOU DIED FOR MY SINS, FORGIVE ME OF ALL MY INIQUITIES. I ACCEPT YOU AS MY LORD AND SAVIOUR FROM TODAY AND FOREVERMORE. COME AND BE THE LORD OF MY LIFE AND I AM WILLING TO OBEY YOUR COMMAND AND LIVE ACCORDING TO YOUR WILL AS YOU HELP ME, THANK YOU FOR ACCEPTING ME INTO YOUR FOLD. AMEN

JOHN 3: 3 JESUS ANSWERED AND SAID UNTO HIM, VERILY, VERILY, I SAY UNTO THEE, EXCEPT A MAN BE BORN AGAIN, HE CANNOT SEE THE KINGDOM OF GOD.