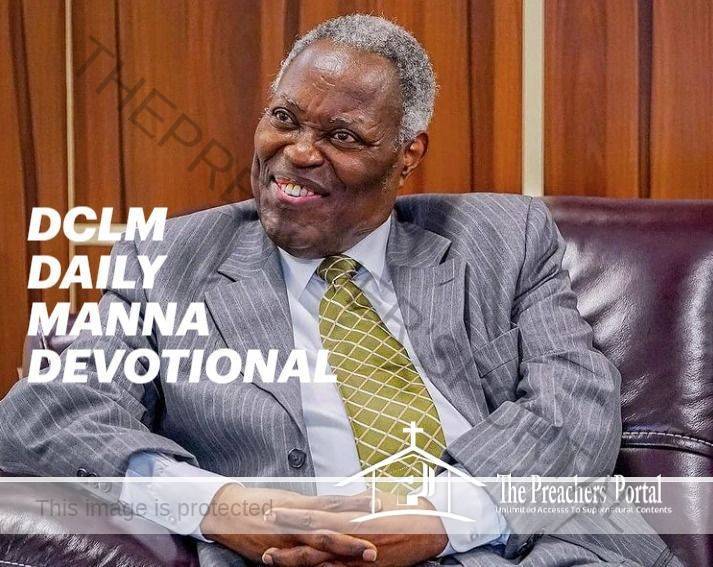 DCLM Daily Manna 20 July 2021 Devotional
DCLM Daily Manna 20 July 2021 Devotional
CLICK HERE FOR PREVIOUS READING 
Deeper Life DCLM Daily Manna 20th July 2021 Devotional Written By Pastor W.F Kumuyi
Topic: A Wicked Counsellor
TEXT: 2 Chronicles 22:1-12
1. And the inhabitants of Jerusalem made Ahaziah his youngest son king in his stead; for the band of men that came with the Arabians to the camp had slain all the eldest. So Ahaziah the son of Jehoram king of Judah reigned.
Forty and two years old was Ahaziah when he began to reign, and he reigned one year in Jerusalem. His mother's name also was Athaliah the daughter of Omri.
He also walked in the ways of the house of Ahab; for his mother was his counsellor to do wickedly.
Wherefore he did evil in the sight of the LORD like the house of Ahab; for they were his counsellors after the death of his father to his destruction.
He walked also after their counsel and went with Jehoram the son of Ahab king of Israel to war against Hazael king of Syria at Ramothgilead, and the Syrians smote Joram.


DCLM Daily Manna 20 July 2021

And he returned to be healed in Jezreel because of the wounds which were given him at Ramah when he fought with Hazael king of Syria. And Azariah the son of Jehoram king of Judah went down to see Jehoram the son of Ahab at Jezreel, because he was sick.
And the destruction of Ahaziah was of God by coming to Joram; for when he came, he went out with Jehoram against Jehu the son of Nimshi, whom the LORD had anointed to cut off the house of Ahab.
|And it came to pass, that, when Jehu was executing judgment upon the house of Ahab, and found the princes of Judah, and the sons of the brethren of Ahaziah, that ministered to Ahaziah, he slew them.
|And he sought Ahaziah; and they caught him, (for he was hiding in Samaria,) and brought him to Jehu; and when they had slain him, they buried him; Because, said they, he is the son of Jehoshaphat, who sought the LORD with all his heart. So the house of Ahaziah had no power to keep still the kingdom.
But when Athaliah the mother of Ahaziah saw that her son was dead, she arose and destroyed all the seed royal of the house of Judah.


DCLM Daily Manna 20 July 2021

But Jehoshabeath, the daughter of the king, took Joash the son of Ahaziah, and stole him from among the king's sons that were slain, and put him and his nurse in a bedchamber. So Jehoshabeath, the daughter of king Jehoram, the wife of Jehoiada the priest, (for she was the sister of Ahaziah,) hid him from Athaliah, so that she slew him not.
And he was with them hid in the house of God six years, and Athaliah reigned over the land.
KEY VERSE:
"He also walked in the ways of the house of Ahab: for his mother was his counsellor to do wickedly." – (2 Chronicles 22:3)
MESSAGE
Athaliah stands shamefully as a wicked counsellor amongst the womenfolk of all times. To think of it that the likes of Jezebel and her daughter Athaliah at different times wreaked havoc in the kingdom of Israel and Judah show that the devil is capable of perpetrating any kind of evil with those who yield themselves instruments to him.
Our passage reveals astonishing wickedness carried out by a grandmother against her grandsons. It is unimaginable that Athaliah would lay hands on all her grandsons and slaughter them just to perpetuate herself on the throne of Judah. Wickedness has no limits except the one God sets.
ALSO, READ  Billy Graham Devotional 20 July 2021
Athaliah was instrumental in the death of her son Ahaziah whom she counselled wickedly against the Lord God. And of course, the Lord arranged his untimely execution and the cleansing of that family when the lineage of Ahab and Jezebel were stamped out of Israel.
DCLM Daily Manna 20 July 2021
Rebellion against God and idolatry are intricate web that entangles their victims, dragging them disastrously to damnation. Ahab listened to the wicked counsels of his wife (Jezebel) and dragged the nation of Israel into Baal worship.
ALSO, READ  Kenneth Copeland Devotional 20 July 2021
King Jehoshaphat parleyed with Ahab in business and military alliance and his son Jehoram fell in love and married Ahab's daughter – Athaliah. It is saddening that a righteous man like Jehoshaphat and his family would come under divine chastisement because of unequal yoke in marriage. How believers need to avoid unequal yoke!
THOUGHT FOR THE DAY:
Don't be a miserable counsellor.
THE BIBLE IN ONE YEAR:
2 Chronicles 1-4
DCLM Daily Manna was written by Pastor W. F. Kumuyi; is the founder and General Superintendent of the Deeper Life Bible Church situated at KM 42 on the busy Lagos-Ibadan Expressway, Nigeria.
ARE YOU BORN AGAIN? IF NO ACCEPT JESUS NOW
Accept Jesus Christ today and secure a life of eternal rest and Glory …
Say this 1 Minute Prayer 

Lord Jesus, I believe you died for my sins, Forgive me of all my iniquities. I accept you as my Lord and Saviour from today and forevermore. Come and Be the Lord of my life and I am willing to obey your command and live according to your will as you help me, Thank you for accepting me into your fold. AMEN

JOHN 3: 3 Jesus answered and said unto him, Verily, verily, I say unto thee, Except a man be born again, he cannot see the kingdom of God.