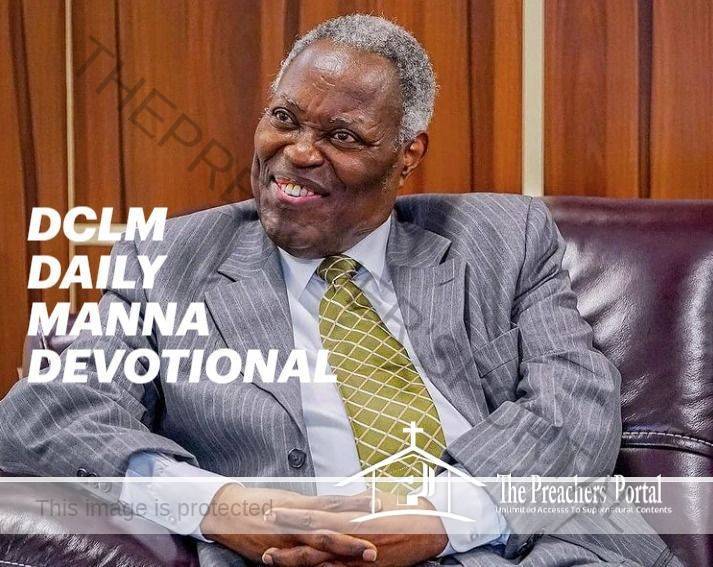 DCLM Daily Manna 21st September 2021 Devotional
DCLM Daily Manna 21st September 2021 Devotional
CLICK HERE FOR PREVIOUS READING 
DCLM Daily Manna 21 September 2021 Deeper Life Devotional Written By Pastor W.F Kumuyi – How To Break Away From Sin
TOPIC: How To Break Away From Sin
TEXT: Ezekiel 23:1-21
1. The word of the LORD came again unto me, saying,
Son of man, there were two women, the daughters of one mother;
And they committed whoredoms in Egypt; they committed whoredoms in their youth; there were their breasts pressed, and there they bruised the teats of their virginity.
And the names of them were Aholah the elder, and Aholibah her sister, and they were mine, and they bare sons and daughters. Thus were their names; Samaria is Aholah, and Jerusalem Aholibah.
And Aholah played the harlot when she was mine; and she doted on her lovers, on the Assyrians her neighbours,
Which were clothed with blue, captains and rulers, all of them desirable young men, horsemen riding upon horses.


DCLM Daily Manna 21st September 2021 Devotional

Thus she committed her whoredoms with them, with all them that were the chosen men of Assyria, and with all on whom she doted; with all their idols she defiled herself.
Neither left she her whoredoms brought from Egypt; for in her youth they lay with her, and they bruised the breasts of her virginity and poured their whoredom upon her.
Wherefore I have delivered her into the hand of her lovers, into the hand of the Assyrians, upon whom she doted.
These discovered her nakedness; they took her sons and her daughters, and slew her with the sword, and she became famous among women; for they had executed judgment upon her.
And when her sister Aholibah saw this, she was more corrupt in her inordinate love than she, and in her whoredoms more than her sister in her whoredoms.
She doted upon the Assyrians her neighbours, captains and rulers clothed most gorgeously, horsemen riding upon horses, all of them desirable young men.
Then I saw that she was defiled, that they took both one way,


DCLM Daily Manna 21st September 2021 Devotional

And that she increased her whoredoms; for when she saw men portrayed upon the wall, the images of the Chaldeans portrayed with vermilion,
Girded with girdles upon their loins, exceeding in dyed attire upon their heads, all of them princes to look to, after the manner of the Babylonians of Chaldea, the land of their nativity;
And as soon as she saw them with her eyes, she doted upon them and sent messengers unto them into Chaldea.
And the Babylonians came to her into the bed of love, and they defiled her with their whoredom, and she was polluted with them, and her mind was alienated from them.
So she discovered her whoredoms, and discovered her nakedness; then my mind was alienated from her, like as my mind was alienated from her sister.
Yet she multiplied her whoredoms, in calling to remembrance the days of her youth, wherein she had played the harlot in the land of Egypt.


DCLM Daily Manna 21st September 2021 

For she doted upon their paramours, whose flesh is as the flesh of asses, and whose issue is like the issue of horses.
Thus thou calledst to remembrance the lewdness of thy youth, in bruising thy teats by the Egyptians for the paps of thy youth.
KEY VERSE:
"So she discovered her whoredoms, and discovered her nakedness: then my mind was alienated from her, like as my mind was alienated from her sister." – (Ezekiel 23:18)
MESSAGE:
It is disheartening to see how the world is making every attempt to set aside biblical principles and values that have been the bedrock of society over the centuries. Nowadays, a lot of unusual things are happening. Terrible sins such as prostitution, incest, abortions, bestiality, pornography, multiple marriages etc., are on the increase on a daily basis.
In our text, the northern kingdom had committed spiritual harlotry by signing alliances with foreign and sinful nations throughout her history. She was eventually taken into captivity by one with whom she had signed an alliance.
ALSO, READ  DCLM Daily Manna 16th September 2021 | Devotional
God was no longer comfortable with the consistent descent into debauchery by Judah and Jerusalem – the southern kingdom. So He decided to speak out through Prophet Ezekiel. The more He warned Israel, the more idolatrous they became. He decided to paint a picture of two sisters that were into harlotry with reckless abandon. It became a way of life for them such that they no longer cared about the God of Israel. They gave themselves up to Egyptian men who messed their lives and stole away every ounce of regard for the God of their fathers.
ALSO, READ  DCLM Daily Manna 16th September 2021 | Devotional
DCLM Daily Manna 21st September 2021
What is driving you into captivity? What is that sin, habit, and attachment for the reason of which you are making a dangerous descent into the abyss, yet unable to let go? The saving grace of God through His Son Jesus Christ is still available today. Repent now, He is able to deliver you.
THOUGHT FOR THE DAY:
God breaks the sinner's bond who submits to Him.
THE BIBLE IN ONE YEAR:
Proverbs 15-17
DCLM Daily Manna 21st September 2021 was written by Pastor W. F. Kumuyi; is the founder and General Superintendent of the Deeper Life Bible Church situated at KM 42 on the busy Lagos-Ibadan Expressway, Nigeria.
ALSO,
ALSO, ARE YOU BORN AGAIN? IF NO ACCEPT JESUS NOW
Accept Jesus Christ today and secure a life of eternal rest and Glory …
Say this 1 Minute Prayer 

Lord Jesus, I believe you died for my sins, Forgive me of all my iniquities. I accept you as my Lord and Saviour from today and forevermore. Come and Be the Lord of my life and I am willing to obey your command and live according to your will as you help me, Thank you for accepting me into your fold. AMEN

JOHN 3: 3 Jesus answered and said unto him, Verily, verily, I say unto thee, Except a man be born again, he cannot see the kingdom of God.