SONG: Eben & Mercy Chinwo – Oil On My Head (Remix)
Here is a new song titled "On My Head (Remix)", written by Nigerian Gospel Minister, EBEN featuring Mercy Chinwo and it's available for download on this page.
ABOUT ARTIST(S): 
Eben is a phenomenal Nigerian gospel, worshipper and Afro-beat singer. He is such an anointed artist, highly talented and gifted in singing and arranging songs.
ABOUT SONG: 
'Oil On My Head (Remix)' is the remix of the popular song by EBEN that rivals many hit songs in the gospel industry in Nigeria. It talks about affirming the workings and the wonders of God in our lives without a doubt.
Download Oil On My Head (Remix) By Eben & Mercy Chinwo (Audio) Below
Lyrics: Eben & Mercy Chinwo – Oil On My Head (Remix)
Lord, I just wanna thank you (Ooh eeh)
How could I ever repay you
Jesus, you've taken the pains away from me
And you have given me victory, eh
Everywhere I go blessings follow (follow, follow, follow)
Everything I do, favor follow am o
Kings are coming to my rising
I'm going higher by the grace of God
Oil on my head (oil on my head)
Oil on my head (oil on my head)
Increase in my hands (increase in my hands)
Increase in my hands (increase in my hands)
Speed on my feet (speed on my feet)
Speed on my feet (speed on my feet)
Everywhere I go (everywhere I go)
Everywhere I go (everywhere I go)
That's oil on my head (oil on my head)
I carry favor for head (oil on my head)
Increase in my hands (increase in my hands)
Increase in my hands (increase in my hands)
Speed on my feet (speed on my feet)
Speed on my feet (speed on my feet)
Everywhere I go (everywhere I go)
Everywhere I go (everywhere I go)
This is my season of favor, yes
This is my season of increase
My life is upward and forward
I can never go down, no, no no no no
Everywhere I enter, goodness and mercy dey enter
Everywhere I go now, goodness and mercy dey follow
Kings are coming to my rising
I'm going higher by the grace of god
Eben & Mercy Chinwo – Oil On My Head (Remix)
Oil on my head (oil on my head)
Oil on my head (oil on my head)
Increase in my hands (increase in my hands)
Increase in my hands (increase in my hands)
Speed on my feet (speed on my feet)
Speed on my feet (speed on my feet)
Everywhere I go (everywhere I go)
Everywhere I go (everywhere I go)
I carry favor for head (oil on my head)
Oil on my head (oil on my head)
Increase in my hands (increase in my hands)
Increase in my hands (increase in my hands)
Speed on my feet (speed on my feet)
Speed on my feet (speed on my feet)
Everywhere I go (everywhere I go)
Everywhere I go (everywhere I go)
I carry favor for head
I carry favor for head
Aka nchawa, nchawa, nchawa
Aka nchawa, nchawa
I carry favor for head
I carry favor for head
Aka nchawa, nchawa, nchawa
Aka nchawa, nchawa, nchawa
Everywhere I go blessings follow (follow, follow, follow)
Everything I do, favor follow am o
Kings are coming to my rising
I'm going higher by the grace of God
Oil on my head (oil on my head)
Oil on my head (oil on my head)
Increase in my hands (increase in my hands)
Increase in my hands (increase in my hands)
Speed on my feet (speed on my feet)
Speed on my feet (speed on my feet)
Everywhere I go (everywhere I go)
Everywhere I go (everywhere I go)
Eben & Mercy Chinwo – Oil On My Head (Remix)
I carry oil for head (oil on my head)
Oil dey my head (oil on my head)
Increase in my hands (increase in my hands)
Increase in my hands (increase in my hands)
Speed on my feet (speed on my feet)
Speed on my feet (speed on my feet)
Everywhere I go (everywhere I go)
Everywhere I go (everywhere I go)
I carry favor for head
Aka nchawa, nchawa
I carry, carry oil for head
Nchawa, nchawa, nchawa, nchawa
Speed on my feet
Aka nchawa, nchawa
Everywhere I go
Nchawa, nchawa, nchawa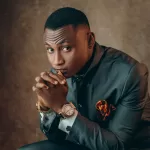 I Am A God-kind Gospel Blogger, Gospel Content Writer, Evangelist, Songwriter, Teacher and Soul-Winner and the Chief-editor of ThePreachersPortal.Org. Right here, you will get access to the Latest and Trending Gospel songs worldwide, Live Streams, Audio Messages, Motivational Articles and Inspirational content as we share them for free. Follow me on social media to learn more about this movement. -ThePreacherMan