MP3; Elijah Oyelade – Holy Holy Holy | Download Mp3 (Audio)
Here's a new song by Nigerian gospel minister and multi-talented singer "Elijah Oyelade" titled "Holy Holy Holy' featuring Nathaniel Bassey". It was released this year, 2023 alongside the official video and lyrics.
The gospel music genre is recognized globally only because of the Spirit and the presence of God that is evident in these songs. Aside from the talent and skills of the musicians, and the effort they put in to make good music, there is power and grace involved.
Thus, If you love gospel music this one is no exception as it also comes from one of the renowned minstrels in the gospel niche. Download audio mp3, listen, stream and share with friends this masterpiece. #
thepreachersportal
On this page, you can download this new song 'Arugbo Ojo (Ancient Of Days)' By Elijah Oyelade Ft. Nathaniel Bassey right here in mp3 format;
Download; Holy Holy Holy By Elijah Oyelade & Nathaniel Bassey, Below
LYRICS; Holy Holy Holy By Elijah Oyelade
Thou art worthy oh Lord in heaven and on earth
None compared with you
For thou hath created all things
And for thy pleasure they are and were created
Holy Holy Holy
Lord God Almighty
Who was and is and is to come
Holy
Holy Holy Holy
Lord God Almighty
Who was and is and is to come
Holy
Who is there like you oh Lord
In heaven and on earth
None compared with you
For thou has created all things
And for thy pleasure they are and were created
Holy Holy Holy
Lord God Almighty
Who was and is and is to come
Holy
Holy Holy Holy
Lord God Almighty
Who was and is and is to come
Holy
Holy Holy Holy
Lord God Almighty
Who was and is and is to come
Holy
Holy Holy Holy
Lord God Almighty
Who was and is and is to come
Holy
Holy Holy Holy
Lord God Almighty
Who was and is and is to come
Holy
Holy Holy Holy
Lord God Almighty
Who was and is and is to come
Holy
Who was and is and is to come
Holy
Who was and is and is to come
Holy
Who was and is and is to come
Holy
Holy Holy Holy
Lord God Almighty
Who was and is and is to come
Holy
Holy Holy Holy
Lord God Almighty
Who was and is and is to come
Holy
Holy Holy Holy
Lord God Almighty
Who was and is and is to come
Holy
Holy Holy Holy
Lord God Almighty
Who was and is and is to come
Holy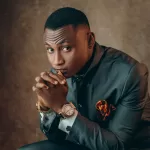 I Am A God-kind Gospel Blogger, Gospel Content Writer, Evangelist, Songwriter, Teacher and Soul-Winner and the Chief-editor of ThePreachersPortal.Org. Right here, you will get access to the Latest and Trending Gospel songs worldwide, Live Streams, Audio Messages, Motivational Articles and Inspirational content as we share them for free. Follow me on social media to learn more about this movement. -ThePreacherMan