Esther Oji Ft. Minister GUC – Your Way (Audio & Lyrics)
'Your Way' by Esther Oji featuring Minister GUC is a powerful song of surrender and reverence to the authority of Almighty God. From the stables of Eezzee Conceptz comes this remarkable song also in celebration of the birthday of Esther Oji, on this day the 24th of June 2023.
You can download this new song by multi-talented Esther Oji in collaboration with Minister GUC titled "Your Way" mp3 format on this page.
ABOUT ARTIST(S): 
Esther Oji is an amazing up-and-coming Nigerian gospel sensation and worshipper under the Eezzee Conceptz Record label. She is such a wonderful musician, highly talented and gifted in singing and arranging songs.
How to download Your Way By Esther Oji & GUC: Just click on  download mp3 below and it immediately gets this audio in your device
Lyrics Of Esther Oji Ft. Minister GUC Your Way
[Verse 1]
You thought of me
When You died on the Cross
Nothing Compares to
The Love that You've Shown
I wanna do Life with Jesus
I wanna do Life Your Way
[Chorus]
Your Way, Your Way
I wanna do Life Your Way O
Your Way
I wanna do Life Your Way
[Verse 2]
You said You'll never
Let me go, Lord
And Your Grace is there.
To Follow Me
Your Mercy is Everything
That Keeps me
How would I do Life without You
Imami YO, O Imami YO
Ami wenu K'sufo
I wanna do Life Your Way
[Verse 1]
You thought of me
When You died on the Cross
Nothing Compares to
The Love that You've Shown
I wanna do Life with Jesus
I wanna do Life Your Way
Esther Oji Ft. Minister GUC – Your Way
[Bridge]
Ooh, this Love is Beautiful
In you I need it
In you I need it
Ooh, this Love is Beautiful
In you I need it
In you I need it
This Love, this Love
This Love, this Love
This Love, this Love
This Love, this Love
In you I need it
In you I need it
Ooh, this Love is Beautiful
In you I need it
In you I need it
Ooh, this Love is Addictive
It's Addictive
This Love is Addictive
Ooh, this Love is Wonderful
It rescued me from Sin
In you I need it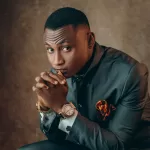 I Am A God-kind Gospel Blogger, Gospel Content Writer, Evangelist, Songwriter, Teacher and Soul-Winner and the Chief-editor of ThePreachersPortal.Org. Right here, you will get access to the Latest and Trending Gospel songs worldwide, Live Streams, Audio Messages, Motivational Articles and Inspirational content as we share them for free. Follow me on social media to learn more about this movement. -ThePreacherMan