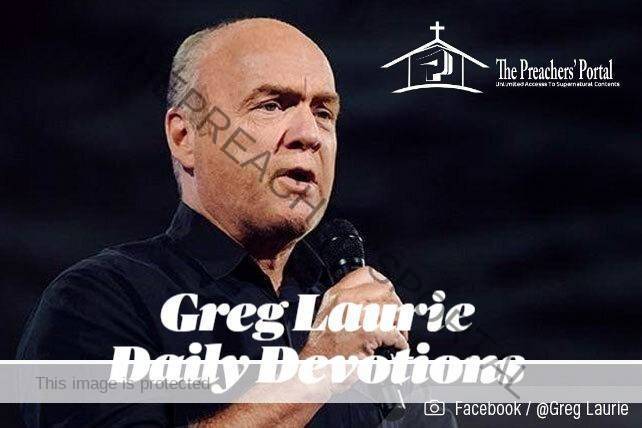 Greg Laurie Devotional | 11 January 2022
Greg Laurie Devotional | 11 January 2022
CLICK HERE FOR PREVIOUS READING 
Greg Laurie Devotional 11th January 2022 Written By Greg Laurie
TOPIC: The Most Amazing Book Ever Written
SCRIPTURE: Above all, you must realize that no prophecy in Scripture ever came from the prophet's own understanding, or from human initiative. No, those prophets were moved by the Holy Spirit, and they spoke from God. —2 Peter 1:20–21
MESSAGE
Soon after evangelist Billy Sunday became a Christian, an older believer gave him some advice on how to grow spiritually. He said, "William, there are three simple rules I can give to you, and if you will hold to them, you will never write 'backslider' after your name. Take 15 minutes each day to listen to God talking to you and to talk to God; take 15 minutes each day to talk to others about God."
ALSO READ, Streams of Joy Devotional & Prayers 15 September 2021
How does God speak to us? He speaks to us primarily through His Word, the Bible. Yet a lot of people aren't opening their Bibles today. Instead, we're looking at things like social media. Every day, 66 percent of evangelical believers are looking at Facebook, 39 percent are looking at YouTube, and 32 percent are opening their Bibles.
We have a problem. We need to open up the Bible and discover what it has to say because a successful Christian will be a Bible-studying Christian. On the other hand, a failing Christian will be someone who doesn't open the Word of God.
Greg Laurie Devotional | 11 January 2022
I remember the first time I started to read the Bible. I couldn't believe that I had finally found the user's manual of life. The words were so relevant to what I was facing as a 17-year-old, and they're still relevant to what I'm facing today. They're relevant for every phase of life.
The Bible is the most amazing book ever written. It's literally God's message to us.
ALSO READ, Short Devotional Sermons For Today | David Miller
Technically speaking, it's not one book but actually 66 books written over a span of 1,500 years. The words of Scripture were inspired by God and written by 40 authors from every walk of life, including kings, peasants, philosophers, fishermen, poets, statesmen, and scholars. And all of them write about God's redemption of humanity.
The Word of God is perfect, and it's completely trustworthy.
Greg Laurie Devotional | 11 January 2022
Copyright © 2022 by Harvest Ministries. All rights reserved.
Greg Laurie is the Senior Pastor of Harvest Christian Fellowship with campuses in California and Hawaii. He began his pastoral ministry at the age of 19 by leading a Bible study of 30 people. Copyright © 2021 by Harvest Ministries. All rights reserved.
ALSO READ, Greg Laurie Devotional | 3 September 2021 | Friday
Greg Laurie Devotional | 11 January 2022
ARE YOU BORN AGAIN? IF NO, ACCEPT JESUS NOW
Accept Jesus Christ today and secure a life of eternal rest and Glory …
Say this 1 Minute Prayer 

Lord Jesus, I believe you died for my sins, Forgive me of all my iniquities. I accept you as my Lord and Saviour from today and forevermore. Come and Be the Lord of my life and I am willing to obey your command and live according to your will as you help me, Thank you for accepting me into your fold. AMEN

JOHN 3: 3 Jesus answered and said unto him, Verily, verily, I say unto thee, Except a man be born again, he cannot see the kingdom of God