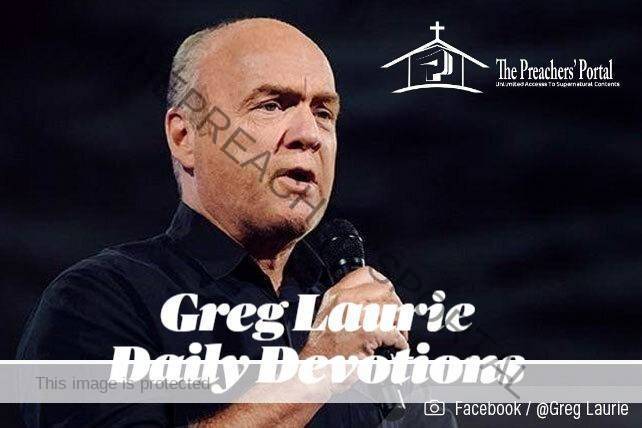 Greg Laurie Devotional | 13 September 2021
Greg Laurie Devotional | 13 September 2021
CLICK HERE FOR PREVIOUS READING 
Greg Laurie Devotional Guide For 13th September 2021  – Past the Point of No Return – Written By Greg Laurie
Past the Point of No Return
"When Judas had eaten the bread, Satan entered into him" (John 13:27 NLT).
MESSAGE
Talk about dropping a bombshell. Jesus said to the disciples, "I tell you the truth, one of you will betray me!" (John 13:21 NLT).
If it was as obvious to the disciples as we think it was, they all would have stood in unison, pointed to Judas Iscariot, and said, "It's him, isn't it? We always knew it was him!"
ALSO, READ  Streams of Joy Devotional & Prayers 13 September 2021
But no one thought of Judas.
Jesus cleared up the confusion by saying, "It is the one to whom I give the bread I dip in the bowl." Then the Bible tells us that "when he had dipped it, he gave it to Judas, son of Simon Iscariot" (verse 26 NLT).
Basically, here's what Jesus was communicating: "I know what you're about to do, and I still love you. It breaks my heart, and you don't have to do it."
Greg Laurie Devotional | 13 September 2021
You see, Judas had a free will that he could have exercised, but he chose evil instead.
Later in the Garden of Gethsemane, before Jesus was arrested, Judas came with the temple guard to apprehend Him. Yet Jesus said to him, "Friend, why have you come?" (Matthew 26:50 NKJV). Jesus was offering Judas one last chance to repent. He would have forgiven him right up to the last moment.
But apparently, Judas was past the point of no return, because John tells us that "when Judas had eaten the bread, Satan entered into him" (13:27 NLT). Those are ominous words. Judas was on another level of evil because the Devil himself possessed him.
Greg Laurie 13 September 2021
We read in the Gospels about people being possessed by demons. Demons are real and powerful, and demon possession is real. But the good news is that when you become a Christian, you're under divine protection, and no demon can possess you.
Jesus is not on a timeshare program. When He enters your heart, He's the sole occupant.
Greg Laurie is the Senior Pastor of Harvest Christian Fellowship with campuses in California and Hawaii. He began his pastoral ministry at the age of 19 by leading a Bible study of 30 people. Copyright © 2021 by Harvest Ministries. All rights reserved.
ARE YOU BORN AGAIN? IF NO, ACCEPT JESUS NOW
Accept Jesus Christ today and secure a life of eternal rest and Glory …
Say this 1 Minute Prayer 

Lord Jesus, I believe you died for my sins, Forgive me of all my iniquities. I accept you as my Lord and Saviour from today and forevermore. Come and Be the Lord of my life and I am willing to obey your command and live according to your will as you help me, Thank you for accepting me into your fold. AMEN

JOHN 3: 3 Jesus answered and said unto him, Verily, verily, I say unto thee, Except a man be born again, he cannot see the kingdom of God.