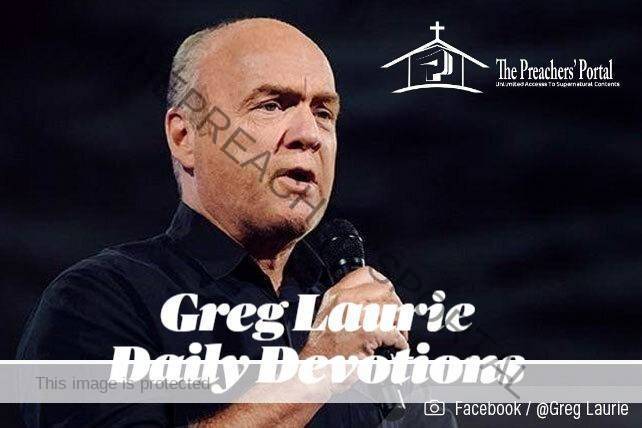 Greg Laurie Devotional | 16 September 2021
Greg Laurie Devotional | 16 September 2021
CLICK HERE FOR PREVIOUS READING 
Greg Laurie Devotional Guide For 16th September 2021 – Fruit Inspection – Written By Greg Laurie
Fruit Inspection
"Even so, every good tree bears good fruit, but a bad tree bears bad fruit" (Matthew 7:17 NLT).
MESSAGE
I've come to realize that nonbelievers have a favorite verse: "Judge not, that you be not judged" (Matthew 7:1 NKJV). They always default to that, which is their way of saying, "Go away. I want to keep doing what I'm doing, and I don't want to listen to you."
However, people misunderstand this verse. What it actually means is "condemn not, that you be not condemned." I would never condemn anyone. I would never say to another person, "I condemn you. You don't know God, and you're going to Hell." That's because I don't know this about someone. Only God does.
On the other hand, "to judge" means "to evaluate." The Bible tells us, "For the time has come for judgment to begin at the house of God" (1 Peter 4:17 NKJV). It doesn't mean that we condemn one another. Rather, it means that we make evaluations.
ALSO, READ Streams of Joy Devotional & Prayers 16 September 2021
Let's say, for example, that you're doing something that contradicts what the Bible says. Another Christian brings it to your attention, and you say, "Hey, don't judge me."
"Sorry, but I will judge you," they say, "because I don't want to see your life wrecked by sin."
Greg Laurie Devotional | 16 September 2021
If it's something you're struggling with and want to repent of, that's one thing. But if you can continue in sin without any desire to change or any belief that it's wrong, despite what the Bible says, it would say to me that you don't know God.
ALSO, READ  Apostle Johnson Suleman | 16 September 2021 Morning Prayer (Day 16)
Jesus said, "You will know them by their fruits. Do men gather grapes from thornbushes or figs from thistles? Even so, every good tree bears good fruit, but a bad tree bears bad fruit" (Matthew 7:16-17 NLT).
Even if someone carries a Bible or has a Christian bumper sticker on their car, if they can habitually commit sin without any sense of conviction or remorse, it would be a clear indication to me that they don't know God.
Greg Laurie is the Senior Pastor of Harvest Christian Fellowship with campuses in California and Hawaii. He began his pastoral ministry at the age of 19 by leading a Bible study of 30 people. Copyright © 2021 by Harvest Ministries. All rights reserved.
ARE YOU BORN AGAIN? IF NO, ACCEPT JESUS NOW
Accept Jesus Christ today and secure a life of eternal rest and Glory …
Say this 1 Minute Prayer 

Lord Jesus, I believe you died for my sins, Forgive me of all my iniquities. I accept you as my Lord and Saviour from today and forevermore. Come and Be the Lord of my life and I am willing to obey your command and live according to your will as you help me, Thank you for accepting me into your fold. AMEN

JOHN 3: 3 Jesus answered and said unto him, Verily, verily, I say unto thee, Except a man be born again, he cannot see the kingdom of God.