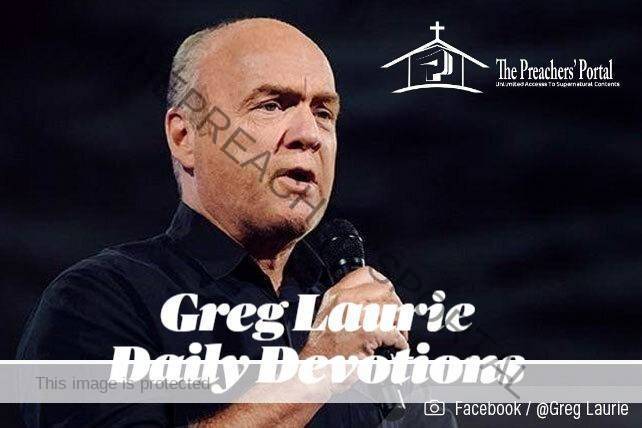 Greg Laurie Devotional | 27 July 2022
Greg Laurie Devotional | 27 July 2022
CLICK HERE FOR PREVIOUS READING 
Greg Laurie Devotional 27 July 2022 Written By Greg Laurie
TOPIC: Always Relevant
SCRIPTURE: The grass withers, the flower fades, but the word of our God stands forever  —Isaiah 40:8
MESSAGE
Have you ever noticed how strange most people's photos look in their high school yearbook? It seems as though we all collectively decided to have the weirdest hairstyle of all time. Hairstyles come and go, and other styles come and go. But the Word of God is always current and always relevant.
ALSO READ, Greg Laurie Devotional | 11 January 2022
Psalm 19:7–9 tells us, "The law of the Lord is perfect, converting the soul; the testimony of the Lord is sure, making wise the simple; the statutes of the Lord are right, rejoicing the heart; the commandment of the Lord is pure, enlightening the eyes; the fear of the Lord is clean, enduring forever; the judgments of the Lord are true and righteous altogether" (NKJV).
The Word of God is perfect. There are no flaws in it. Everything we need to know about God is found in the Bible.
I love what Lamentations 3:22–23 says: "The faithful love of the Lord never ends! His mercies never cease. Great is his faithfulness; his mercies begin afresh each morning" (NLT).
Greg Laurie Devotional | 27 July 2022
Have you ever had a time when you read a familiar passage of Scripture, and suddenly that passage seemed to jump off the page because it was so relevant to your life at the time?
Sometimes we wonder why life is going so poorly. Why are we making so many bad decisions? We need to open the Word of God.
Doctors know that a healthy appetite indicates good health, while a loss of appetite may indicate there is something wrong. In the same way, healthy Christians are hungry Christians, and they are hungry for the Word of God (see1 Peter 2:2).
We can find everything we need to know about life in the Bible, and it never goes out of date. We can trust the Word of God.
Thanks for reading Greg Laurie's Daily Devotions 27th July 2022 Message. For more relevant and biblical teaching from Pastor Greg Laurie, go to www.harvest.org
(Greg Laurie Daily Devotions 27th July 2022) Copyright © 2022 by Harvest Ministries. All rights reserved
Greg Laurie is the Senior Pastor of Harvest Christian Fellowship with campuses in California and Hawaii. He began his pastoral ministry at the age of 19 by leading a Bible study of 30 people. Copyright © 2021 by Harvest Ministries. All rights reserved.
ARE YOU BORN AGAIN? IF NO, ACCEPT JESUS NOW
Accept Jesus Christ today and secure a life of eternal rest and Glory …
Say this 1 Minute Prayer 

Lord Jesus, I believe you died for my sins, Forgive me of all my iniquities. I accept you as my Lord and Saviour from today and forevermore. Come and Be the Lord of my life and I am willing to obey your command and live according to your will as you help me, Thank you for accepting me into your fold. AMEN

JOHN 3: 3 Jesus answered and said unto him, Verily, verily, I say unto thee, Except a man be born again, he cannot see the kingdom of God