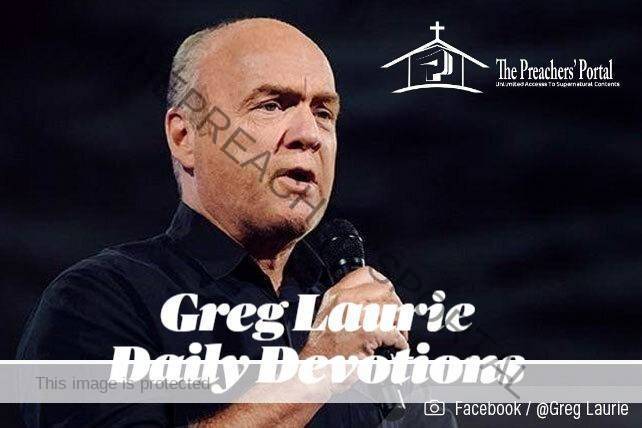 Greg Laurie Devotional | 28 June 2022
Greg Laurie Devotional | 28 June 2022
CLICK HERE FOR PREVIOUS READING 
Greg Laurie Devotional 28 June 2022 Written By Greg Laurie
TOPIC: He Will Be There
SCRIPTURE: This I declare about the LORD: He alone is my refuge, my place of safety; he is my God, and I trust him  —Psalm 91:2
MESSAGE
As a pastor, I've done far too many funeral services for children. I've looked at parents sitting in the front row and tried to find the right words to bring comfort to them. Before our son Christopher went to Heaven, I would walk away from those services thinking, "I hope this never happens to me because if it did, I don't think I could handle it."
ALSO READ, Greg Laurie Devotional | 8 January 2022
But then one day it did happen to me. And we were the parents sitting in the front row at the funeral service. Here's what I can tell you: No matter what you go through, God will be there for you and with you.
Maybe you've seen someone going through a hardship and thought, "I don't think I could handle that." You don't have the strength you need now to deal with that yet. But God will give you what you need, when you need it—not necessarily before and certainly not after.
God doesn't always deliver us from our circumstances. God doesn't always take the problems away. But we can glorify Him despite our problems.
INVEST IN IRAs, SECURE YOUR FUTURE
Greg Laurie Devotional | 28 June 2022
Then there are times when God allows hardship in our lives so that He can step in and deliver us from it, and people will be amazed. Maybe the Lord wants to heal you of something or deliver you from something. A disability can turn into an ability when we place it in God's hands. A disadvantage can turn into an advantage.
Have you had a tragedy or problem in your life that has gotten your attention? Call out to the Lord, and He will save you. In some instances, He may even rescue you.
Wherever you are in life, God is ready to step in and bring comfort to you. He's ready to bring hope to you. But you must come to Him.
Thanks for reading Greg Laurie's Daily Devotions 28th June 2022 Message. For more relevant and biblical teaching from Pastor Greg Laurie, go to www.harvest.org
(Greg Laurie Daily Devotions 28th June 2022) Copyright © 2022 by Harvest Ministries. All rights reserved
Greg Laurie is the Senior Pastor of Harvest Christian Fellowship with campuses in California and Hawaii. He began his pastoral ministry at the age of 19 by leading a Bible study of 30 people. Copyright © 2021 by Harvest Ministries. All rights reserved.
Greg Laurie Devotional | 28 June 2022
ARE YOU BORN AGAIN? IF NO, ACCEPT JESUS NOW
Accept Jesus Christ today and secure a life of eternal rest and Glory …
Say this 1 Minute Prayer 

Lord Jesus, I believe you died for my sins, Forgive me of all my iniquities. I accept you as my Lord and Saviour from today and forevermore. Come and Be the Lord of my life and I am willing to obey your command and live according to your will as you help me, Thank you for accepting me into your fold. AMEN

JOHN 3: 3 Jesus answered and said unto him, Verily, verily, I say unto thee, Except a man be born again, he cannot see the kingdom of God