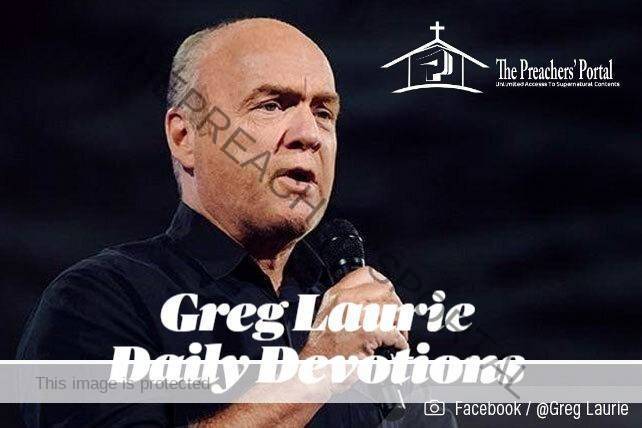 Greg Laurie Devotional | 4 September 2021 | Saturday
Greg Laurie Devotional | 4 September 2021 | Saturday
CLICK HERE FOR PREVIOUS READING
Greg Laurie Devotional Guide For 4th September 2021  – From Death to Life– Written By Greg Laurie
From Death to Life
"Many in the crowd had seen Jesus call Lazarus from the tomb, raising him from the dead, and they were telling others about it. That was the reason so many went out to meet him—because they had heard about this miraculous sign" (John 12:17-18 NLT).
MESSAGE
Just for a moment, try and contemplate the glories of Heaven. And then imagine having to leave Heaven and return to this world. It's sort of like dragging children out of Disneyland. As far as they're concerned, they're leaving the Promised Land.
ALSO, READ  Open Heaven | 4 September 2021 | RCCG Devotional & Prayer Points
For Lazarus, it was bad enough to die once, but ultimately he had to die twice. When Jesus stood at the tomb and shouted, "Lazarus, come out!" (John 11:43 NLT), He called His friend back to Earth again.
The news of Lazarus's resurrection spread like wildfire. Eyewitnesses were telling their friends and family that Jesus raised a man from the dead. And there was no question that Lazarus had been dead because he was in the tomb for four days. The process of decomposition already had set in.
ALSO, READ  Daily Hope Devotional | 4 September 2021 | Rick Warren
Yet Lazarus was alive again. In fact, the Bible tells us it was the reason that so many people went out to meet Jesus as He rode into Jerusalem on a donkey (see John 12:17-18).
This is a classic example of how a good testimony works. When we become Christians, the Bible says that we pass from "darkness to light, and from the power of Satan to God" (Acts 26:18 NKJV).
Greg Laurie Devotional | 4 September 2021 | Saturday
It's also true that we pass from death to life. We were spiritually dead in our sins, and now we're alive through Christ. And when we put our faith in Jesus Christ, people essentially see us raised from the dead spiritually.
The resurrected Lazarus was like a magnet. People heard about him and came to see him, but ultimately they saw Jesus.
ALSO, READ  Streams of Joy Devotional & Prayers 4 September 2021
In the same way, if we're living for Christ as we ought to, we will draw people to Him. People will want to know our secret. They'll want to know what happened to us. And that's when we can point them to Jesus.
Greg Laurie is the Senior Pastor of Harvest Christian Fellowship with campuses in California and Hawaii. He began his pastoral ministry at the age of 19 by leading a Bible study of 30 people. Copyright © 2021 by Harvest Ministries. All rights reserved.
ARE YOU BORN AGAIN? IF NO, ACCEPT JESUS NOW
Accept Jesus Christ today and secure a life of eternal rest and Glory …
Say this 1 Minute Prayer 

Lord Jesus, I believe you died for my sins, Forgive me of all my iniquities. I accept you as my Lord and Saviour from today and forevermore. Come and Be the Lord of my life and I am willing to obey your command and live according to your will as you help me, Thank you for accepting me into your fold. AMEN

JOHN 3: 3 Jesus answered and said unto him, Verily, verily, I say unto thee, Except a man be born again, he cannot see the kingdom of God.