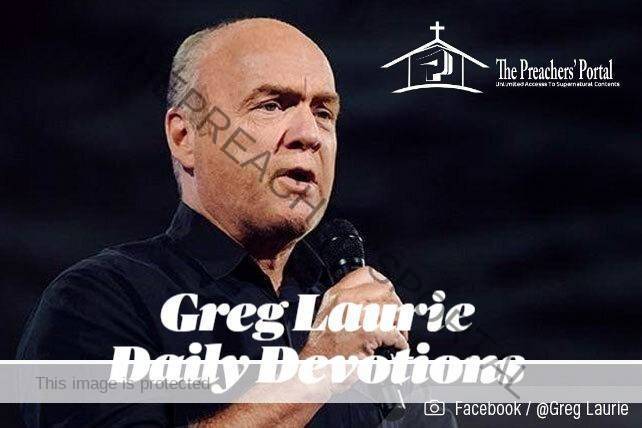 Greg Laurie Devotional | 6 September 2021 | Monday
Greg Laurie Devotional | 6 September 2021 | Monday
CLICK HERE FOR PREVIOUS READING 
Greg Laurie Devotional Guide For 6th September 2021  – A Place for Everyone – Written By Greg Laurie
A Place for Everyone
"Then Jesus entered the Temple and began to drive out the people selling animals for sacrifices" (Luke 19:45 NLT).
MESSAGE
If you want to get someone's attention, turn the table over. In Westerns, of course, this always happens in a saloon. Cowboys are playing a card game, they get into an altercation, one of them turns over a table, and everyone runs for cover.
When Jesus walked into the temple in Jerusalem, He overturned some tables too. Why? Because the people were being taken advantage of. Their sacrificial animals were rejected for so-called flaws, so they had to purchase different animals at an inflated price.
This angered Jesus because God welcomes all people into His house. Even though the Jews are God's covenant people, it's also true that God desires a relationship with all people.
ALSO, READ  Daily Hope Devotional | 6 September 2021 | Rick Warren
Greg Laurie Devotional | 6 September 2021 
God said, "I will also bless the foreigners who commit themselves to the Lord, who serve him and love his name. . . . I will bring them to my holy mountain of Jerusalem and will fill them with joy in my house of prayer. I will accept their burnt offerings and sacrifices because my Temple will be called a house of prayer for all nations" (Isaiah 56:6-7 NLT).
So Jesus was saying, "You've taken My Father's house, which is a house of prayer, and you've turned it into a den of thieves." They were keeping people from worshipping God.
ALSO, READ Billy Graham Devotional 7 September 2021
Greg Laurie Devotional | 6 September 2021 
This can happen in the church today. Maybe a nonbeliever attends a church service for the first time and looks a little different from everyone else. And maybe it makes people uncomfortable. But hold on. Let's understand what the church is.
The church is a place for us to worship God. It's a place for us to hear the Word of God and to discover, develop, and use our spiritual gifts.
The church is a hospital for sinners, not a museum for saints. And it should always be a place where people can meet God.
Greg Laurie is the Senior Pastor of Harvest Christian Fellowship with campuses in California and Hawaii. He began his pastoral ministry at the age of 19 by leading a Bible study of 30 people. Copyright © 2021 by Harvest Ministries. All rights reserved.
ARE YOU BORN AGAIN? IF NO, ACCEPT JESUS NOW
Accept Jesus Christ today and secure a life of eternal rest and Glory …
Say this 1 Minute Prayer 

Lord Jesus, I believe you died for my sins, Forgive me of all my iniquities. I accept you as my Lord and Saviour from today and forevermore. Come and Be the Lord of my life and I am willing to obey your command and live according to your will as you help me, Thank you for accepting me into your fold. AMEN

JOHN 3: 3 Jesus answered and said unto him, Verily, verily, I say unto thee, Except a man be born again, he cannot see the kingdom of God.