In Touch Daily Devotional
In Touch Daily Devotional 16 August 2022 | Dr Charles Stanley
In Touch Daily Devotional 16 August 2022 | Dr Charles Stanley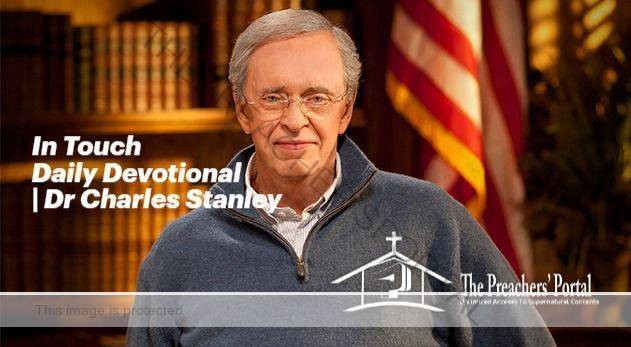 In Touch Daily Devotional 16 August 2022 | Dr Charles Stanley
In Touch Daily Devotional 16 August 2022 | Dr Charles Stanley
CLICK HERE FOR PREVIOUS READING 
Read In Touch Daily Devotional – 16th August 2022 Written By Dr Charles
TOPIC: Prevailing Faith
If you're "on hold" and eager for God to act, do you allow the waiting period to strengthen or weaken your faith?
Romans 4:13-25
MESSAGE
How confident are you that God will fulfill His promises? So often we face situations that seem to prove that the Lord has let us down. This is the case especially when we've waited a long time without a glimmer of change. Sometimes we come to this conclusion because we've set our expectations on the wrong things. But there are also times when the Lord takes us on a long journey of perseverance before His promises come to pass.
ALSO, READ In Touch Daily Devotional – 10 May 2022 | Dr Charles Stanley
That was definitely the case with Abraham. The Lord promised to make him a great nation with descendants beyond number, but he remained childless for many years until his wife Sarah was well past childbearing age.
But as Abraham contemplated the physical impossibility of the situation, his faith in God's promise grew stronger, not weaker. He could see that the Lord would be glorified even more when the promise came to pass in a humanly impossible situation.
INVEST IN IRAs, SECURE YOUR FUTURE
ALSO, READ In Touch Daily Devotional – 23 February 2022 | Dr Charles Stanley
In Touch Daily Devotional 16 August 2022 | Dr Charles Stanley
Is there an area in your life where you need prevailing faith to persevere despite seeming impossibility?  Be assured that "the word of our God stands forever" (Isaiah 40:8). Whatever God has promised, He will do—even if you never see the outcome in your lifetime (Hebrews 11:13).
Bible in One Year: Jeremiah 25-27
In Touch Daily Devotional For Today. Founded in 1977 by Dr Charles Stanley, In Touch evolved out of a half-hour program called "The Chapel Hour," which aired on Atlanta-area television stations. Today, the current "In Touch with Dr. Charles Stanley" can be heard around the world via radio and television broadcasts, podcasts, the handheld In Touch Ministries Messenger, In Touch apps, and this website.
ALSO, READ In Touch Daily Devotional – 17th February 2022 | Dr Charles Stanley