In Touch Daily Devotional
In Touch Daily Devotional 23rd September 2022 | Dr Charles Stanley
In Touch Daily Devotional 23rd September 2022 | Dr Charles Stanley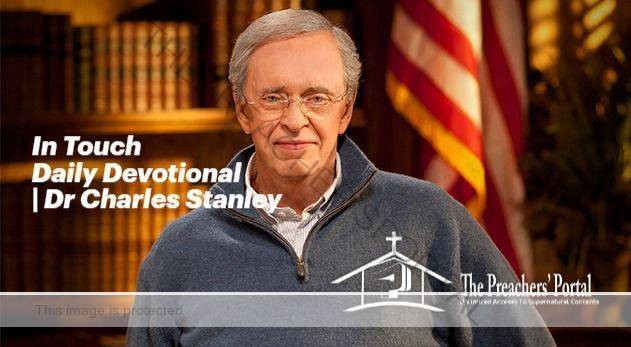 In Touch Daily Devotional 23rd September 2022 | Dr Charles Stanley
In Touch Daily Devotional 23rd September 2022 | Dr Charles Stanley
CLICK HERE FOR PREVIOUS READING 
Read In Touch Daily Devotional – 23 September 2022 Written By Dr Charles Stanley
TOPIC: Confronting Conflict
TODAY'S SCRIPTURE: Galatians 2:11-16
Paul Opposes Peter
11 But ewhen Cephas came to Antioch, I opposed him fto his face, because he stood condemned. 12 For before certain men came from James, ghe was eating with the Gentiles; but when they came he drew back and separated himself, fearing hthe circumcision party.
13 And the rest of the Jews acted hypocritically along with him, so that even Barnabas was led astray by their hypocrisy.
14 But when I saw that their iconduct was not in step with jthe truth of the gospel, I said to Cephas before them all, "If you, though a Jew, llive like a Gentile and not like a Jew, how can you force the Gentiles to live like Jews?"
Justified by Faith
15 We ourselves are Jews by birth and not mGentile sinners; 16 yet we know that na person is not justified2 by works of the law obut through faith in Jesus Christ, so we also have believed in Christ Jesus, in order to be justified by faith in Christ and not by works of the law, pbecause by works of the law no one will be justified.
MESSAGE
When people argue, they can say harsh words, create turmoil, and cause emotional pain. But there's hope—our beliefs can positively influence how we respond in conflict. Consider God's sovereignty, for example. If you believe the scriptures proclaiming God's rule over nature (Psalm 135:6), government (Job 12:23), and mankind (Acts 17:25), then you know that nothing in heaven or on earth is hidden from Him or outside of His control.
This means our heavenly Father, who has promised to protect His children, knows when people verbally attack us. Nothing can touch us apart from His permissive will. His sovereign control also gives Him the power to work pain into something beneficial (Romans 8:28).
ALSO, READ In Touch Daily Devotional 23 June 2022 | Dr Charles Stanley
We have hope because His will cannot be thwarted, even in bad circumstances. When we believe in the Lord's sovereign rule, our perspective on conflict changes. Instead of responding with fear, anger, or resentment, we turn to Him for guidance.
In Touch Daily Devotional 23rd September 2022 | Dr Charles Stanley
Fighting is inevitable in our fallen world. When it's our fault, we are to apologize; when others are responsible, we may have to confront them. But regardless of the circumstances, we're called to forgive without exception—and we can because God is in control. As Christ's ambassadors, the way we respond matters.
ALSO, READ In Touch Daily Devotional – 23 February 2022 | Dr Charles Stanley
BIBLE IN A YEAR: Obadiah 1:1-21 ; Jonah 1-4
THOUGHT FOR TODAY: Because God is in control, we don't have to react to conflict with fear and anger.
In Touch Daily Devotional For Today. Founded in 1977 by Dr Charles Stanley, In Touch evolved out of a half-hour program called "The Chapel Hour," which aired on Atlanta-area television stations. Today, the current "In Touch with Dr. Charles Stanley" can be heard around the world via radio and television broadcasts, podcasts, the handheld In Touch Ministries Messenger, In Touch apps, and this website.