In Touch Daily Devotional
In Touch Daily Devotional 30 June 2022 | Dr Charles Stanley
In Touch Daily Devotional 30 June 2022 | Dr Charles Stanley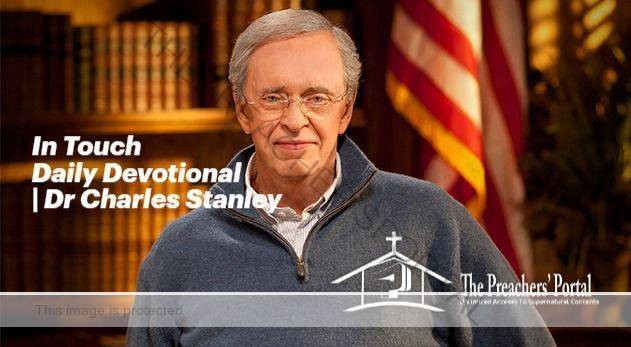 In Touch Daily Devotional 30 June 2022 | Dr Charles Stanley
In Touch Daily Devotional 30 June 2022 | Dr Charles Stanley
CLICK HERE FOR PREVIOUS READING 
Read In Touch Daily Devotional – 30th June 2022 Written By Dr Charles
TOPIC: Live Intentionally
TODAY'S SCRIPTURE: 2 Timothy 4:6-8
For I am already being poured out as a drink offering, and the time of my departure has come.
I have fought the good fight, I have finished the course, I have kept the faith;
in the future there is laid up for me the crown of righteousness, which the Lord, the righteous Judge, will award to me on that day; and not only to me, but also to all who have loved His appearing.
CHARLES STANLEY'S IN TOUCH DAILY DEVOTIONAL
MESSAGE 
We all want to live life to the fullest, but to do that, we must have goals to aim for. Few of us actually take the time to consider where we're going. How tragic it would be to finish our life and find out we were on a course other than God's, fighting the wrong fight and struggling to keep the faith.
The apostle Paul is a good role model for living life to the fullest. His goals were to know Christ, abide in His power, fellowship in His suffering, and preach the gospel (Philippians 3:10; 1 Corinthians 1:17). Paul aligned his aspirations with the Lord's, diligently worked to fulfill his calling, and persevered through suffering. He could face the end of his life with confidence since he'd "fought the good fight … finished the course … [and] kept the faith" (2 Tim. 4:7).
ALSO, READ In Touch Daily Devotional 14 June 2022 | Dr Charles Stanley
If you keep doing what you're doing, you'll keep getting what you've been getting. Don't settle for the mediocrity of an unplanned life. Set aside some time this week to get alone with the Lord.
In Touch Daily Devotional 30 June 2022 | Dr Charles Stanley
Then ask for His help in setting goals that will take you where He wants you to go. Consider every area of your life—personal, relational, financial, and vocational—but make spiritual goals your primary emphasis.
Let God help you change direction so you can pursue things that align with His will. Then start living intentionally.
ALSO, READ In Touch Daily Devotional 13 June 2022 | Dr Charles Stanley
BIBLE IN ONE YEAR: Psalm 103-106
THOUGHT FOR TODAY: When we align our goals with God's, we'll always end up on the right path.
In Touch Daily Devotional For Today. Founded in 1977 by Dr Charles Stanley, In Touch evolved out of a half-hour program called "The Chapel Hour," which aired on Atlanta-area television stations. Today, the current "In Touch with Dr. Charles Stanley" can be heard around the world via radio and television broadcasts, podcasts, the handheld In Touch Ministries Messenger, In Touch apps, and this website.
ALSO, READ In Touch Daily Devotional – 17th February 2022 | Dr Charles Stanley