In Touch Daily Devotional
In Touch Daily Devotional 7 July 2022 | Dr Charles Stanley
In Touch Daily Devotional 7 July 2022 | Dr Charles Stanley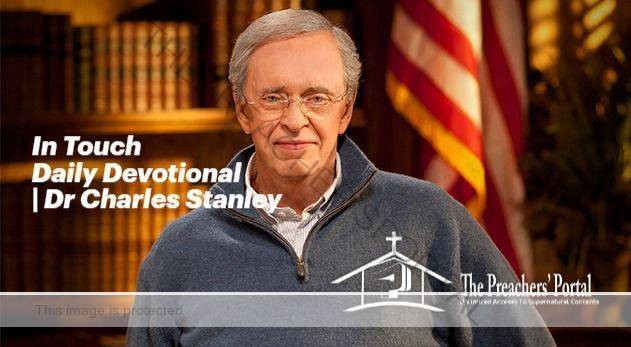 In Touch Daily Devotional 7 July 2022 | Dr Charles Stanley
In Touch Daily Devotional 7 July 2022 | Dr Charles Stanley
CLICK HERE FOR PREVIOUS READING 
Read In Touch Daily Devotional – 7th July 2022 Written By Dr Charles
TOPIC: Encouraging Your Pastor
TODAY'S SCRIPTURE: Hebrews 13:15-18
Through Him then, let us continually offer up a sacrifice of praise to God, that is, the fruit of lips that give thanks to His name.
And do not neglect doing good and sharing, for with such sacrifices God is pleased.
Obey your leaders and submit to them, for they keep watch over your souls as those who will give an account. Let them do this with joy and not with grief, for this would be unprofitable for you.
ALSO, READ In Touch Daily Devotional – 18 May 2022 | Dr Charles Stanley
Pray for us, for we are sure that we have a good conscience, desiring to conduct ourselves honorably in all things.
CHARLES STANLEY'S IN TOUCH DAILY DEVOTIONAL
MESSAGE
If you attend church, then God has given you a pastor to care for your soul by modelling godliness, preaching the Word, and training and exhorting you in righteousness—even when you might not feel like listening. He cares about your spiritual well-being and needs to know you care for him too.
Many believers neglect to give encouragement to the pastor because they forget that he too is a member of the body of Christ. It can be lonely and discouraging to selflessly sacrifice for the congregation without ever receiving honor and appreciation from them.
ALSO, READ In Touch Daily Devotional – 30 May 2022 | Dr Charles Stanley
Today's passage says that we should obey and submit to our leaders so they can faithfully do their job as shepherds with joy instead of groaning. Paul said elders who rule well and work hard at preaching and teaching should be given double honor (1 Timothy 5:17).
In Touch Daily Devotional 7 July 2022 | Dr Charles Stanley
When was the last time you expressed appreciation to your pastor? This week, look for ways to demonstrate your love to him. And above all, pray for him. Don't assume that he needs no intercession; the opposite is true. Every pastor needs to know that his congregation values him.
ALSO, READ In Touch Daily Devotional – 10 May 2022 | Dr Charles Stanley
BIBLE IN ONE YEAR: Psalms 145-150
THOUGHT FOR TODAY: How can you appreciate and serve your pastor?
In Touch Daily Devotional For Today. Founded in 1977 by Dr Charles Stanley, In Touch evolved out of a half-hour program called "The Chapel Hour," which aired on Atlanta-area television stations. Today, the current "In Touch with Dr. Charles Stanley" can be heard around the world via radio and television broadcasts, podcasts, the handheld In Touch Ministries Messenger, In Touch apps, and this website.
ALSO, READ In Touch Daily Devotional – 17th February 2022 | Dr Charles Stanley