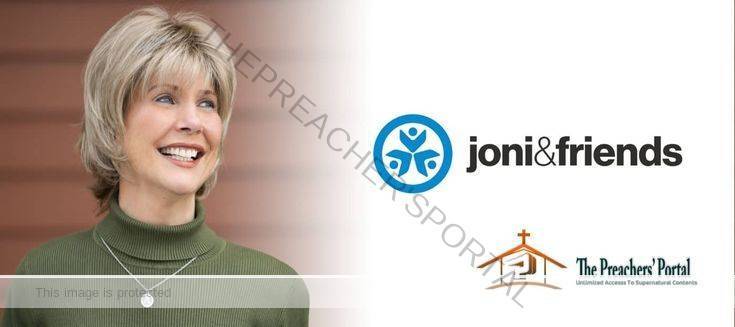 Joni and Friends Devotional | 10 January 2022
Joni and Friends Devotional | 10 January 2022
CLICK HERE FOR PREVIOUS READING
Joni and Friends Daily Devotional 10th January 2022 Monday Message
TOPIC: A Sacrifice of Praise
SCRIPTURE: "Through Jesus, therefore, let us continually offer to God a sacrifice of praise—the fruit of lips that confess his name. And do not forget to do good and to share with others, for with such sacrifices God is pleased."
(Hebrews 13:15-16)
MESSAGE
When I picture animals being slain in the Old Testament, I cringe at the thought that our God who created cute woolly lambs would use them in sacrifices. But that has nothing to do with why I'm glad Christ came to earth to die as the final and complete sacrifice.
ALSO READ, Oswald Chambers Devotional 8th January 2022
My relief is minor compared to those who lived under the ceremonial law. Imagine their sigh of relief. At last, the Messiah had come and banished every drop of animal blood from every act of worship from then on until eternity. The Jews who came to Christ must have been overjoyed but also a bit mystified. After all, sacrifices were such an integral part of life. Without the need for a temple or an altar, what were they to do now? Hear these words as a Jewish Christian: "Through Jesus, therefore, let us continually offer to God a sacrifice of praise—the fruit of lips that confess his name. And do not forget to do good and to share with others, for which such sacrifices God is pleased" (Hebrews 13:15-16).
Joni and Friends Devotional | 10 January 2022
What great news! Our penchant to do something has provided an outlet! And rather than the sacrifice being burned and the blood poured out on the floor, our sacrifices have a destination. Our thanks lifted up to God and our doing good has an impact on the lives of those around us.
Praise be to God for His Son, the Lamb that was slain. And praise is to God for giving us the privilege of presenting a new and joyful sacrifice of praise.
ALSO READ, Andrew Wommack Devotional 28 September 2021
Lord, thank You for Your gift of salvation and for Your precious Son. May my lips and my hands be ever ready to sacrifice a praise offering.
Joni & Friends Ministries Founded by Joni Eareckson Tada in 1979, Joni and Friends are dedicated to reaching out to families living with disabilities all around the globe with gospel-adorned hope. We extend gospel-centered care through Community Support, Respite, Retreats and Getaways, and Crisis Response. And we connect families with Christ-honoring, disability-friendly churches where they find a place belong.
Joni and Friends Devotional | 10 January 2022
ARE YOU BORN AGAIN? IF NO ACCEPT JESUS NOW
Accept Jesus Christ today and secure a life of eternal rest and Glory …
Say this 1 Minute Prayer

Lord Jesus, I believe you died for my sins, Forgive me of all my iniquities. I accept you as my Lord and Saviour from today and forevermore. Come and Be the Lord of my life and I am willing to obey your command and live according to your will as you help me, Thank you for accepting me into your fold. AMEN

JOHN 3: 3 Jesus answered and said unto him, Verily, verily, I say unto thee, Except a man be born again, he cannot see the kingdom of God