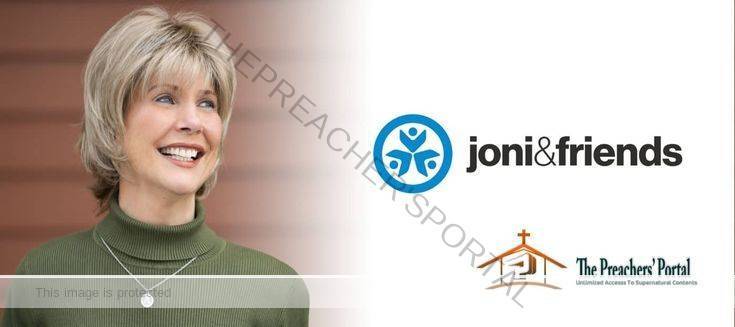 Joni and Friends Devotional | 11 January 2022
Joni and Friends Devotional | 11 January 2022
CLICK HERE FOR PREVIOUS READING 
Joni and Friends Daily Devotional 11th January 2022 Tuesday Message
TOPIC: A Heavenly Perspective
SCRIPTURE: "Jesus answered him, 'I tell you the truth, today you will be with me in paradise.'"
(Luke 23:43)
MESSAGE
My friend Debbie, a woman with quadriplegia, died and went to be with the Lord. I said to a woman in the church, "Just think, she's free of her paralysis and pain!" The woman shook her head and reminded me that Debbie is "asleep" and won't join the Lord until the dead are resurrected.
ALSO READ, From His Heart Devotional 2nd December 2021 – Jeff Schreve
That woman's frame of reference is limited. Also, we operate within the confines of time and space in this world, but God exists outside of time. It's mind-boggling to think that he lives as the great "I Am," always in the present tense, always observing the past and present now. We hear him laugh at the confines of time when he shares his frame of reference: "A day, to the Lord, is as a thousand years, and a thousand years is as a day."
Probably that's why the Lord Jesus could say to the thief on his dying day, "Today you will be with me in paradise."
Joni and Friends Devotional | 11 January 2022
Debbie is asleep in the Lord. But she doesn't know that. Debbie, along with the thief on the cross, is today with the Lord in paradise. A twinkling of an eye, for her, has already passed. Time, for Debbie, is removed. When she and King David, Adam and Eve, you and I (if we die before he comes), awake from our sleep, we will all think that only a flash of a moment has passed.
It takes faith to have this heavenly perspective. Faith is the substance of things hoped for. Faith removes all intervening time. Exercise this kind of faith the next time a believing friend dies and goes to be with the Lord.
ALSO READ, David Jeremiah Sermon Today | 10 December 2021 | Devotional
Lord of time and space, give me your heavenly perspective.
Joni & Friends Ministries Founded by Joni Eareckson Tada in 1979, Joni and Friends are dedicated to reaching out to families living with disabilities all around the globe with gospel-adorned hope. We extend gospel-centered care through Community Support, Respite, Retreats and Getaways, and Crisis Response. And we connect families with Christ-honoring, disability-friendly churches where they find a place belong.
Joni and Friends Devotional | 11 January 2022
ARE YOU BORN AGAIN? IF NO ACCEPT JESUS NOW
Accept Jesus Christ today and secure a life of eternal rest and Glory …
Say this 1 Minute Prayer

Lord Jesus, I believe you died for my sins, Forgive me of all my iniquities. I accept you as my Lord and Saviour from today and forevermore. Come and Be the Lord of my life and I am willing to obey your command and live according to your will as you help me, Thank you for accepting me into your fold. AMEN

JOHN 3: 3 Jesus answered and said unto him, Verily, verily, I say unto thee, Except a man be born again, he cannot see the kingdom of God