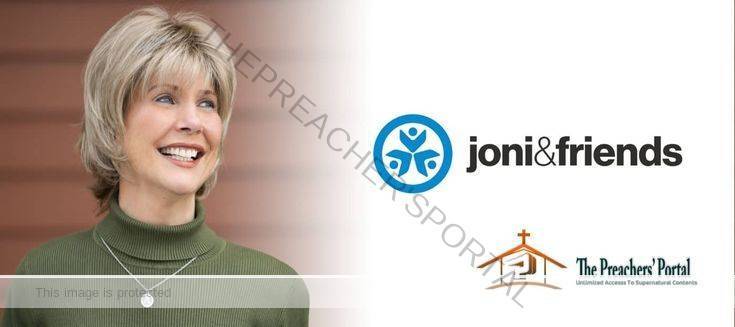 Joni and Friends Devotional | 16 November 2021
Joni and Friends Devotional | 16 November 2021
CLICK HERE FOR PREVIOUS READING 
Joni and Friends Daily Devotional 16th November 2021 Tuesday Message
Topic: In Whose Life Do You Live?
SCRIPTURE: "Remain in me, and I will remain in you. No branch can bear fruit by itself; it must remain in the vine. Neither can you bear fruit unless you remain in me." –John 15:4
The university gymnasium is packed, and from the platform, I can see every student. The microphone works fine. I can see my notes. But something is wrong. I am only ten minutes into my message, but there's a restlessness in the air. The faces of the students in the front row hold blank expressions. They look as dull as I feel.
ALSO READ, The Law Of Focus – Bishop David Oyedepo
I realize that I sound hollow. More than that, I feel hollow. Even though I'm sharing powerful truths from God's Word, I know that my words lack energy. I'm separated from my message – disconnected, out of gear. Before I embark on my next sentence, I breathe a silent prayer – no more going through the motions.
Within minutes I can sense the difference between my effort and God's energy working through me. I feel relaxed, free. There is joy in my voice and the faces of the kids on the front row even begin to brighten.
Joni and Friends Devotional | 16 November 2021
Nothing is more mechanical than when we attempt to live a supernatural life apart from God. I've done it. You do it. When we live apart from him, prayer becomes dull, witnessing becomes dry, and relationships sag under the weight of selfishness. Our jobs become routine, and even performing an act of kindness becomes an unpleasant duty. Our relationship to the Lord even becomes a chore.
ALSO READ, Andrew Wommack Devotional 6 April 2021
In case you're feeling a little self-sufficient, remember that in him you live, move, and have your being. Apart from him you can't do a thing. So count yourself dead to sin but alive to God in Christ.
Lord Christ, you were raised from the dead through the glory of the Father that I, too, might live a new life. Forgive me when I go through the motions. Let me live through you today, always and only in your power.
Joni and Friends Devotional | 16 November 2021
Joni & Friends Ministries Founded by Joni Eareckson Tada in 1979, Joni and Friends are dedicated to reaching out to families living with disabilities all around the globe with gospel-adorned hope. We extend gospel-centered care through Community Support, Respite, Retreats and Getaways, and Crisis Response. And we connect families with Christ-honoring, disability-friendly churches where they find a place belong.
ALSO, READ Joni & Friends Devotional | 13 September 2021
ARE YOU BORN AGAIN? IF NO ACCEPT JESUS NOW
Accept Jesus Christ today and secure a life of eternal rest and Glory …
Say this 1 Minute Prayer

Lord Jesus, I believe you died for my sins, Forgive me of all my iniquities. I accept you as my Lord and Saviour from today and forevermore. Come and Be the Lord of my life and I am willing to obey your command and live according to your will as you help me, Thank you for accepting me into your fold. AMEN

JOHN 3: 3 Jesus answered and said unto him, Verily, verily, I say unto thee, Except a man be born again, he cannot see the kingdom of God