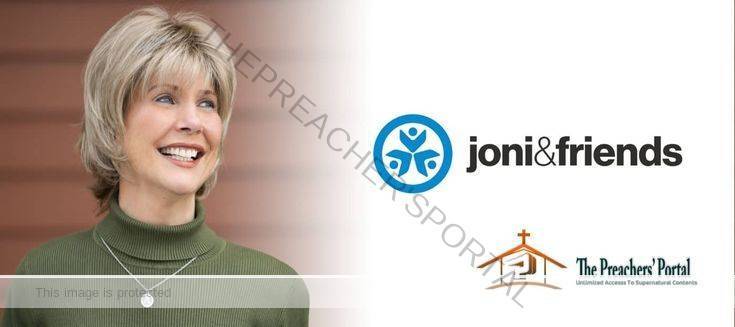 Joni and Friends Devotional | 17 March 2022
Joni and Friends Devotional | 17 March 2022
CLICK HERE FOR PREVIOUS READING 
Joni and Friends Daily Devotional 17th March 2022 Thursday Message
TOPIC: I'm A Christian
SCRIPTURE: "How great is the love the Father has lavished on us, that we should be called children of God! And that is what we are!" -1 John 3:1
MESSAGE
Recently Ken and I traveled to Maryland for an Eareckson family reunion and visited with scores of cousins, aunts, and uncles. I was surprised and pleased that so many relatives remembered me by my childhood name. You see, I was named after my dad, Johnny Eareckson; he was always "Big Johnny" and I was "Little Joni."
ALSO READ, Joni and Friends Devotional | 30 December 2021
Strange that it didn't bother me, even though my father has long since gone to heaven. And "Little Joni" didn't bother me when I was a child, either. I've always considered it a privilege to share in my dad's name because, in a way, it allowed me to share in his character and reputation; it made me a part of everything he was (and my father was very well known and respected in the community).
I once read in a Bible commentary that the word "Christian" means "Little Christs." What an honor to share Christ's name! We can be bold to call ourselves Christians and bear the stamp of His character and reputation. When people find out that you are a Christian, they should already have an idea of who you are and what you are like simply because you bear such a precious name.
Joni and Friends Devotional | 17 March 2022
If you were asked to describe yourself, what titles would be first on your list? That you are married or single, employed or unemployed? Would you then list your hair color or height? Or would you immediately respond, "I am a Christian…"?
I'll tell the world that I'm a Christian; I'm not ashamed Your name to bear. I'll tell the world that I'm a Christian; and take You with me anywhere. I'll tell the world how You have saved me, and how You gave me a life brand-new; I would tell the world that I'm a Christian, eternal life I'll live with You.
Joni & Friends Ministries Founded by Joni Eareckson Tada in 1979, Joni and Friends are dedicated to reaching out to families living with disabilities all around the globe with gospel-adorned hope. We extend gospel-centered care through Community Support, Respite, Retreats and Getaways, and Crisis Response. And we connect families with Christ-honoring, disability-friendly churches where they find a place belong.
Joni and Friends Devotional | 17 March 2022
ARE YOU BORN AGAIN? IF NO ACCEPT JESUS NOW
Accept Jesus Christ today and secure a life of eternal rest and Glory …
Say this 1 Minute Prayer

Lord Jesus, I believe you died for my sins, Forgive me of all my iniquities. I accept you as my Lord and Saviour from today and forevermore. Come and Be the Lord of my life and I am willing to obey your command and live according to your will as you help me, Thank you for accepting me into your fold. AMEN

JOHN 3: 3 Jesus answered and said unto him, Verily, verily, I say unto thee, Except a man be born again, he cannot see the kingdom of God