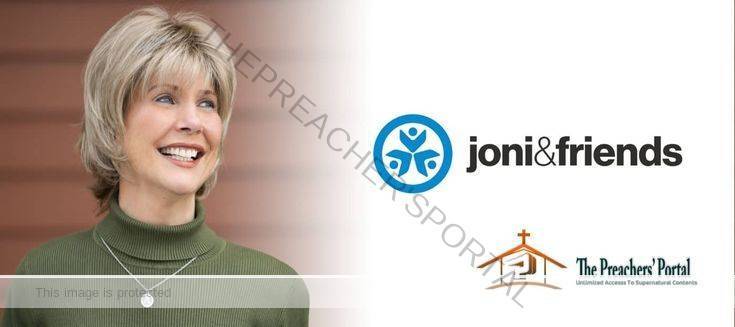 Joni and Friends Devotional | 20 July 2022
Joni and Friends Devotional | 20 July 2022
CLICK HERE FOR PREVIOUS READING 
Joni and Friends Daily Devotional 20th July 2022 Wednesday Message
TOPIC: Comfort of the Spirit  
SCRIPTURE:
Praise be to the God and Father of our Lord Jesus Christ, the Father of compassion and the God of all comfort, who comforts us in all our troubles, so that we can comfort those in any trouble with the comfort we ourselves receive from God.  
-2 Corinthians 1:3-4 NIV 
MESSAGE
A very special grandmother recently related the following experience to me:  
My daughter's call from the hospital emergency room shocked me. My granddaughter Robin, just turned six, had fallen from the high bar at school, severely injuring her mouth. I picked up her sisters at school and spent a hectic, tense afternoon supervising the little ones while awaiting my daughter's return with Robin.  
ALSO READ, Joni and Friends Devotional | 2 July 2022
The doctor had taken eight stitches inside her mouth and six on the outside. As the little ones swarmed over their mother, Robin sat squarely in the biggest chair in the living room. Her face puffed almost beyond recognition, her long hair still ropey with dried blood, she looked tiny and forlorn. Still, I approached her cautiously, for Robin is the least demonstrative, most private of children. 
"Is there anything you want, darling?" I asked. 
She looked me firmly in the eye and said, "I want a hug." 
INVEST IN IRAs, SECURE YOUR FUTURE
Me too! I thought as I cuddled her on my lap. But how and whom does an exhausted grandmother ask? As we rocked gently, the words of Scripture came to me from John 14:16:
"I will pray the Father, and he shall give you another Comforter, that he may abide with you forever."
So I asked, just as simply and plaintively as Robin had asked. And just as simply, I felt his everlasting arms enfold us. 
Like that grandmother, we often long to have comforting arms surround us in our weariness, heartache, and confusion. 
Joni and Friends Devotional | 20 July 2022
That's what I love about the Holy Spirit. 
Certainly, the Bible names him as our Counselor. And yes, he is our Intercessor. We're told elsewhere he is our Teacher, Guide, and the Spirit of Truth. He reminds us of everything Jesus has said. And reveals the Father. He even convicts us of sin. He does so many things. But the one thing I love most… 
He's our Comforter. 
There are times when I so yearn to feel the presence of God I almost weep. And I know it is at those times the Holy Spirit is earnestly praying for me. What a comfort to sense his presence in such a close and personal way! 
The Lord Jesus tells us in John 16:14 that the Holy Spirit will only bring glory to him. How true that is. When I sense the consoling presence of the Spirit, it makes me want to praise Jesus all the more. 
If you're hurting today, don't immediately grab the phone to call a friend. Seek the everlasting arms of the Spirit. He is many things, but most importantly to you today, he is your Comforter. He has a ready embrace for hurting little girls, heartsick grandmas, worried daddies…and you, too, by the way. 
You say it's been quite awhile since you've sensed that holy hug? 
Maybe it's been quite awhile since you asked. 
Joni & Friends Ministries Founded by Joni Eareckson Tada in 1979, Joni and Friends are dedicated to reaching out to families living with disabilities all around the globe with gospel-adorned hope. We extend gospel-centered care through Community Support, Respite, Retreats and Getaways, and Crisis Response. And we connect families with Christ-honoring, disability-friendly churches where they find a place belong.
ARE YOU BORN AGAIN? IF NO, ACCEPT JESUS NOW
Accept Jesus Christ today and secure a life of eternal rest and Glory …
Say this 1 Minute Prayer

Lord Jesus, I believe you died for my sins, Forgive me of all my iniquities. I accept you as my Lord and Saviour from today and forevermore. Come and Be the Lord of my life and I am willing to obey your command and live according to your will as you help me, Thank you for accepting me into your fold. AMEN

JOHN 3: 3 Jesus answered and said unto him, Verily, verily, I say unto thee, Except a man be born again, he cannot see the kingdom of God