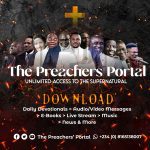 Joyce Meyer Daily Devotional 20th November 2021
Joyce Meyer Daily Devotional 20th November 2021
CLICK HERE FOR PREVIOUS READING 
Joyce Meyer Ministries Daily Devotional 20 November 2021 Saturday Message Written By Joyce Meyer Ministries
TOPIC: He Is Strong
SCRIPTURE: We are weak, but you are [so very] strong! 1 Corinthians 4:10 (AMPC)
MESSAGE
We need help—and a lot of it. Jeremiah 10:23 says, the way of a man is not in himself; it is not in man [even in a strong man or in a man at his best] to direct his [own] steps. It really is impossible for man to properly run his own life. Admitting that fact is not a sign of weakness, it is a sign of spiritual maturity. You are weak unless you find your strength in God, and the sooner you face that fact, the better.
ALSO, READ Joyce Meyer Daily Devotional 20th October 2021
Many people have position, wealth, and power, but they may not have what really matters—good relationships, right standing with God, peace, joy, contentment, satisfaction, good health, and the ability to enjoy life. Not everything that appears well is well!
Joyce Meyer Devotional 20th November 2021
You may be trying hard to make things work out right and always failing. Your problem is not that you are a failure. Your problem is simply that you have not gone to the right source for help.
ALSO, READ Joyce Meyer Daily Devotional 14th November 2021
Are Christians really supposed to enjoy their life?
PRAYER STARTER: Father, thank you for the many blessings in my life, and please help me to grow up more in You and realize just how much I need You. Amen.
Joyce Meyer Ministries is called to share the Gospel and extend the love of Christ. Through media, we teach people how to apply biblical truth to every aspect of their lives and encourage God's people to serve the world around them.
ALSO, READ Joyce Meyer Ministries Devotional 16 September 2021
ARE YOU BORN AGAIN? IF NO ACCEPT JESUS NOW
Accept Jesus Christ today and secure a life of eternal rest and Glory …
Say this 1 Minute Prayer

Lord Jesus, I believe you died for my sins, Forgive me of all my iniquities. I accept you as my Lord and Saviour from today and forevermore. Come and Be the Lord of my life and I am willing to obey your command and live according to your will as you help me, Thank you for accepting me into your fold. AMEN

JOHN 3: 3 Jesus answered and said unto him, Verily, verily, I say unto thee, Except a man be born again, he cannot see the kingdom of God