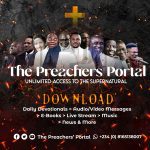 Joyce Meyer Devotional Today || 16th March 2022 | Wednesday
Joyce Meyer Devotional Today || 16th March 2022 | Wednesday
CLICK HERE FOR PREVIOUS READING 
Joyce Meyer Ministries Daily Devotional 16 March 2022 Written By Joyce Meyer
TOPIC: Pray and Give Thanks
SCRIPTURE: Now when Daniel knew that the writing was signed, he went into his hours…he got down upon his knees three times a day prayed and gave thanks before his God, as he had done previously. — Daniel 6:10 (AMPC)
JOYCE MEYER DEVOTIONAL TODAY
MESSAGE
Giving thanks is so important to being able to hear God's voice because, like praise and worship, it is something God responds to. It's something God loves, something that warms His heart. Any time we give God pleasure like that, our intimacy with Him increases—and that makes for a better relationship with Him.
ALSO READ, Joyce Meyer Devotional Today || 6th March 2022 | Sunday
Also, when we are thankful, we are in a position to receive more from the Lord. If we are not thankful for what we have, why should He give us something else to murmur about? On the other hand, when God sees that we genuinely appreciate and are thankful for the big and little things, He is inclined to bless us even more. According to Philippians 4:6, everything we ask God for should be preceded and accompanied by thanksgiving—we should pray with a thankful heart for what we already have and thank Him in advance for hearing and answering our prayers!
No matter what we pray for, thanksgiving should always go with it. A good habit to develop is starting all our prayers with thanksgiving. An example of this would be: "Thank You for all You have done in my life, You are awesome and I really love and appreciate You."
Joyce Meyer Devotional Today || 16th March 2022 | Wednesday
I encourage you to examine your life, to pay attention to your thoughts and your words, and see how much thanksgiving you express. Do you grumble and complain about things?
Or are you thankful? If you want a challenge, just try to get through an entire day without uttering one word of complaint. Develop an attitude of thanksgiving in every situation. In fact, just become outrageously thankful—and watch as your intimacy with God increases and as He pours out greater blessings than ever before.
PRAYER STARTER 
Lord, thank you for the way You lead me when I pray. Help me to remember to thank You first before I do anything else. Let thankfulness be the basis of my prayer life. I choose right now to put replace complaining with gratitude.
Joyce Meyer Devotional Today || 16th March 2022 | Wednesday
JESUS IS COMING SOON!!!
ARE YOU BORN AGAIN? IF NO ACCEPT JESUS NOW
Accept Jesus Christ today and secure a life of eternal rest and Glory …
Say this 1 Minute Prayer

Lord Jesus, I believe you died for my sins, Forgive me of all my iniquities. I accept you as my Lord and Saviour from today and forevermore. Come and Be the Lord of my life and I am willing to obey your command and live according to your will as you help me, Thank you for accepting me into your fold. AMEN

JOHN 3: 3 Jesus answered and said unto him, Verily, verily, I say unto thee, Except a man be born again, he cannot see the kingdom of God