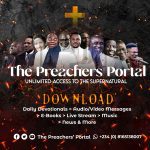 Joyce Meyer Devotional Today || 29th June 2022 | Wednesday
Joyce Meyer Devotional Today || 29th June 2022 | Wednesday
CLICK HERE FOR PREVIOUS READING 
Joyce Meyer Ministries Daily Devotional 29 June 2022 Written By Joyce Meyer
TOPIC: It's Better This Way
SCRIPTURE: However, I am telling you nothing but the truth when I say it is profitable (good, expedient, advantageous) for you that I go away. Because if I do not go away, the Comforter…will not come to you…but if I go away, I will send Him to you…. — John 16:7(AMPC)
MESSAGE
The presence of the Holy Spirit in our lives is wonderful beyond what we can imagine. He is our Comforter and that means He will help and comfort us anytime we are hurt as we journey through life. I like to think of the Holy Spirit being as near to me as my breath.
ALSO READ, Joyce Meyer Devotional Today || 18th February 2022 | Friday
The Holy Spirit leads and guides us into the plan of God for our lives. Learning to follow His leadership is definitely a journey. We are accustomed to living by our own thoughts, feelings, and desires, but as Christians we need to learn to be led by the Holy Spirit. Jesus came in the body of a man and understands all that we go through in life. It gives me great comfort to remember that Jesus understands me! He is patient and will continue working with us as long as we are willing to continue learning.
Why would Jesus say that it would be better if He went away and sent the Holy Spirit? What could possibly be better than having Jesus in person on the earth? Jesus could only be one place at a time, but the Holy Spirit can be everywhere, working in everyone all at the same time.
Joyce Meyer Devotional Today || 29th June 2022 | Wednesday
It is amazing! He never leaves us, not even for one moment. He knows everything about us and is working to heal all that is broken or wounded in us, and to put everything in its proper working order. Every day we get better and better in every way through the awesome power and wisdom of the Holy Spirit.
Prayer Starter
Lord, I rejoice knowing that Your way is the best way, and that you are with me at all times, working in me and through me until everything is good working order.
Joyce Meyer Daily Devotional 29 June 2022 taken from the book Strength for Each Day – by Joyce Meyer
Joyce Meyer Ministries is called to share the Gospel and extend the love of Christ. Through media, we teach people how to apply biblical truth to every aspect of their lives and encourage God's people to serve the world around them.
JESUS IS COMING SOON!!!
ARE YOU BORN AGAIN? IF NO, ACCEPT JESUS NOW
Accept Jesus Christ today and secure a life of eternal rest and Glory …
Say this 1 Minute Prayer

Lord Jesus, I believe you died for my sins, Forgive me of all my iniquities. I accept you as my Lord and Saviour from today and forevermore. Come and Be the Lord of my life and I am willing to obey your command and live according to your will as you help me, Thank you for accepting me into your fold. AMEN

JOHN 3: 3 Jesus answered and said unto him, Verily, verily, I say unto thee, Except a man be born again, he cannot see the kingdom of God