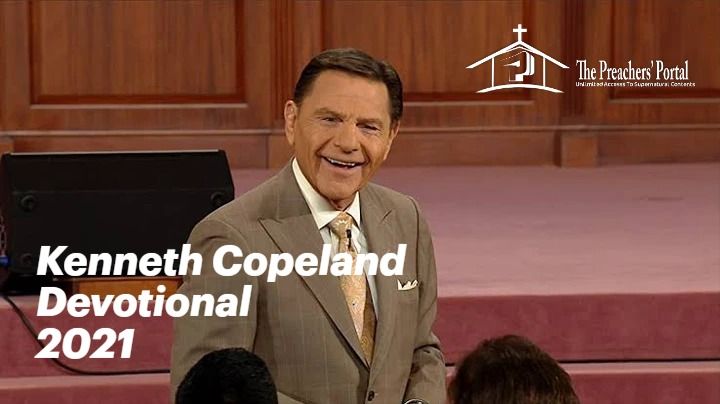 Kenneth Copeland Devotional 12 August 2021
Kenneth Copeland Devotional 12 August 2021
CLICK HERE FOR PREVIOUS READING 
Kenneth Copeland Devotional12 August 2021 – A Supernatural Cycle Of Blessing Written By Kenneth & Gloria Copeland
Topic: A Supernatural Cycle of Blessing
Cast thy bread upon the waters: for thou shalt find it after many days. – Ecclesiastes 11:1
MESSAGE
One of the most exciting things I ever discovered about God's law of sowing and reaping was the fact that financial harvests are not seasonal. If you plant year-round, you can be receiving year-round.
Don't misunderstand. I'm not saying your harvest will come instantly. It usually won't. You may have to wait for it for several months. What I'm saying is, if you'll keep planting consistently, you'll receive just as consistently. If you'll continually cast your bread on the water, eventually it will come in on every wave!
ALSO, READ MFM 70 Days Prayer and Fasting Programme 9 August 2021
Of course, some people never get to enjoy that kind of constant blessing. That's because, instead of giving, they keep waiting to receive. They stand on the beach saying, "I wonder where my prosperity is? As soon as it comes in, I'll start giving."
God's economy doesn't work that way. He said, "Give and it will be given to you again. The way you measure it, it shall be measured back to you" (Luke 6:38). You have to make the first move. You have to send a ship out before your ship can come in.
INVEST IN IRAs, SECURE YOUR FUTURE
Kenneth Copeland 12 August 2021
Think about that next time you're tempted to complain about the things life brings your way. Remember that whatever you've been casting out there is always what you find down the road. If you've been giving doubt, unbelief and fear, that's what has been coming to you. If you've been giving nothing, then nothing is what you get.
You're holding the seeds of your own future in your hand right now. Step out in faith and use them to put the supernatural cycle of blessing in motion. Start now planting one good seed after another. Eventually, you'll enjoy a good harvest every single day!
Scripture Reading: Luke 6:31-38
This message was written by The Association of Related Ministries International (ARMI) is an extension of Andrew Wommack Ministries (AWM). ARMI is a unique partnership committed to providing resources to help like-minded ministers succeed in a spirit of excellence and to draw from the experience and expertise of both the AWM and Charis Bible College staff. (www.awmi.net).
ARE YOU BORN AGAIN? IF NO
Accept Jesus Christ today and secure a life of eternal rest and Glory …
Say this 1 Minute Prayer 

Lord Jesus, I believe you died for my sins, Forgive me of all my iniquities. I accept you as my Lord and Saviour from today and forevermore. Come and Be the Lord of my life and I am willing to obey your command and live according to your will as you help me, Thank you for accepting me into your fold. AMEN

JOHN 3: 3 Jesus answered and said unto him, Verily, verily, I say unto thee, Except a man be born again, he cannot see the kingdom of God.