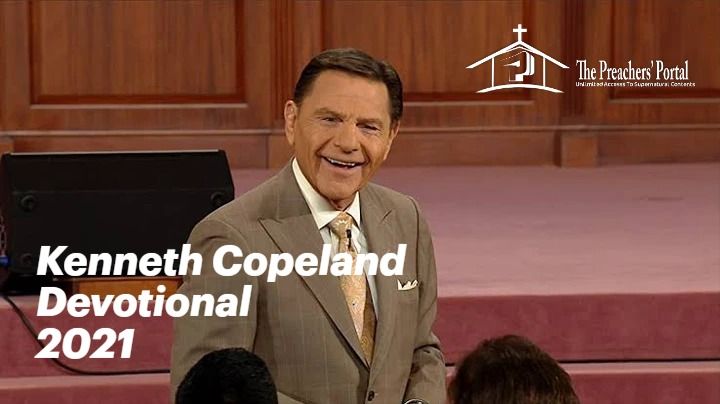 Kenneth Copeland Devotional 20 September 2021
Kenneth Copeland Devotional 20 September 2021
CLICK HERE FOR PREVIOUS READING 
Kenneth Copeland Devotional 20th September 2021 Faith To Faith Daily Devotional Message Written Kenneth & Gloria Copeland
TOPIC: TIME TO GET SERIOUS
Kenneth Copeland
SCRIPTURE:: O God, thou art my God; early will I seek thee…. I [will] remember thee upon my bed, and meditate on thee in the night watches. Psalm 63:1,6
MESSAGE
If you're going to live in divine health, there are going to be times when you'll have to be downright extreme about the Word of God. Times when you may be facing a sickness so severe that you need more than just a few moments in the Word and a quick prayer to receive your healing.
I want to tell you, in very practical terms, what I would do in a situation like that.
ALSO, READ Kenneth Copeland Devotional 1 August 2021
The moment I woke up in the morning before I did anything else, I'd take Communion. I'd say, "Lord, I dedicate my body all day today to the service of my Lord Jesus Christ. I take Jesus' pure blood shed for me."
Then I'd put the devil in his place. I'd say, "I rebuke you, Satan. You're not going to put any sickness and disease on me today. Regardless of the symptoms, regardless of what my body thinks about it, by the power of Jesus through His Spirit, I have overcome this sickness because He who is within me is greater than he who is in the world."
ALSO, READ Kenneth Copeland Devotional 17 July 2021
Kenneth Copeland Devotional 20 September 2021
Then, all day long, I'd thank God for my healing. I'd choose some teaching tapes that would fill my mind and my spirit with the anointed Word of God, and I'd listen to them throughout the day. In the afternoon, I'd praise God and receive Communion again to remind myself that the blood of Jesus is in my veins, that I'm part of God's family.
You don't have to wait until the second Sunday of each month or whatever to receive Communion. Jesus just said, "This do ye, as oft as ye drink it, in remembrance of me" (1 Corinthians 11:25). And if you're facing a serious attack of the devil, you need to remember Jesus all day and all night. You need to consider Jesus until thoughts of Him push the thoughts of that sickness right out of your mind.
Kenneth Copeland Devotional 20 September 2021
That night before bed I'd receive Communion again, then I'd praise myself to sleep. If I woke up in the night, I'd reach over and get my Bible and read all the healing scriptures and make the devil sorry he woke me.
When the devil launches a serious attack against your body, don't mess around. Get serious about the Word. Put yourself under its constant care and it will take good care of you.
SCRIPTURE READING: Hebrews 4:9-16
Kenneth Copelan Devotional Today written by Kenneth and Gloria Copeland, the leader of the Kenneth Copeland Ministries (www.KCM.org) that specializes in teaching principles of bible faith – prayer, healing, salvation and other biblical topics.
ARE YOU BORN AGAIN? IF NO
Accept Jesus Christ today and secure a life of eternal rest and Glory …
Say this 1 Minute Prayer 

Lord Jesus, I believe you died for my sins, Forgive me of all my iniquities. I accept you as my Lord and Saviour from today and forevermore. Come and Be the Lord of my life and I am willing to obey your command and live according to your will as you help me, Thank you for accepting me into your fold. AMEN

JOHN 3: 3 Jesus answered and said unto him, Verily, verily, I say unto thee, Except a man be born again, he cannot see the kingdom of God.