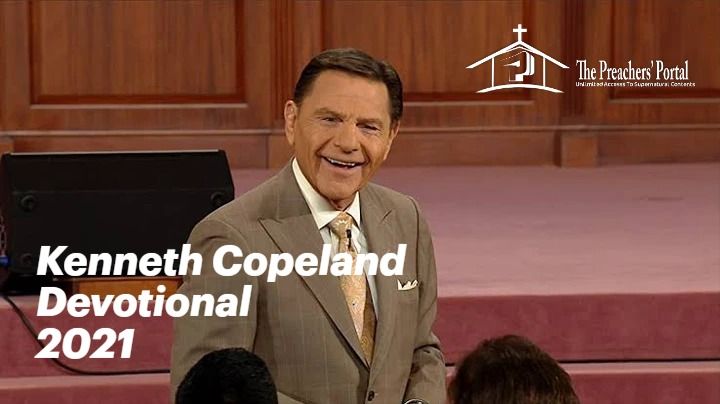 Kenneth Copeland Devotional 4 September 2021
Kenneth Copeland Devotional 4 September 2021
CLICK HERE FOR PREVIOUS READING 
Kenneth Copeland Devotional 4 September 2021 Faith To Faith Daily Devotional Message Written By Kenneth & Gloria Copeland
Let God Be Glorified
Gloria Copeland
Scripture: And Jesus went forth…moved with compassion…and he healed their sick…. And great multitudes came unto him, having with them those that were lame, blind, dumb, maimed, and many others, and cast them down at Jesus' feet; and he healed them: Insomuch that the multitude wondered when they saw the dumb to speak, the maimed to be whole, the lame to walk, and the blind to see: and they glorified the God of Israel. Matthew 14:14; 15:30-31
ALSO, READ  DCLM Daily Manna 4 September 2021 Devotional & Prayers
MESSAGE
Religious tradition says that God gets glory when we bear up nobly under the agony of sickness and disease. But that's not what the Bible says. It says God gets glory when the blind see and the lame walk and the maimed are made whole!
ALSO, READ MFM 70 Days Fasting And Prayer 4th September 2021 (Day 27)
In India or Africa where people haven't been taught those kinds of religious traditions, when someone stands up and announces, "I come to you as a messenger from the Most High God," people believe what he has to say. When they hear that Jesus, the King of kings, shed His blood for them; when they hear that He's sent His messenger to tell them that He'll deliver them from sin and sickness and death today, they get excited. They don't argue with the Word of God. So you know what happens?
ALSO, READ  Rhapsody of Realities For Today | 4 September 2021 | Saturday
Kenneth Copeland 4 September 2021
People begin to get healed. People start throwing away their crutches and flinging off their bandages! When we learn to hear the Word of God like that, the same thing will happen to us. God is no respecter of persons. His Word works for everyone. It's how we receive it that makes the difference!
ALSO, READ  Seeds of Destiny 4 September 2021 | SOD Devotional
Scripture Reading:
Acts 17:1-11
Kenneth Copelan Devotional Today written by Kenneth and Gloria Copeland, the leader of the Kenneth Copeland Ministries (www.KCM.org) that specializes in teaching principles of bible faith – prayer, healing, salvation and other biblical topics.
ARE YOU BORN AGAIN? IF NO
Accept Jesus Christ today and secure a life of eternal rest and Glory …
Say this 1 Minute Prayer 

Lord Jesus, I believe you died for my sins, Forgive me of all my iniquities. I accept you as my Lord and Saviour from today and forevermore. Come and Be the Lord of my life and I am willing to obey your command and live according to your will as you help me, Thank you for accepting me into your fold. AMEN

JOHN 3: 3 Jesus answered and said unto him, Verily, verily, I say unto thee, Except a man be born again, he cannot see the kingdom of God.