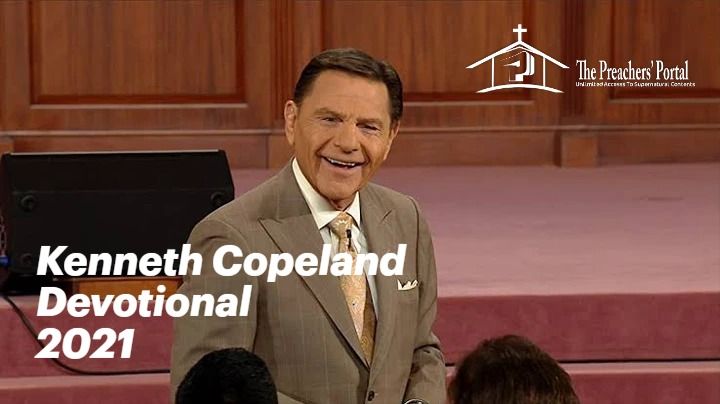 Kenneth Copeland Devotional 6th December 2021
Kenneth Copeland Devotional 6th December 2021
CLICK HERE FOR PREVIOUS READING 
Kenneth Copeland Devotional 6 December 2021 (Faith To Faith) Written By Kenneth & Gloria Copeland
TOPIC: Your Children Released From Captivity
SCRIPTURE: Thus saith the Lord; Refrain thy voice from weeping, and thine eyes from tears: for thy work shall be rewarded, saith the Lord; and they [your children] shall come again from the land of the enemy. And there is hope in thine end, saith the Lord, that thy children shall come again to their own border. – Jeremiah 31:16-17
MESSAGE
Jesus has redeemed us from the curse. Many of us have been well taught about redemption where sin, sickness and poverty in our own lives are concerned. But we often fail to realize that redemption has power over the destruction the devil tries to bring on our children's lives as well.
Deuteronomy 28 states the curse of the law in verses 16-68. Notice what that curse says about children. "Thy sons and thy daughters shall be given unto another people, and thine eyes shall look, and fail with longing for them all the day long: and there shall be no might in thine hand" (verse 32).
ALSO, READ Kenneth Copeland Devotional 6 October 2021
"Thou shall beget sons and daughters, but thou shalt not enjoy them; for they shall go into captivity" (verse 41).
Many Christian parents are still suffering needlessly under that curse. Their children are being taken captive by drugs, alcohol and perversions. But it doesn't have to be that way! Since Jesus broke the curse of the law, these parents have the authority in the Name of Jesus to order Satan out of their children's lives.
Kenneth Copeland Devotional 6th December 2021
Don't let the devil run roughshod over your children! When you see the first warning signs of rebellion in them, confess the promises of God over them and refuse to give the devil any room to operate.
ALSO, READ Kenneth Copeland Devotional 29th November 2021
Remember, the children don't understand the unseen forces that are coming against them. So it's your responsibility to stand against those forces on their behalf. Exercise that responsibility. Then take every opportunity to minister love to them.
God knows how to deliver your children. Do your part and trust Him to do His. He will bring them back from the land of the enemy!
SCRIPTURE READING: Isaiah 60:1-5
Kenneth Copelan Devotional Today written by Kenneth and Gloria Copeland, the leader of the Kenneth Copeland Ministries (www.KCM.org) that specializes in teaching principles of bible faith – prayer, healing, salvation and other biblical topics.
ARE YOU BORN AGAIN? IF NO
Accept Jesus Christ today and secure a life of eternal rest and Glory …
Say this 1 Minute Prayer 

Lord Jesus, I believe you died for my sins, Forgive me of all my iniquities. I accept you as my Lord and Saviour from today and forevermore. Come and Be the Lord of my life and I am willing to obey your command and live according to your will as you help me, Thank you for accepting me into your fold. AMEN

JOHN 3: 3 Jesus answered and said unto him, Verily, verily, I say unto thee, Except a man be born again, he cannot see the kingdom of God