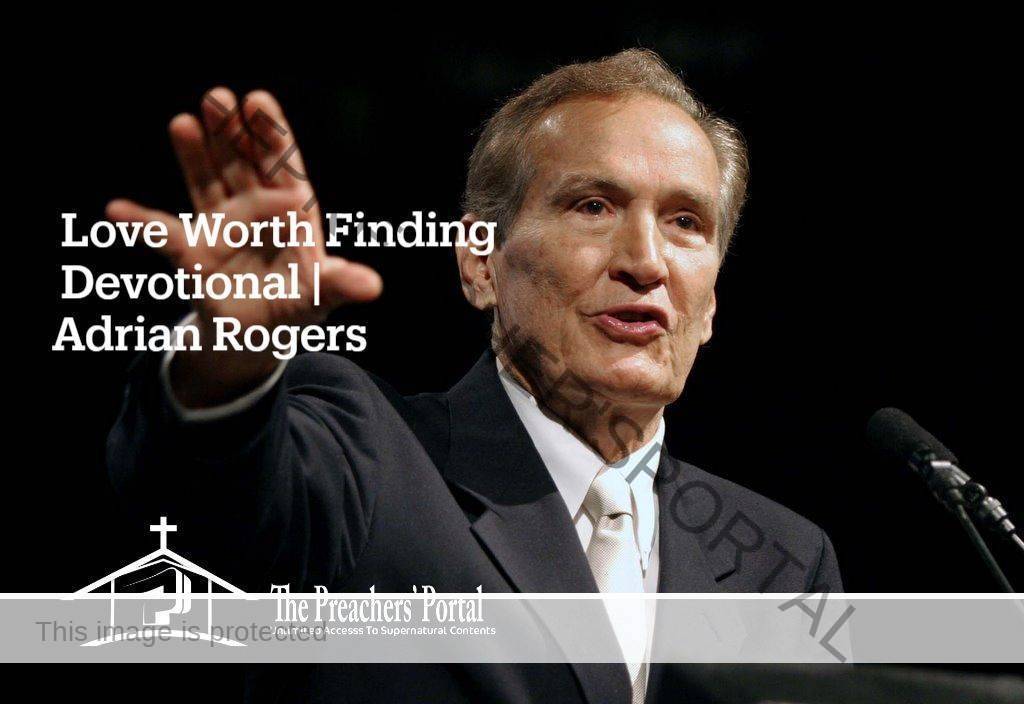 Love Worth Finding Devotional 12th January 2022 | Adrian Rogers
Love Worth Finding Devotional 12th January 2022 | Adrian Rogers
CLICK HERE FOR PREVIOUS READING 
Love Worth Finding Devotional 12 January 2022 Written By Adrian Rogers
TOPIC: Are You a Bold Believer?
MESSAGE
PRAY OVER THIS:
"Now when they saw the boldness of Peter and John, and perceived that they were uneducated and untrained men, they marveled. And they realized that they had been with Jesus."
PONDER THIS:
Are you a bold believer? Or are you a cowardly Christian? Do you want to be a bold believer? What is boldness in the first place? Boldness is not arrogance. It's not the ability to put your finger in somebody's face and to tell them off. Boldness is not being rude or crude. Some people think they are bold but they're just arrogant, and they have bad manners. That's not boldness. Those people turn more people away from Jesus than they bring to the Lord Jesus. We're to be gentle, apt to teach, and not seeking to give offense. Don't think that if you go around getting in people's faces that you're necessarily bold.
ALSO READ, Kenneth Copeland Devotional 21 July 2021
Rudeness is not boldness. Boldness is having the courage to stand for the Lord Jesus Christ in the face of opposition.
How might you have had a wrong view of boldness in the past?
What would it look like for you to display godly boldness?
ALSO READ, David Jeremiah Sermon Today | 21 October 2021 | Devotional
PRACTICE THIS:
Make a list of people you know who are bold for Christ. Consider what makes them bold and how you might learn from and follow their example.
ALSO READ, Our Daily Bread | 27th November 2021 Devotional
Pastor, Teacher, and Author Adrian Rogers has introduced people all over the world to the love of Jesus Christ. Also, he has impacted untold numbers of lives by presenting profound biblical truth with such simplicity that "a 5-year-old can understand it, and yet, it still speaks to the heart of the 50-year-old." Love Worth Finding was started in 1987 as the broadcast ministry of Adrian Rogers and remains the exclusive provider of his comprehensive teachings today.
This devotional © 2018 by Rick Warren. All rights reserved. Used by permission
Love Worth Finding Devotional 12th January 2022 | Adrian Rogers
JESUS IS COMING SOON!!!
ARE YOU BORN AGAIN? IF NO ACCEPT JESUS NOW
Accept Jesus Christ today and secure a life of eternal rest and Glory …
Say this 1 Minute Prayer

Lord Jesus, I believe you died for my sins, Forgive me of all my iniquities. I accept you as my Lord and Saviour from today and forevermore. Come and Be the Lord of my life and I am willing to obey your command and live according to your will as you help me, Thank you for accepting me into your fold. AMEN

JOHN 3: 3 Jesus answered and said unto him, Verily, verily, I say unto thee, Except a man be born again, he cannot see the kingdom of God