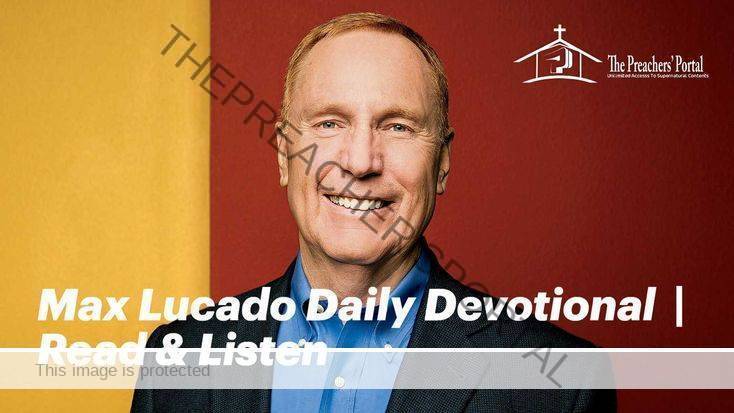 Max Lucado Daily Devotional 13 December 2021 | Read & Listen
Max Lucado Daily Devotional 13 December 2021 | Read & Listen
CLICK HERE FOR PREVIOUS READING
Max Lucado Daily Devotional 13th December 2021, Monday Message Read & Listen
The noise and the bustle began earlier than usual in the village. The owner of the inn had awakened earlier than most in the town. After all, the inn was full; all the were beds taken. One's imagination is kindled thinking about the conversation of the innkeeper and his family at the breakfast table. Did anyone mention the arrival of the young couple the night before? Did anyone comment on the pregnancy of the girl on the donkey? There was nothing that novel about them. They were, quite possibly, one of several families turned away that night.
ALSO READ, Seeds of Destiny 14 July 2021 Devotional
No, it was doubtful that anyone mentioned the couple's arrival. They were too busy. The morning's chores had to be done. There was too much to do to imagine that the impossible had occurred. God had entered the world as a baby.
ALSO READ, Max Lucado Daily Devotional 27 October 2021 | Read & Listen
Max Lucado Daily Devotional 13 December 2021 | Read & Listen
Read more Christmas Stories: Heartwarming Classics of Angels, a Manger, and the Birth of Hope
This Daily Devotional was written By Max Lucado.  He is a pastor, speaker, and best-selling author who, in his own words, "writes books for people who don't read books." He serves the people of Oak Hills Church in San Antonio, Texas, and his message is for the hurting, the guilty, the lonely, and the discouraged: God loves you; let him
ALSO READ, Max Lucado Daily Devotional 15 November 2021 | Read & Listen
ARE YOU BORN AGAIN? IF NO ACCEPT JESUS NOW
Accept Jesus Christ today and secure a life of eternal rest and Glory …
Say this 1 Minute Prayer

Lord Jesus, I believe you died for my sins, Forgive me of all my iniquities. I accept you as my Lord and Saviour from today and forevermore. Come and Be the Lord of my life and I am willing to obey your command and live according to your will as you help me, Thank you for accepting me into your fold. AMEN

JOHN 3: 3 Jesus answered and said unto him, Verily, verily, I say unto thee, Except a man be born again, he cannot see the kingdom of God