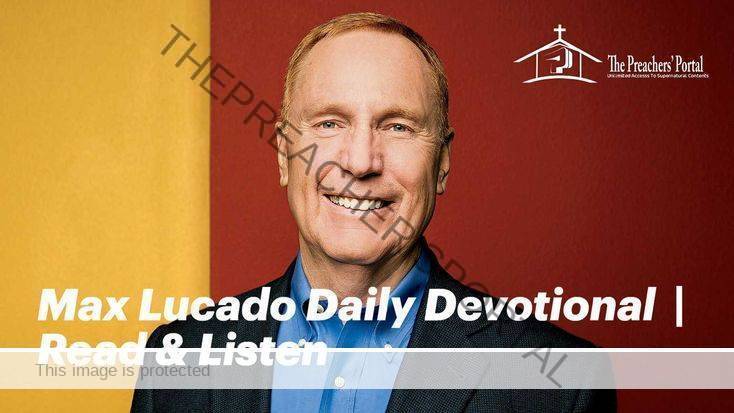 Max Lucado Daily Devotional 15 March 2022 | Read & Listen
Max Lucado Daily Devotional 15 March 2022 | Read & Listen
CLICK HERE FOR PREVIOUS READING 
Max Lucado Daily Devotional 15 March 2022, Tuesday Message Read & Listen
TOPIC: Measure Yourself by the Cross
MESSAGE
Do a simple exercise with me. Measure your life against just these four standards from the Ten Commandments. "You must not steal." Have you ever stolen anything? A paper clip? A parking space? You thief. "You must not lie."
ALSO READ, Max Lucado Daily Devotional 4 March 2022 | Read & Listen
Those who say they haven't just did. "You must not commit adultery," Jesus said if you look at a woman with lust, you've committed adultery in your heart (Matthew 5:28 NIV). "You must not murder." Before you claim innocence, Jesus said, "Anyone who is so much as angry with a brother or sister is guilty of murder" (Matthew 5:22 MSG).
ALSO READ, Max Lucado Daily Devotional 24 February 2022 | Read & Listen
Jesus made his position clear. "Anyone whose life is not holy will never see the Lord" (Hebrews 12:14 NCV). So where does that leave us? Well it leaves us drawing hope from 1 Corinthians 15:3: Christ died for our sins. In place of, on behalf of! So don't measure yourself by keeping commandments. Measure yourself by the cross.
This Daily Devotional was written By Max Lucado.  He is a pastor, speaker, and best-selling author who, in his own words, "writes books for people who don't read books." He serves the people of Oak Hills Church in San Antonio, Texas, and his message is for the hurting, the guilty, the lonely, and the discouraged: God loves you; let him
Max Lucado Daily Devotional 15 March 2022 | Read & Listen
ARE YOU BORN AGAIN? IF NO ACCEPT JESUS NOW
Accept Jesus Christ today and secure a life of eternal rest and Glory …
Say this 1 Minute Prayer

Lord Jesus, I believe you died for my sins, Forgive me of all my iniquities. I accept you as my Lord and Saviour from today and forevermore. Come and Be the Lord of my life and I am willing to obey your command and live according to your will as you help me, Thank you for accepting me into your fold. AMEN

JOHN 3: 3 Jesus answered and said unto him, Verily, verily, I say unto thee, Except a man be born again, he cannot see the kingdom of God