Open Heaven Devotional
Open Heaven | 12 August 2021 | RCCG Devotional & Prayer Points
Open Heaven | 12 August 2021 | RCCG Devotional & Prayer Points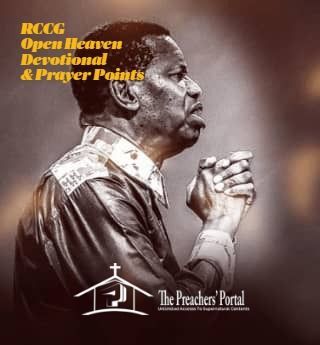 Open Heaven | 12 August 2021 | RCCG Devotional & Prayer Points
Open Heaven | 12 August 2021 | RCCG Devotional & Prayer Points
CLICK HERE FOR PREVIOUS READING 
Open Heaven 12 August 2021 Thursday RCCG Devotional – TOPIC: Divine Healingwritten By Pastor E. A. Adeboye – Divine Healing – With Prayer Points
OPEN HEAVEN 12 AUGUST 2021 TOPIC: Divine Healing
MEMORISE: For she said within herself, If I may but touch his garment, I shall be whole. – Matthews 9:21
READ: Matthew 8:14-15 (KJV)
14 And when Jesus came into Peter's house, he saw his wife's mother laid, and sick of a fever.
15 And he touched her hand, and the fever left her: and she arose, and ministered unto them.
BIBLE IN ONE YEAR: Psalms 93-95
 MESSAGE
There are sicknesses that are not ordinary, but rather, are demonically inflicted. Orthodox medicine is incapable of curing such sicknesses. Even traditional medicine with its spiritual backing is limited in such cases because witch doctors bow out when they are warned by the demons in charge of such sicknesses not to interfere. In Luke 13:11-16, there is a story of a woman who was bound by the spirit of infirmity for eighteen years. Our Lord Jesus revealed Satan as the mastermind behind the woman's affliction in verses 15-16 of the passage:
ALSO, READ Seeds Of Destiny 12 August 2021 Devotional
"The Lord then answered him, and said, Thou hypocrite, doth not each one of you on the sabbath loses his ox or his ass from the stall, and lead him away to watering? And ought not this woman, being a daughter of Abraham, whom Satan hath bound, lo, these eighteen years, be loosed from this bond on the sabbath day?" – Luke 13:15-16
God is still in the business of curing diseases – be they demonic or not demonic. He said in Jeremiah 32:27:
"Behold, I am the LORD, the God of all flesh: is there anything too hard for me?"
Open Heaven | 12 August 2021 | RCCG Devotional
God who created the human body can resolve any problem that arises in it. God can fix any problematic part of the human body. He has replaced kidneys, lungs, livers, faulty eyes and so on, in the past and He is still in that business of healing.
ALSO, READ  Billy Graham Devotional 12 August 2021
There is no sickness too small to attract God's attention and there is none too big as to intimidate Him. It is left for every individual to develop his or her faith to the point where it would attract the hand of God to perform the healing miracle. The woman in our memory verse of today said "If I may but touch his garment, I shall be whole" and she was made whole indeed. Jesus Christ laid His hands on the mother-in-law of Peter who was sick of what someone may call "ordinary" fever, and she was made whole as seen in today's text. Remember, the sickness some people called "ordinary" has claimed millions of lives in history.
My prayer is that you will receive divine healing today, in Jesus' name.
PRAYER POINT:
Father, please lay Your healing hand on me and heal any infirmity in my body today, in Jesus' name.
HYMN 14: Jesus My Lord, My God, My All
1. Jesus, my Lord, my God, my all,
hear me, blest Savior, when I call;
hear me, and from thy dwelling place
pour down the riches of thy grace.
Refrain:
Jesus, my Lord, I thee adore;
O make me love thee more and more.
2. Jesus, too late I thee have sought;
how can I love thee as I ought?
And how extol thy matchless fame,
the glorious beauty of thy name?
Open Heaven | 12 August 2021 | RCCG Devotional
3. Jesus, what didst thou find in me
that thou hast dealt so lovingly?
How great the joy that thou hast brought,
so far exceeding hope or thought!
4. Jesus, of thee shall be my song;
to thee my heart and soul belong;
all that I have or am is thine,
and thou, blest Savior, thou art mine.
Open Heavens 9th August 2021 Daily Devotional guide was written by Pastor E.A. Adeboye, the General Overseer of the Redeemed Christian Church of God, one of the largest evangelical churches in the world and also the President of Christ the Redeemer's Ministries. The Open Heavens devotional application is available across all mobile platforms and operating systems: iOS, Android, Blackberry, Nokia, Windows Mobile and PC.
Prayer Points On Open Heavens 12 August 2021 – Divine Healing
Open Heaven 2021 Prayer Points for August 12th:
1.I worship and adore You, my Father, the God of all flesh, Is there anything too hard for You to do? With You, all things are possible.
2.Thank You, Father, for sending Your son, Jesus, into the world, to destroy all the works of the devil.
3.Father, in any way I have fallen short of your glory, please, have mercy and forgive me, in Jesus name.
4.Father, arise and deliver me from every long-standing, stubborn infirmity and bondage, in Jesus name.
5.Father, let the blood of Jesus that was shed at Calvary avail for me, today, and be released for my complete and total healing, in Jesus name.
6.Father, let the blood of Jesus begin to flow from the crown of my head to the soles of my feet, and let every satanic deposit, causing sickness and diseases, in my life, be neutralized, destroyed and flushed out, in Jesus name.
7.Father, restore and renew every defective and damaged organ in my body; and replace them with brand new ones, where necessary, in Jesus name.
Open Heaven | 12 August 2021 Devotional
8.Father, please, lay Your healing hands on me, and heal any infirmity in my body, spirit and soul, in Jesus name.
9.I speak to every mountain, yoke and challenge, in my life: "Be thou removed and be cast into the sea", in Jesus name.
10.Father, bless your son, Pastor Enoch Adejare Adeboye; please, let him enjoy divine health, for the remaining years of his life, in Jesus name.
11.Father, bless Your son that You have been using to prepare these prayer points, beyond measures, and all those who have been rebroadcasting them, in Jesus name.
12.Father, let every challenge, hindrance and obstacle of getting these prayer points across to Your children, timely, and on daily basis be removed, in Jesus name.
13.Your Personal petitions. (Philippians 4:6)
14.In Jesus name I pray. (John 14:13-14; 15:16)
15.Thank you Father for answered prayers. (1 Thessalonians 5:18).
Special Note:
These prayer points are not written by Pastor E. A. Adeboye, but by one of his numerous disciples, for Christ, who was inspired and mandated by the Holy Spirit, about 5years ago, (effective January 1st, 2015), to start writing these prayer points, based on the Open Heavens Daily Devotional, authored by Pastor E. A. Adeboye.
ARE YOU BORN AGAIN? IF NO ACCEPT JESUS NOW
Accept Jesus Christ today and secure a life of eternal rest and Glory …
Say this 1 Minute Prayer 

Lord Jesus, I believe you died for my sins, Forgive me of all my iniquities. I accept you as my Lord and Saviour from today and forevermore. Come and Be the Lord of my life and I am willing to obey your command and live according to your will as you help me, Thank you for accepting me into your fold. AMEN

JOHN 3: 3 Jesus answered and said unto him, Verily, verily, I say unto thee, Except a man be born again, he cannot see the kingdom of God.