Open Heaven Devotional
Open Heaven | 14th July 2022 | RCCG Devotional & Prayer Points
Open Heaven | 14th July 2022 | RCCG Devotional & Prayer Points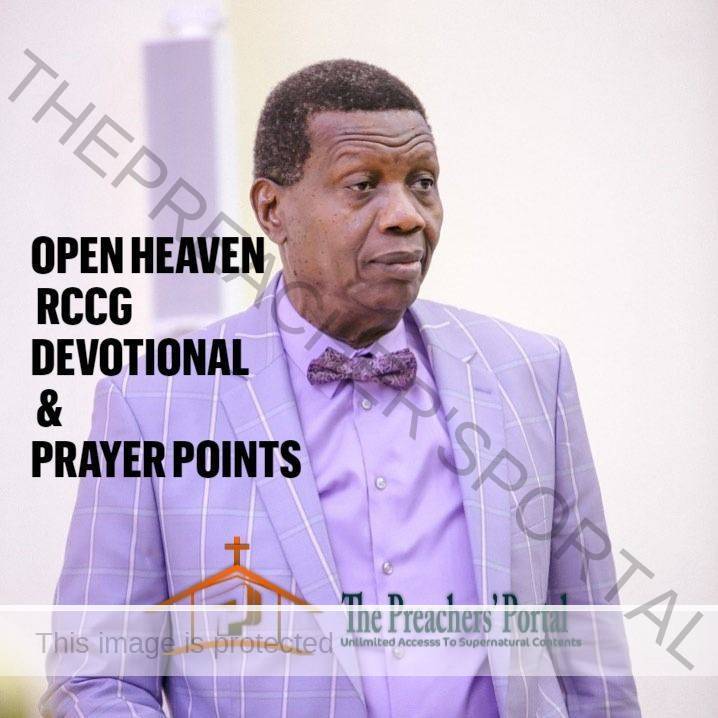 Open Heaven | 14th July 2022 | RCCG Devotional & Prayer Points
Open Heaven | 14th July 2022 | RCCG Devotional & Prayer Points
CLICK HERE FOR PREVIOUS READING 
Open Heaven 14 July 2022 RCCG Daily Devotional For Thursday – Written By Pastor E. A. Adeboye – Whatsoever Things Are Lovely – With Prayer Points
TOPIC: Whatsoever Things Are Lovely
MEMORISE: "He hath made everything beautiful in his time:…" – Ecclesiastes 3:11 (KJV)
READ: Philippians 4:8 (KJV)
8 Finally, brethren, whatsoever things are true, whatsoever things are honest, whatsoever things are just, whatsoever things are pure, whatsoever things are lovely, whatsoever things are of good report; if there be any virtue, and if there be any praise, think on these things.
BIBLE IN ONE YEAR: Psalms 116-118
OPEN HEAVEN FOR TODAY
MESSAGE:
Things described as 'lovely' are very beautiful or attractive. Heaven, for example, is a very lovely place; everything in heaven is extremely beautiful and attractive. Revelation 21:21 says:
And the twelve gates were twelve pearls: every several gate was of one pearl: and the street of the city was pure gold, as it were transparent glass.
INVEST IN IRAs, SECURE YOUR FUTURE
Heaven is also a place of extreme joy; there is no pain or sorrow in heaven.
And God shall wipe away all tears from their eyes; and there shall be no more death. neither sorrow, nor crying, neither shall there be any more pain: for the former things are passed away. – Revelation 21:4
ALSO, READ Open Heaven | 8th July 2022 | RCCG Devotional & Prayer Points
These Bible verses tell us straight away that there is a link between thinking on lovely things and having joy. The more you think on lovely things, the more joyful you become and vice versa.
Open Heaven | 14th July 2022 | RCCG Devotional & Prayer Points
Many people are depressed today because they keep thinking of things that are not lovely despite having many beautiful things around them to think of. If you find yourself in a state of depression, then it is time to quickly switch your thinking gear to the lovely things.
Think about the fact that your eyes can still see clearly enough to read the Open Heavens Devotional every morning, that you can walk, that you can dress up yourself. You may be considered a dog now, but Ecclesiastes 9:4 says that a living dog is better than a dead lion. The fact that you are still alive is a lovely thing to think about because that means there is hope for you. If you are not looking for someone to donate a kidney to you because yours is still working fine and your heart is still beating normally, all these and more are lovely things to think on.
ALSO, READ Open Heaven | 21 February 2022 | RCCG Devotional & Prayer Points
Even if you think there is nothing lovely to think about in your past, think of the lovely future that God has promised you; that you will one day lend to nations (Deuteronomy 15:6), that you will heal the sick and raise the dead (Mark 16:17-18), that you will live a beautiful life with your children all around your table (Psalm 128:1-3).
Open Heaven | 14th July 2022 | RCCG Devotional & Prayer Points
KEY POINT:
Focus on the lovely things the Lord has done or promised to do and always let His joy flow through you.
HYMN 3: Deeper, Deeper In The Love Of Jesus
1 Deeper, deeper in the love of Jesus
Daily let me go
Higher, higher in the schools of wisdom
More of grace to know.
Refrain:
Oh, deeper yet, I pray,
And higher ev'ry day,
And wiser, blessed Lord,
In Thy precious, holy word.
2 Deeper, deeper! blessed Holy Spirit,
Take me deeper still,
Till my life is wholly lost in Jesus,
And His perfect will.
Open Heaven | 14th July 2022 | RCCG Devotional & Prayer Points
3 Deeper, deeper! tho' it cost hard trials,
Deeper let me go!
Rooted in the holy love of Jesus,
Let me fruitful grow.
4 Deeper, higher, ev'ry day in Jesus,
Till all conflict past,
Finds me conqu'ror, and in His own image
Perfected at last.
Open Heavens 14th July 2022 Daily Devotional guide was written by Pastor E.A. Adeboye, the General Overseer of the Redeemed Christian Church of God, one of the largest evangelical churches in the world and also the President of Christ the Redeemer's Ministries. The Open Heavens devotional application is available across all mobile platforms and operating systems: iOS, Android, Blackberry, Nokia, Windows Mobile and PC.
Prayer Points 14th July 2022 For Open Heaven Thursday
Open Heaven Prayer Points Today 14th July 2022
PRAYER POINTS
1.I will bless the Lord at all times and with all that is within me. I bless His holy name. Bless the Lord, o my soul, and forget not all His benefits.
2.Oh Lord, forgive me my transgressions and wash me with Your precious blood in Jesus name.
3.Father, help me to always look upon the beautiful and lovely things around me and focus on them in Jesus Name.
4.Lord, when anxiety and depression want to attack my mind, redirect my thoughts to the beautiful and blessed things that you already granted unto me in the name of Jesus.
ALSO, READ Open Heaven | 19 March 2022 | RCCG Devotional & Prayer Points
5.Father, make me a grateful person. May I always focus on the things that I have and not the things I don't in Jesus Name.
6.Oh Lord, help me to ultimately focus on heaven which is the most beautiful place and may I get there in Jesus Name.
Open Heaven | 14th July 2022 | RCCG Devotional & Prayer Points
7.Father, please, take me off every road leading to destruction, that I may currently be treading, and place me on the path of eternal life, in Jesus' name.
8.Father, please don't let me ever depart from You – the Way, the Truth, and the Life.
9.Father, increase the intensity of Your light in my life and in Your church; let no power be able to quench Your light in my life, and in Your church, in Jesus' name.
ALSO, READ Open Heaven | 13th June 2022 | RCCG Devotional & Prayer Points
10.Father, please, don't let me miss that mansion, that Your son Jesus, has gone to prepare for me in heaven, in Jesus' name.
11.Oh Lord, bless your son Pastor Enoch Adejare Adeboye for all his years of continual service, remember him, guide him on the path, help him remain focused, bless his entire household, and fulfill all Your promises for their liberation, ministry and family, in Jesus' name.
12.Thank You Father for the intercessory team and the online platform (RCCGONLINE.ORG) and that which You have put in their hearts, I pray that You make them as flaming swords to bring men to Your kingdom and shut down the works of darkness in the name of Jesus.
Open Heaven | 14th July 2022 | RCCG Devotional & Prayer Points
13.Father, bless everyone dedicating their time to pray through these prayers & declarations at the point of their needs. Give them the grace to share/rebroadcast, in Jesus' name.
14.Father, please uphold Your children working everyday on this platform (rccgonline.org) to prepare these prayers and declarations with Your right hand of righteousness and all those who have been rebroadcasting them, give them the grace to keep up with this good work of Faith, in the name of Jesus.
ALSO, READ Open Heaven | 7th July 2022 | RCCG Devotional & Prayer Points
15.By faith, appreciate God for answered prayers. Your testimonies are undeniable in Jesus' name.
16.Father, let every challenge, hindrance and obstacle of getting these prayer points across to Your children, timely, and on daily basis be removed, in Jesus' name.
17.Submit yourself and your personal petitions to God. Cast all your cares on Him, for He cares for you.
Open Heaven | 14th July 2022 | RCCG Devotional & Prayer Points
( Philippians 4:6)
18.In Jesus' name I pray.
(John 14:13-14; 15:16)
19.Thank you Father for answered prayers.
(1 Thessalonians 5:18).
#GodBlessOurNation
SPECIAL NOTE: 
These prayer points are not written by Pastor E. A. Adeboye, but by one of his numerous disciples, for Christ, who was inspired and mandated by the Holy Spirit, about 5 years ago, (effective January 1st, 2015), to start writing these prayer points, based on the Open Heavens Daily Devotional, authored by Pastor E. A. Adeboye
ARE YOU BORN AGAIN? IF NO, ACCEPT JESUS NOW
Accept Jesus Christ today and secure a life of eternal rest and Glory …
Say this 1 Minute Prayer 

Lord Jesus, I believe you died for my sins, Forgive me of all my iniquities. I accept you as my Lord and Saviour from today and forevermore. Come and Be the Lord of my life and I am willing to obey your command and live according to your will as you help me, Thank you for accepting me into your fold. AMEN

JOHN 3: 3 Jesus answered and said unto him, Verily, verily, I say unto thee, Except a man be born again, he cannot see the kingdom of God