Open Heaven Devotional
Open Heaven | 19th July 2022 | RCCG Devotional & Prayer Points
Open Heaven | 19th July 2022 | RCCG Devotional & Prayer Points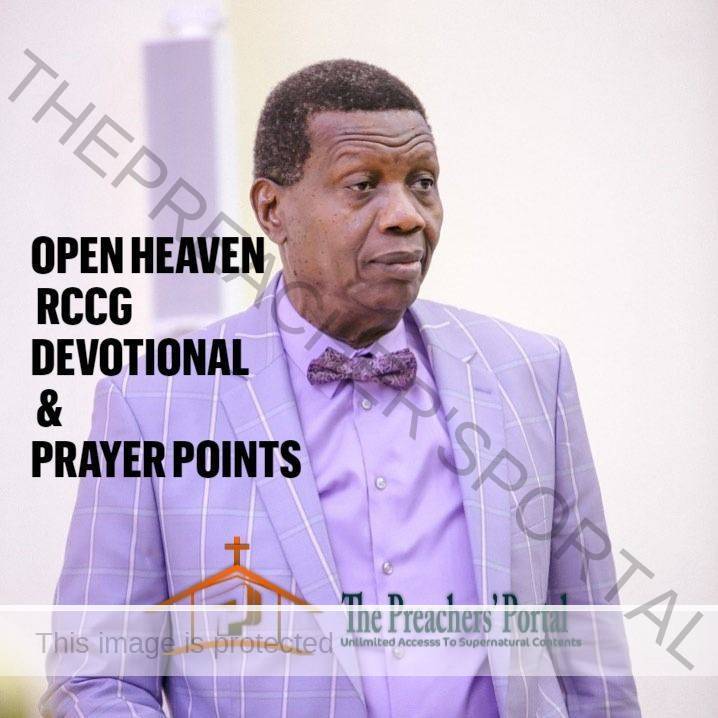 Open Heaven | 19th July 2022 | RCCG Devotional & Prayer Points
Open Heaven | 19th July 2022 | RCCG Devotional & Prayer Points
CLICK HERE FOR PREVIOUS READING 
Open Heaven 19 July 2022 RCCG Daily Devotional For Tuesday – Written By Pastor E. A. Adeboye – Honour God – With Prayer Points
 TOPIC: Honour God
MEMORISE: "Wherefore the Lord God of Israel saith, I said indeed that thy house, and the house of thy father, should walk before me forever: but now the Lord saith, Be it far from me; for them that honour me I will honour, and they that despise me shall be lightly esteemed." – 1 Samuel 2:30 (KJV)
ALSO, READ RCCG Open Heaven | 26th July 2021 | Devotional & Prayer Points
READ: Proverbs 3:9-10 (KJV)
9 Honour the Lord with thy substance, and with the firstfruits of all thine increase:
10 So shall thy barns be filled with plenty, and thy presses shall burst out with new wine.
BIBLE IN ONE YEAR: Psalms 125-131
INVEST IN IRAs, SECURE YOUR FUTURE
 MESSAGE:
In Mathematics, there is something we call Newton's law of motion. A part of it states that for every action, there is always an equal and opposite reaction. In other words, whatever you sow, you will reap. Your behavior will determine what God will do in response.
That is why the Bible reading today says you should honour the Lord with your substance and then God will respond with so many blessings that your barn would burst out. Giving God offerings, giving Him your first fruit, that is, your first income in the year, is a sign to show Him that you honour Him. When you give it to Him, He is pleased with you and will respond by honouring you too.
ALSO, READ Open Heaven 28 May 2021 Daily Devotional
The quality of your offering is also a sign that shows God, whether you honour Him or not. If a beggar should ask you for money, you may give him the smallest note in your pocket but if it is a wealthy man who asks you for money, you give him the highest because you are not giving it to help him, but rather to honour him. God knows how much money you have.
Open Heaven | 19th July 2022 | RCCG Devotional & Prayer Points
He is the One who gave it to you in the first place. The quality of the offering you give Him out of your substance will tell Him whether you honour Him or not. Believe me honestly, God pays close attention to the offering that you give. If you don't believe me, read Mark 12:41-44. He sat and was watching as everyone brought their offerings to the offering basket. As He watched them, He also scored them and the fellow who got the highest score was a poor widow, because she gave all she had – she honoured God. When God scores your offering, will He feel honoured or despised by what you are giving to Him?
Beloved, don't ever do anything that can make God feel despised. The Most High God is not one to toy with at all. He may be a lamb, but He is also a lion. 1 Samuel 2:7 says:
"The LORD maketh poor, and maketh rich: he bringeth low, and lifteth up"
As we like to say in Nigeria, the one who made the pencil also made the eraser. The One who made you rich can also make you poor. The One who lifted you can also bring you low. You must therefore, run away from anything that can make you despise or dishonour Him.
PRAYER POINT:
Father, whatever I can do to dishonour You, don't let me ever do it Lord.
HYMN 19: O Worship The King
1 O worship the King,
All glorious above,
O gratefully sing
His power and His love;
Our Shield and Defender,
The Ancient of Days,
Pavilioned in splendour,
And girded with praise.
2 O tell of His might,
O sing of His grace,
Whose robe is the light,
Whose canopy space.
His chariots of wrath
The deep thunder-clouds form,
And dark is His path
On the wings of the storm.
Open Heaven | 19th July 2022 | RCCG Devotional & Prayer Points
3 Thy bountiful care,
What tongue can recite?
It breathes in the air,
|It shines in the light,
It streams from the hills,
|It descends to the plain,
And sweetly distils
In the dew and the rain.
ALSO, READ RCCG Open Heaven | 26 July 2021 | Devotional
4 Frail children of dust,
And feeble as frail;
In Thee do we trust,
Nor find Thee to fail;
Thy mercies, how tender,
How firm to the end,
Our maker, Defender,
Redeemer, and Friend!
5 O measureless Might!
Ineffable Love!
While angels delight
To hymn Thee above,
The humbler creation,
Though feeble their lays,
With true adoration,
Shall lisp to Thy praise.
Open Heavens 19th July 2022 Daily Devotional guide was written by Pastor E.A. Adeboye, the General Overseer of the Redeemed Christian Church of God, one of the largest evangelical churches in the world and also the President of Christ the Redeemer's Ministries. The Open Heavens devotional application is available across all mobile platforms and operating systems: iOS, Android, Blackberry, Nokia, Windows Mobile and PC.
Prayer Points 19th July 2022 For Open Heaven Tuesday
Open Heaven Prayer Points Today 19th July 2022
PRAYER POINTS
1.My Lord and my God, how excellent is Your Name in all the earth. You are a mighty God and none can be compared unto You in greatness, wealth, wisdom and all things supreme. Be exalted forever in my life in Jesus Name.
2.Oh Lord, look upon me with mercy and forgive all my trespasses in the name of Jesus.
3.Father, make me humble and wise. May I always choose honor over pride. Help me to honor You daily in the Name of Jesus.
4.Lord, teach me practical ways to communicate my honor for You. In my daily life and in all that I do, may I honor You in Jesus Name.
5.Father, help me to honor You with my substance and with everything You bless me with in the name of Jesus.
6. Lord, teach me the right way to behave and to conduct myself before You and grant me the grace to do it in the name of Jesus.
Open Heaven | 19th July 2022 | RCCG Devotional & Prayer Points
7.Father, as I wholeheartedly honour You, please fill my barns with plenty, this week, let strange supplies come to me from different places in Jesus name.
8.Lord, help me to improve the quality of my offering. May my tithe, offerings, and all that I give increase in Jesus name.
9.Father, please keep me away from any act of dishonor and disobedience that will make me despise You. May I never despise You in Jesus Name.
10.Father, whatever I can do to dishonour You, don't let me ever do it Lord.
11.Father, this week, protect and preserve all that I do. Keep me from evil in Jesus Name.
12.Oh Lord, bless your son Pastor Enoch Adejare Adeboye for all his years of continual service, remember him, guide him on the path, help him remain focused, bless his entire household, and fulfill all Your promises for their liberation, ministry and family, in Jesus' name.
13.Thank You Father for the intercessory team and the online platform (RCCGONLINE.ORG) and that which You have put in their hearts, I pray that You make them as flaming swords to bring men to Your kingdom and shut down the works of darkness in the name of Jesus.
Open Heaven | 19th July 2022 | RCCG Devotional & Prayer Points
14.Father, bless everyone dedicating their time to pray through these prayers & declarations at the point of their needs. Give them the grace to share/rebroadcast, in Jesus' name.
15.Father, please uphold Your children working everyday on this platform (rccgonline.org) to prepare these prayers and declarations with Your right hand of righteousness and all those who have been rebroadcasting them, give them the grace to keep up with this good work of Faith, in the name of Jesus.
16.By faith, appreciate God for answered prayers. Your testimonies are undeniable in Jesus' name.
17.Father, let every challenge, hindrance and obstacle of getting these prayer points across to Your children, timely, and on daily basis be removed, in Jesus' name.
18.Submit yourself and your personal petitions to God. Cast all your cares on Him, for He cares for you.
Open Heaven | 19th July 2022 | RCCG Devotional & Prayer Points
( Philippians 4:6)
19.In Jesus' name I pray.
(John 14:13-14; 15:16)
20.Thank you Father for answered prayers.
(1 Thessalonians 5:18).
#GodBlessOurNation
SPECIAL NOTE: 
These prayer points are not written by Pastor E. A. Adeboye, but by one of his numerous disciples, for Christ, who was inspired and mandated by the Holy Spirit, about 5 years ago, (effective January 1st, 2015), to start writing these prayer points, based on the Open Heavens Daily Devotional, authored by Pastor E. A. Adeboye
ARE YOU BORN AGAIN? IF NO, ACCEPT JESUS NOW
Accept Jesus Christ today and secure a life of eternal rest and Glory …
Say this 1 Minute Prayer 

Lord Jesus, I believe you died for my sins, Forgive me of all my iniquities. I accept you as my Lord and Saviour from today and forevermore. Come and Be the Lord of my life and I am willing to obey your command and live according to your will as you help me, Thank you for accepting me into your fold. AMEN

JOHN 3: 3 Jesus answered and said unto him, Verily, verily, I say unto thee, Except a man be born again, he cannot see the kingdom of God