Open Heaven Devotional
Open Heaven | 22 March 2022 | RCCG Devotional & Prayer Points
Open Heaven | 22 March 2022 | RCCG Devotional & Prayer Points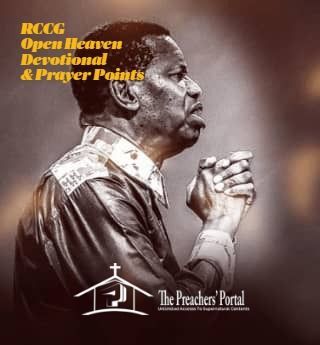 Open Heaven | 22 March 2022 | RCCG Devotional & Prayer Points
Open Heaven | 22 March 2022 | RCCG Devotional & Prayer Points
CLICK HERE FOR PREVIOUS READING 
Open Heaven 22nd March 2022 RCCG Daily Devotional For Tuesday – Written By Pastor E. A. Adeboye – Why You Need Divine Anointing II – With Prayer Points
TOPIC: Why You Need Divine Anointing II
MEMORISE: Is any sick among you? let him call for the elders of the church; and let them pray over him, anointing him with oil in the name of the Lord: – James 5:14
READ: 1 John 2:27 (KJV)
27 But the anointing which ye have received of him abideth in you, and ye need not that any man teach you: but as the same anointing teacheth you of all things, and is truth, and is no lie, and even as it hath taught you, ye shall abide in him.
BIBLE IN ONE YEAR: Ruth 2 – 1 Samuel 1
OPEN HEAVEN FOR TODAY
MESSAGE:
Yokes represent bondage and they are of different kinds. The yoke of sickness is a terrible one for anyone to bear and it must be completely destroyed. This is why you need the divine anointing to destroy the yoke of sickness. This was a yoke that kept a man bound for thirty-eight years at the pool of Bethesda (John 5:2-9). The yoke of sickness wasted thirty-eight years of his life, but he got his deliverance from that bondage when he encountered the anointing upon Jesus Christ. No child of God should be bound by the yoke of sickness since His anointing is available for us as we see in our memory verse today.
ALSO, READ RCCG Open Heaven | 28 October 2021 | Devotional & Prayer Points
A Church that is void of God's anointing is not worth attending because the Church is the last hope of the sick, especially for ailments described by orthodox medical practitioners as incurable or terminal. Testimonies of divine healings in our Church programmes confirm the importance of God's anointing, particularly when it comes to the destruction of yokes of sickness.
One case that readily comes to mind is that of a sister who a doctor had said would die within hours. Her husband left her in the hospital, only to invite his mistress to come and spend the night with him in their home. "What about your wife?" the mistress asked.
ALSO, READ Open Heaven | 23 September 2021 | RCCG Devotional & Prayer Points
Open Heaven | 22 March 2022 | RCCG Devotional & Prayer Points
"She has only a few hours to live before she dies in the hospital," the unfaithful husband said, thinking the wife had reached the end of her life. To the glory of God, that same night, the anointing destroyed the yoke of sickness in the sister's life; she discharged herself and went straight home, only to meet her husband with the mistress.
Handkerchiefs that carry divine anointing have destroyed yokes of sickness, times without number.
The anointing also serves as a defensive weapon against the onslaught of the enemy. Psalm 105:15 says, "… Touch not mine anointed, and do my prophets no harm". Beloved, as you seek the anointing of the Almighty God, every problematic situation you are faced with will be resolved to His glory, in the mighty name of Jesus.
ACTION POINT:
You need the anointing to overcome spiritual obstacles. Seek it from a genuine man of God.
ALSO, READ RCCG Open Heaven | 23 September 2021 | Daily Devotional & Prayer Points
Hymn 4:
Great Is Thy Faithfulness, O God My Father
1. Great is thy faithfulness, O God my Father,
there is no shadow of turning with thee.
Thou changest not, thy compassions, they fail not;
as thou hast been, thou forever wilt be.
Refrain:
Great is thy faithfulness!
Great is thy faithfulness!
Morning by morning new mercies I see;
all I have needed thy hand hath provided.
Great is thy faithfulness, Lord, unto me!
Open Heaven | 22 March 2022 | RCCG Devotional & Prayer Points
2. Summer and winter and springtime and harvest,
sun, moon, and stars in their courses above
join with all nature in manifold witness
to thy great faithfulness, mercy, and love.
3. Pardon for sin and a peace that endureth,
thine own dear presence to cheer and to guide,
strength for today and bright hope for tomorrow,
blessings all mine, with ten thousand beside!
Open Heavens 22nd March 2022 Daily Devotional guide was written by Pastor E.A. Adeboye, the General Overseer of the Redeemed Christian Church of God, one of the largest evangelical churches in the world and also the President of Christ the Redeemer's Ministries. The Open Heavens devotional application is available across all mobile platforms and operating systems: iOS, Android, Blackberry, Nokia, Windows Mobile and PC.
Prayer Points 22nd March 2022 For Open Heaven Tuesday
Open Heaven Prayer Points Today 22 March 2022
PRAYER POINTS
Gracious God, I worship You today; You're the Almighty God; and, there is no one like you.
Lord, in anyway I have fallen short of your glory, please, have mercy and forgive me, in Jesus' name.
Father, by your divine anointing, let the yoke of sickness be broken over my life and family in Jesus name.
Lord, increase the anointing upon my pastors and leaders in church. Let the church grow in Jesus name.
Lord, by the reason of the anointing, let me be untouchable to the enemy in Jesus name.
Almighty God, let every problematic situation I am faced with be resolved to your Glory, in the mighty name of Jesus
Open Heaven | 22 March 2022 | RCCG Devotional & Prayer Points
Father, remember me today, and bring to manifestation, all Your promises for my life, in Jesus' name.
Oh Lord, let every burden be taken away from my shoulder, and every yoke from off my neck in the name of Jesus.
Father, let every yoke upon my life and family be destroyed because of the anointing in Jesus name.
Father, help me to honor, not to despise the anointing and anoint me for service in your vineyard in Jesus name.
Lord, help me to purge myself of anything that could hinder the flow of divine anointing into my life today in Jesus name.
Father, bless your son, Pastor Enoch Adejare Adeboye and his entire household, fulfill all Your promises for their liberation, ministry and family, in Jesus' name.
Thank You Father for the intercessory team and the online platform (rccgonline.org) and that which You have put in their hearts, I pray that You make them as flaming swords to bring men to Your kingdom and shut down the works of darkness in the name of Jesus.
Open Heaven | 22 March 2022 | RCCG Devotional & Prayer Points
Father, bless everyone dedicating their time to pray through these prayers & declarations at the point of their needs. Give them the grace to share/rebroadcast, in Jesus' name.
Father, please uphold Your children working everyday on this platform (rccgonline.org) to prepare these prayers and declarations with Your right hand of righteousness and all those who have been rebroadcasting them, give them the grace to keep up with this good work of Faith, in the name of Jesus.
Father, let every challenge, hindrance and obstacle of getting these prayer points across to Your children, timely, and on daily basis be removed, in Jesus' name.
Submit yourself and your personal petitions to God. Cast all your cares on Him, for He cares for you
( Philippians 4:6)
In Jesus' name I pray.
(John 14:13-14; 15:16)
Thank you Father for answered prayers.
(1 Thessalonians 5:18).
#GodBlessOurNation
SPECIAL NOTE: 
These prayer points are not written by Pastor E. A. Adeboye, but by one of his numerous disciples, for Christ, who was inspired and mandated by the Holy Spirit, about 5years ago, (effective January 1st, 2015), to start writing these prayer points, based on the Open Heavens Daily Devotional, authored by Pastor E. A. Adeboye
ARE YOU BORN AGAIN? IF NO, ACCEPT JESUS NOW
Accept Jesus Christ today and secure a life of eternal rest and Glory …
Say this 1 Minute Prayer 

Lord Jesus, I believe you died for my sins, Forgive me of all my iniquities. I accept you as my Lord and Saviour from today and forevermore. Come and Be the Lord of my life and I am willing to obey your command and live according to your will as you help me, Thank you for accepting me into your fold. AMEN

JOHN 3: 3 Jesus answered and said unto him, Verily, verily, I say unto thee, Except a man be born again, he cannot see the kingdom of God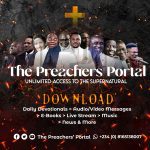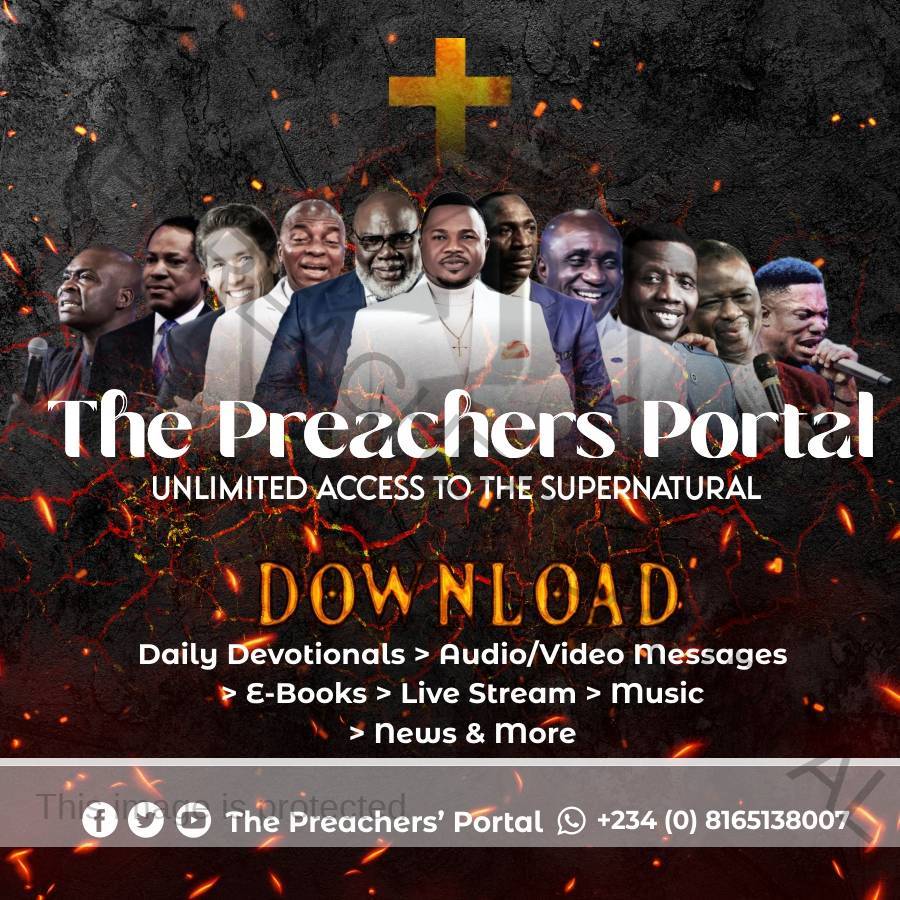 I Am A God-kind Gospel Blogger, Gospel Content Writer, Evangelist, Songwriter, Teacher and Soul-Winner. The Chief-editor of ThePreachersPortal.Org. I have worked with media houses of various religious organizations and NGOs. On This Platform, You will get access to Daily Devotionals, Live Streams, Audio Messages, Motivational Articles and Inspirational content as I share them for free. Follow me on social media to learn more about this movement.