Open Heaven Devotional
Open Heaven | 26th July 2022 | RCCG Devotional & Prayer Points
Open Heaven | 26th July 2022 | RCCG Devotional & Prayer Points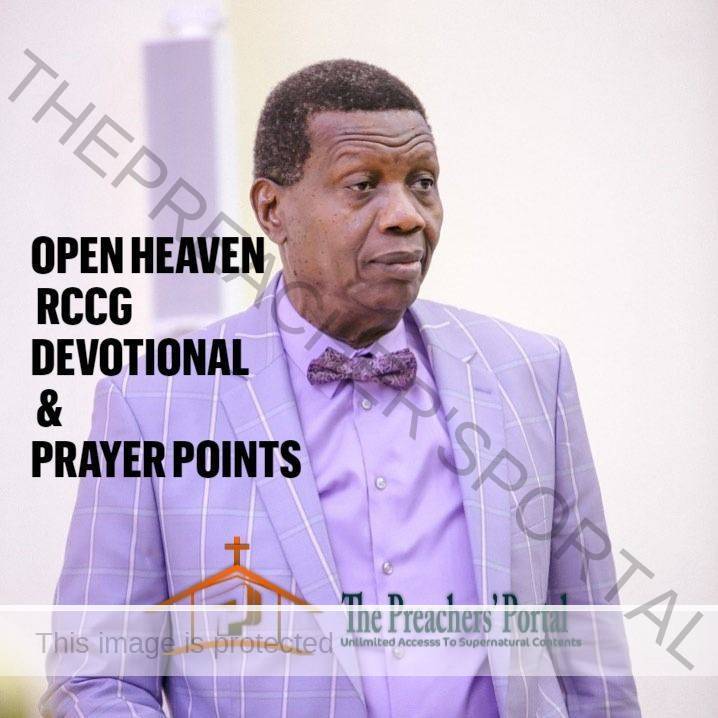 Open Heaven | 26th July 2022 | RCCG Devotional & Prayer Points
Open Heaven | 26th July 2022 | RCCG Devotional & Prayer Points
CLICK HERE FOR PREVIOUS READING 
Open Heaven 26 July 2022 RCCG Daily Devotional For Tuesday – Written By Pastor E. A. Adeboye – Are You a Child of God – With Prayer Points
 TOPIC: Are You a Child of God
MEMORISE: I am the good shepherd, and know my sheep, and am known of mine. John 10:14
BIBLE READING: Galatians 3:21-26 (KJV)
Is the law then against the promises of God? God forbid: for if there had been a law given which could have given life, verily righteousness should have been by the law.
But the scripture hath concluded all under sin, that the promise by faith of Jesus Christ might be given to them that believe.
But before faith came, we were kept under the law, shut up unto the faith which should afterwards be revealed.
Wherefore the law was our schoolmaster to bring us unto Christ, that we might be justified by faith.
But after that faith is come, we are no longer under a schoolmaster.
For ye are all the children of God by faith in Christ Jesus.
BIBLE IN YEAR: Proverbs 3:1-35, Proverbs 4:1-27, Proverbs 5:1-23
MESSAGE
In Ephesians 5:1, the Bible says: "Be ye therefore followers of God, as dear children." Anyone who claims to be a child of God must also ensure that he or she behaves like God. If a child claims to belong to a father and he is loyal to another father, that child would be deemed a bastard.
This means that if you claim to be a child of God, you may need to check where you really stand. 1 John 3:9. says those who are born of God do not sin.
Are you still sinning and feeling it is normal? A true child of God cannot consider sin to be normal. Jesus Christ said in Matthew 7:16 "Ye shall know them by their fruits. Do men gather grapes of thorns, or figs of thistles?"
INVEST IN IRAs, SECURE YOUR FUTURE
What is this fruit? It is the fruit that proves to everyone who meets you that you have the Spirit of God living in you the fruit of the Spirit. What fruits do you bear?
Based on the fruits that you bear, whose child can your colleagues, family members and neighbours say that you are? Do your colleagues bring offers to you to cheat your organisation because they know you will consent to them? If yes, you are not bearing fruits for God but for the devil.
Open Heaven | 26th July 2022 | RCCG Devotional & Prayer Points
Do you still repay evil for evil? That is not the character of God but that of the devil. You need to be clear whose child you are so that you don't fall into the category of a bastard.
If you are a child of the devil, well then, why claim to be a child of God? Why join children of God to suffer your stomach when it is time to fast? Why not just go ahead and live for the devil all the way so when he is to be sent to the lake of fire you'll go along with him?.
ALSO, READ Open Heaven | 26th June 2022 | RCCG Devotional & Prayer Points
However, if you claim to really be a child of God, then your character should resemble that of Christ and everyone around you should testify that you resemble your Father in heaven.
On the last day, Jesus will sift the shaft away from the wheat. He will separate the bastards from His real children. This is because, on the last day, He will tell some people I know you not whence ye are; depart from me, all [ye] workers of iniquity (Luke 13:27). If you are indeed a child of God, you will be living a holy life.
Open Heaven | 26th July 2022 | RCCG Devotional & Prayer Points
PRAYER POINT:
Take a moment to inspect your life right now. In what areas have you not been behaving like God? Repent and start to behave like your Father.
HYMN: JESUS, MY LORD, MY GOD, MY ALL
Jesus, my Lord, my God, my all,
Hear me, blest Saviour, when I call;
Hear me, and from Thy dwelling place
Pour down the riches of Thy grace;
CHORUS:
Jesus, my Lord, I Thee adore;
Oh make me love Thee more and more.
ALSO, READ RCCG Open Heaven | 26 September 2021 | Devotional & Prayer Points
Jesus, too late I Thee have sought;
How can I love Thee as I ought?
And how extol Thy matchless fame,
The glorious beauty of Thy name?
Open Heaven | 26th July 2022 | RCCG Devotional & Prayer Points
Jesus, what didst Thou find in me,
That Thou hast dealt so lovingly?
How great the joy that Thou hast brought
So far exceeding hope or thought!
Jesus, of Thee shall be my song,
To Thee my heart and soul belong;
All that I have or am is Thine,
And Thou, blest Saviour, Thou art mine.
Open Heavens 26th July 2022 Daily Devotional guide was written by Pastor E.A. Adeboye, the General Overseer of the Redeemed Christian Church of God, one of the largest evangelical churches in the world and also the President of Christ the Redeemer's Ministries. The Open Heavens devotional application is available across all mobile platforms and operating systems: iOS, Android, Blackberry, Nokia, Windows Mobile and PC.
Prayer Points 26th July 2022 For Open Heaven Tuesday
Open Heaven Prayer Points Today 26th July 2022
PRAYER POINTS
I worship and adore You, my FATHER; for as the heaven is far from the earth, so are Your ways far from the ways of men.
2.Father, I ask for Your grace today to be upright in all my dealings with others, in Jesus' name.
3.Father, please forgive me in whatever way I have sinned against You (and against myself) wash me by Your blood, in Jesus name.
4.Father, I receive the power of the Holy Spirit to be able to overcome sin, trials and temptations in Jesus name.
5.Father, I receive grace to be attentive and sensitive to always hear your speaking in the name of Jesus.
6.Oh Lord, Grant me grace to behave like You in all things in Jesus name.
ALSO, READ Open Heaven | 13th July 2022 | RCCG Devotional & Prayer Points
7.My Lord and my God, help me to bear your fruits. Let it be known constantly and continually that I am a child of God in the name of Jesus.
Open Heaven | 26th July 2022 | RCCG Devotional & Prayer Points
8.Father, I return to the sender every arrow of destruction targeted against me and my family in Jesus name.
9.Father, as a worker in Your vineyard, please, break me, remold me, refill me and use me, by the power of Your Holy Spirit, in Jesus' name.
10.Oh Lord, by the power of the Holy Spirit, empower Christians globally to overcome the trials of life in Jesus name.
11.Oh Lord, bless your son Pastor Enoch Adejare Adeboye for all his years of continual service, remember him, guide him on the path, help him remain focused, bless his entire household, and fulfill all Your promises for their liberation, ministry and family, in Jesus' name.
12.Thank You Father for the intercessory team and the online platform (RCCGONLINE.ORG) and that which You have put in their hearts, I pray that You make them as flaming swords to bring men to Your kingdom and shut down the works of darkness in the name of Jesus.
Open Heaven | 26th July 2022 | RCCG Devotional & Prayer Points
13.Father, bless everyone dedicating their time to pray through these prayers & declarations at the point of their needs. Give them the grace to share/rebroadcast, in Jesus' name.
14.Father, please uphold Your children working everyday on this platform (rccgonline.org) to prepare these prayers and declarations with Your right hand of righteousness and all those who have been rebroadcasting them, give them the grace to keep up with this good work of Faith, in the name of Jesus.
15.By faith, appreciate God for answered prayers. Your testimonies are undeniable in Jesus' name.
16.Father, let every challenge, hindrance and obstacle of getting these prayer points across to Your children, timely, and on daily basis be removed, in Jesus' name.
Open Heaven | 26th July 2022 | RCCG Devotional & Prayer Points
17.Submit yourself and your personal petitions to God. Cast all your cares on Him, for He cares for you.
( Philippians 4:6)
18.In Jesus' name I pray.
(John 14:13-14; 15:16)
Thank you Father for answered prayers.
(1 Thessalonians 5:18).
#GodBlessOurNation
SPECIAL NOTE: 
These prayer points are not written by Pastor E. A. Adeboye, but by one of his numerous disciples, for Christ, who was inspired and mandated by the Holy Spirit, about 5 years ago, (effective January 1st, 2015), to start writing these prayer points, based on the Open Heavens Daily Devotional, authored by Pastor E. A. Adeboye
ARE YOU BORN AGAIN? IF NO, ACCEPT JESUS NOW
Accept Jesus Christ today and secure a life of eternal rest and Glory …
Say this 1 Minute Prayer 

Lord Jesus, I believe you died for my sins, Forgive me of all my iniquities. I accept you as my Lord and Saviour from today and forevermore. Come and Be the Lord of my life and I am willing to obey your command and live according to your will as you help me, Thank you for accepting me into your fold. AMEN

JOHN 3: 3 Jesus answered and said unto him, Verily, verily, I say unto thee, Except a man be born again, he cannot see the kingdom of God