Open Heaven Devotional
Open Heaven | 5th July 2022 | RCCG Devotional & Prayer Points
Open Heaven | 5th July 2022 | RCCG Devotional & Prayer Points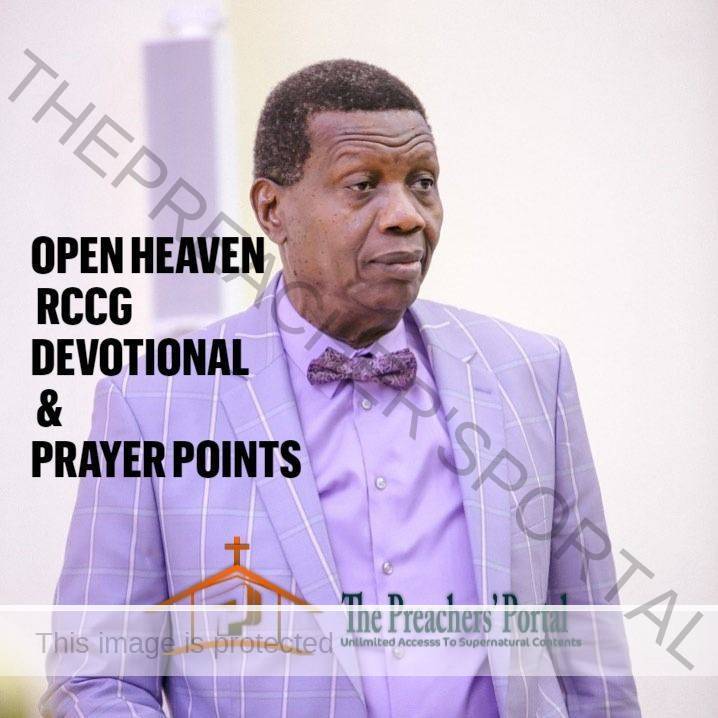 Open Heaven | 5th July 2022 | RCCG Devotional & Prayer Points
Open Heaven | 5th July 2022 | RCCG Devotional & Prayer Points
CLICK HERE FOR PREVIOUS READING 
Open Heaven 5 July 2022 RCCG Daily Devotional For Tuesday – Written By Pastor E. A. Adeboye – Remove Faith Killers – With Prayer Points
TOPIC: Remove Faith Killers
MEMORISE: "As soon as Jesus heard the word that was spoken, he saith unto the ruler of the synagogue, Be not afraid, only believe." – Mark 5:36 (KJV)
READ: Mark 5:21-43 (KJV)
21 And when Jesus was passed over again by ship unto the other side, much people gathered unto him: and he was nigh unto the sea.
22 And, behold, there cometh one of the rulers of the synagogue, Jairus by name; and when he saw him, he fell at his feet,
23 And besought him greatly, saying, My little daughter lieth at the point of death: I pray thee, come and lay thy hands on her, that she may be healed; and she shall live.
ALSO, READ Open Heaven | 21st June 2022 | RCCG Devotional & Prayer Points
24 And Jesus went with him; and much people followed him, and thronged him.
25 And a certain woman, which had an issue of blood twelve years,
26 And had suffered many things of many physicians, and had spent all that she had, and was nothing bettered, but rather grew worse,
27 When she had heard of Jesus, came in the press behind, and touched his garment.
28 For she said, If I may touch but his clothes, I shall be whole.
Open Heaven | 5th July 2022 | RCCG Devotional & Prayer Points
29 And straightway the fountain of her blood was dried up; and she felt in her body that she was healed of that plague.
30 And Jesus, immediately knowing in himself that virtue had gone out of him, turned him about in the press, and said, Who touched my clothes?
ALSO, READ Open Heaven | 22nd June 2022 | RCCG Devotional & Prayer Points
31 And his disciples said unto him, Thou seest the multitude thronging thee, and sayest thou, Who touched me?
32 And he looked round about to see her that had done this thing.
33 But the woman fearing and trembling, knowing what was done in her, came and fell down before him, and told him all the truth.
34 And he said unto her, Daughter, thy faith hath made thee whole; go in peace, and be whole of thy plague.
35 While he yet spake, there came from the ruler of the synagogue's house certain which said, Thy daughter is dead: why troublest thou the Master any further?
36 As soon as Jesus heard the word that was spoken, he saith unto the ruler of the synagogue, Be not afraid, only believe.
37 And he suffered no man to follow him, save Peter, and James, and John the brother of James.
38 And he cometh to the house of the ruler of the synagogue, and seeth the tumult, and them that wept and wailed greatly.
ALSO, READ Open Heaven | 23rd June 2022 | RCCG Devotional & Prayer Points
39 And when he was come in, he saith unto them, Why make ye this ado, and weep? the damsel is not dead, but sleepeth.
Open Heaven | 5th July 2022 | RCCG Devotional & Prayer Points
40 And they laughed him to scorn. But when he had put them all out, he taketh the father and the mother of the damsel, and them that were with him, and entereth in where the damsel was lying.
41 And he took the damsel by the hand, and said unto her, Talitha cumi; which is, being interpreted, Damsel, I say unto thee, arise.
42 And straightway the damsel arose, and walked; for she was of the age of twelve years. And they were astonished with a great astonishment.
43 And he charged them straitly that no man should know it; and commanded that something should be given her to eat.
BIBLE IN ONE YEAR: Psalms 91-94
 MESSAGE:
Something very interesting happened between Jesus and Jairus in the Bible reading for today. When someone came from Jairus' house to tell him that his daughter was dead, Jesus did not allow Jairus to respond; He told him specifically, "Don't be afraid, only believe". We see that everything He did before He woke the girl up from death was to remove faith killers.
He knew that if Jairus had allowed fear to creep in when he was told that his daughter was dead, the miracle would not happen. He saw that all the people in the house that were crying were faithless and if Jairus and his wife looked at them, they would kill their faith. Jesus thus sent them all out before He could perform the miracle. It could be that the reason you have not gotten that miracle from God yet is that you have so many faith killers around you. Believe me honestly, if you keep hanging around these faith killers, they will hinder you from reaching your goals. You therefore have to remove them from your life.
Also Read: Open Heaven 4 July 2022 – Watch!
Go away from places and people whose conversations kill your faith. If you keep listening to them, they will eventually hinder you from achieving your goal. If all that the people around you keep talking about is how things are bad and cannot be better, you had better change location.
Open Heaven | 5th July 2022 | RCCG Devotional & Prayer Points
Move to a place where you will hear people telling you that things will be better, where they will tell you that your goals are achievable, where you will stop hearing, "No, it is not possible", but start hearing "Yes, it is possible".
I for one have always had big dreams, dreams that seem impossible when people hear them. Whenever someone laughs at my dreams, I tell them, "You just watch and see", then I take a step back from the fellow so that they don't kill my faith. Eventually when the dreams begin to come to pass, it will now be my turn to laugh. I have always said it: if people don't laugh at your dreams, then they are not big enough. It is when your dream is so big that it is not possible to achieve it without the help of God that you have just started dreaming. Don't mind those who have tried to kill your dreams in the past. Ignore them, put your faith in God and watch Him make your dreams come to pass.
KEY POINT:
Stay away from people whose words and actions can kill your faith.
HYMN 12: My Faith Looks Up To Thee
1 My faith looks up to thee,
thou Lamb of Calvary,
Savior divine.
Now hear me while I pray;
take all my guilt away;
O let me from this day
be wholly thine!
ALSO, READ Open Heaven | 27 July 2021 | RCCG Devotional & Prayer Points
2 May thy rich grace impart
strength to my fainting heart;
my zeal inspire!
As thou hast died for me,
oh, may my love to thee
pure, warm, and changeless be,
a living fire!
Open Heaven | 5th July 2022 | RCCG Devotional & Prayer Points
3 While life's dark maze I tread,
and griefs around me spread,
be thou my guide.
Bid darkness turn to day,
wipe sorrow's tears away,
nor let me ever stray
from thee aside.
4 When ends life's transient dream,
when death's cold, sullen stream
shall o'er me roll,
blest Savior, then, in love,
fear and distrust remove;
O bear me safe above,
a ransomed soul!
Open Heavens 5th July 2022 Daily Devotional guide was written by Pastor E.A. Adeboye, the General Overseer of the Redeemed Christian Church of God, one of the largest evangelical churches in the world and also the President of Christ the Redeemer's Ministries. The Open Heavens devotional application is available across all mobile platforms and operating systems: iOS, Android, Blackberry, Nokia, Windows Mobile and PC.
Prayer Points 5th July 2022 For Open Heaven Tuesday
Open Heaven Prayer Points Today 5th July 2022
PRAYER POINTS
Father I thank You for Your provision over my life and for sustaining me always. I pray that You alone be glorified in Jesus name.
Father I ask for Your mercy and forgiveness in any area of my life that I have sinned against You; please forgive me in Jesus name.
Lord, help me to remain steadfast under trial so I can receive the crown of life which You have promised in Jesus name.
Oh Lord, help me to fix my gaze and my mind on Your Word alone and let it build my faith in the name of Jesus
Father, remove me from the midst of faith killers and dream killers. Place me in the midst of encouragers in Jesus Name.
Father, grant me grace to pursue Your work and my dreams with all my strength in the name of Jesus.
ALSO, READ RCCG Open Heaven | 26 September 2021 | Devotional & Prayer Points
Oh Lord, empower me to carry out every task You have set me apart for in the name of Jesus.
Father I pray that Your favor upon my me will be for a lifetime, and I will be filled with Your joy all the days of my life in Jesus name
Open Heaven | 5th July 2022 | RCCG Devotional & Prayer Points
God grant me the wisdom from above that is first pure, then peaceable, gentle, and easy to be entreated, full of mercy and good fruits in Jesus name.
Father, by Your word, destroy every weapon fashioned against me in Jesus name
Lord, let Your word nullify every evil that has been said about me aforetime and even presently in the name of Jesus.
Father, please revive and restore me by the power in Your word, in Jesus name.
Oh Lord, bless your son Pastor Enoch Adejare Adeboye for all his years of continual service, remember him, guide him on the path, help him remain focused, bless his entire household, and fulfill all Your promises for their liberation, ministry and family, in Jesus' name.
Thank You Father for the intercessory team and the online platform (RCCGONLINE.ORG) and that which You have put in their hearts, I pray that You make them as flaming swords to bring men to Your kingdom and shut down the works of darkness in the name of Jesus.
ALSO, READ Open Heaven | 19 March 2022 | RCCG Devotional & Prayer Points
Father, bless everyone dedicating their time to pray through these prayers & declarations at the point of their needs. Give them the grace to share/rebroadcast, in Jesus' name.
Father, please uphold Your children working everyday on this platform (rccgonline.org) to prepare these prayers and declarations with Your right hand of righteousness and all those who have been rebroadcasting them, give them the grace to keep up with this good work of Faith, in the name of Jesus.
Open Heaven | 5th July 2022 | RCCG Devotional & Prayer Points
Father, let every challenge, hindrance and obstacle of getting these prayer points across to Your children, timely, and on daily basis be removed, in Jesus' name.
Submit yourself and your personal petitions to God. Cast all your cares on Him, for He cares for you.
( Philippians 4:6)
In Jesus' name I pray.
(John 14:13-14; 15:16)
Thank you Father for answered prayers.
(1 Thessalonians 5:18).
#GodBlessOurNation
SPECIAL NOTE: 
These prayer points are not written by Pastor E. A. Adeboye, but by one of his numerous disciples, for Christ, who was inspired and mandated by the Holy Spirit, about 5 years ago, (effective January 1st, 2015), to start writing these prayer points, based on the Open Heavens Daily Devotional, authored by Pastor E. A. Adeboye
ARE YOU BORN AGAIN? IF NO, ACCEPT JESUS NOW
Accept Jesus Christ today and secure a life of eternal rest and Glory …
Say this 1 Minute Prayer 

Lord Jesus, I believe you died for my sins, Forgive me of all my iniquities. I accept you as my Lord and Saviour from today and forevermore. Come and Be the Lord of my life and I am willing to obey your command and live according to your will as you help me, Thank you for accepting me into your fold. AMEN

JOHN 3: 3 Jesus answered and said unto him, Verily, verily, I say unto thee, Except a man be born again, he cannot see the kingdom of God