Open Heaven Devotional
Open Heaven | 7 August 2021 | RCCG Devotional & Prayer Points
Open Heaven | 7 August 2021 | RCCG Devotional & Prayer Points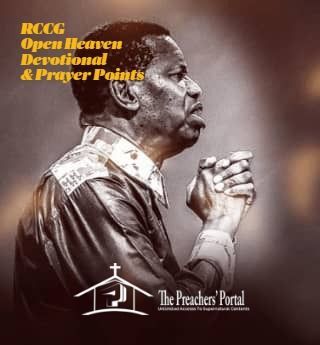 Open Heaven | 7 August 2021 | RCCG Devotional & Prayer Points
Open Heaven | 7 August 2021 | RCCG Devotional & Prayer Points
CLICK HERE FOR PREVIOUS READING 
Open Heaven 7th August 2021 Saturday RCCG Devotional – Pray Without Ceasing; written by Pastor E.A. Adeboye with Prayer Points
OPEN HEAVEN DAILY DEVOTIONAL FOR TODAY 7 AUGUST 2021
TOPIC: PRAY WITHOUT CEASING
MEMORISE: "And when he was at the place, he said unto them, Pray that ye enter not into temptation." – (Luke 22:40)
RCCG Open Heaven 7th August 2021 Saturday Devotional
READ: Luke 18:1-8 (KJV)
1. And he spake a parable unto them to this end, that men ought always to pray, and not to faint;
2. Saying, There was in a city a judge, which feared not God, neither regarded man:
3. And there was a widow in that city; and she came unto him, saying, Avenge me of mine adversary.
4. And he would not for a while; but afterwards, he said within himself, Though I fear not God, nor regard man;
5. Yet because this widow troubleth me, I will avenge her, lest by her continual coming she weary me.
6. And the Lord said, Hear what the unjust judge saith.
7. And shall not God avenge his own elect, which cries day and night unto him, though he bears long with them?
ALSO, READ MFM Daily Devotional 7th August 2021 (PMCH)
8. I tell you that he will avenge them speedily. Nevertheless when the Son of man cometh, shall he find faith on the earth?
MESSAGE
The statement "pray without ceasing" in (1 Thessalonians 5:17) is not a piece of advice or suggestion. The importance of this statement is revealed in the words of Jesus Christ to His disciples in our memory verse of today. Luke 22:45-46 says further: And when he rose up from prayer and was come to his disciples, he found them sleeping for sorrow, And said unto them, Why sleep ye? rise and pray, lest ye enter into temptation.
The arm of flesh will always fail according to Jeremiah 17:5. This brings to mind the common saying "A prayerless Christian is a powerless Christian". A life of prayer is indeed a blessed one.
ALSO, READ  MFM PMCH Prayer Points August 2021 Live Service
In the story of the widow in our text of today, there are many lessons we can learn. One, the judge avenged the widow of her enemies simply because, by her prayer, she compelled him to. Two, this woman did not change her prayer – she was consistent in her request. Many people gamble with their prayer lives, either not knowing or not asking for the specific things they need. They are unstable like the wave of the sea being driven with the wind and tossed (James 1:6).
Open Heaven 7 August 2021 | Devotional
James 1:7-8 further says: For let, not that man think that he shall receive anything of the Lord. A double-minded man is unstable in all his ways. Such people don't even know who to give the glory to if or when they get their miracle. They have alternatives to the miracle-working power of the Almighty, hence, they pray to God, but also seek the assistance of the arm of flesh. The result of people's reliance on the arm of flesh is that they fail to ask earnestly and so do not have.
ALSO, READ Rhapsody Of Realities 7 August 2021 (Saturday)
Ye lust, and have not: ye kill and desire to have, and cannot obtain: ye fight and war, yet ye have not, because ye ask not. – (James 4:2). Our Lord Jesus Christ in today's text assures us that our Heavenly Father, unlike the unjust judge, will answer us speedily on one condition: if we will pray in faith and trust in Him. As you ask in faith today, may you receive blessings beyond your wildest imaginations, in the mighty name of Jesus?
ACTION POINT: Pray Until Something Happens (PUSH) today.
BIBLE IN ONE YEAR: Job 35-56
HYMNAL: HYMN 16 – O GOD, OUR HELP IN AGES PAST
1. O God, our help in ages past,
Our hope for years to come,
Our shelter from the stormy blast,
And our eternal home.
2. Under the shadow of Your throne
Your saints have dwelt secure;
Sufficient is Your arm alone,
And our defence is sure.
3. Before the hills in order stood,
Or earth received her frame,
From everlasting You are God,
To endless years the same.
4. A thousand ages in Your sight
Are like an evening gone;
Short as the watch that ends the night
Before the rising sun.
Open Heaven | 7 August 2021 | RCCG Devotional & Prayer Points
5. The busy tribes of flesh and blood,
With all their lives and cares,
Are carried downward by your flood,
And lost in following years.
6. Time, like an ever-rolling stream,
Bears all its sons away;
They fly forgotten, as a dream
Dies at the opening day.
7. O God, our help in ages past,
Our hope for years to come:
Be Thou our guard while troubles last,
And our eternal home.
Open Heavens 7th August 2021 Daily Devotional guide was written by Pastor E.A. Adeboye, the General Overseer of the Redeemed Christian Church of God, one of the largest evangelical churches in the world and also the President of Christ the Redeemer's Ministries. The Open Heavens devotional application is available across all mobile platforms and operating systems: iOS, Android, Blackberry, Nokia, Windows Mobile and PC.
Prayer Points On Open Heavens 7 August 2021 – Pray Without Ceasing
Open Heaven 2021 Prayer Points for August 7th:
1.Thank You, Father, for the powerful weapon of prayer, that You have given to Your Church.
2.Thank You, Father, for the grace to call upon You in prayers, and to receive answers.
3.Father, in any way I have fallen short of your glory, please, have mercy and forgive me, in Jesus name.
4.Father, destroy in my life every spirit of doubt and double-mindedness, in Jesus name.
5.Father, let every spirit of prayerlessness in my life be consumed by Your fire, in Jesus name.
6.Father, release upon my life the grace and the anointing to pray without ceasing, in Jesus name.
7.Father, empower me to pray so that I will not enter into temptation; please, don't let me sleep the sleep of death, in Jesus name.
Open Heaven | 7 August 2021 | RCCG Devotional & Prayer Points
8.Father, give me the grace to pray in faith and trust in You, that my prayers may not be hindered, in Jesus name.
9.Father, release, upon me the 'prayer anointing'; and empower me to pray until something happens, in Jesus name.
10.Father, bless your son, Pastor Enoch Adejare Adeboye, and answer all his outstanding prayer requests, in Jesus name.
11.Father, bless Your son that You have been using to prepare these prayer points, beyond measures, and all those who have been rebroadcasting them, in Jesus name.
12.Father, let every challenge, hindrance and obstacle of getting these prayer points across to Your children, timely, and on daily basis be removed, in Jesus name.
13.Your Personal petitions. (Philippians 4:6)
14.In Jesus name I pray. (John 14:13-14; 15:16)
15.Thank you Father for answered prayers. (1 Thessalonians 5:18).
Special Note:
These prayer points are not written by Pastor E. A. Adeboye, but by one of his numerous disciples, for Christ, who was inspired and mandated by the Holy Spirit, about 5years ago, (effective January 1st, 2015), to start writing these prayer points, based on the Open Heavens Daily Devotional, authored by Pastor E. A. Adeboye.
ARE YOU BORN AGAIN? IF NO ACCEPT JESUS NOW
Accept Jesus Christ today and secure a life of eternal rest and Glory …
Say this 1 Minute Prayer 

Lord Jesus, I believe you died for my sins, Forgive me of all my iniquities. I accept you as my Lord and Saviour from today and forevermore. Come and Be the Lord of my life and I am willing to obey your command and live according to your will as you help me, Thank you for accepting me into your fold. AMEN

JOHN 3: 3 Jesus answered and said unto him, Verily, verily, I say unto thee, Except a man be born again, he cannot see the kingdom of God.