Open Heaven Devotional
Open Heaven | 8 August 2021 | RCCG Devotional & Prayer Points
Open Heaven | 8 August 2021 | RCCG Devotional & Prayer Points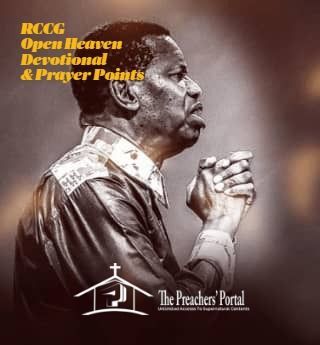 Open Heaven | 8 August 2021 | RCCG Devotional & Prayer Points
Open Heaven | 8 August 2021 | RCCG Devotional & Prayer Points
CLICK HERE FOR PREVIOUS READING 
Open Heaven 8th August 2021 Sunday RCCG Devotional – Be Thankful: written By Pastor E. A. Adeboye With Prayer Points
OPEN HEAVEN 8 AUGUST 2021 TOPIC: Be Thankful
MEMORISE: Bless the LORD, O my soul, and forget not all his benefits: – Psalm 103:2
READ: Luke 17:11-19 (KJV)
11 And it came to pass, as he went to Jerusalem, that he passed through the midst of Samaria and Galilee.
12 And as he entered into a certain village, there met him ten men that were lepers, which stood afar off:
13 And they lifted up their voices, and said, Jesus, Master, have mercy on us.
14 And when he saw them, he said unto them, Go shew yourselves unto the priests. And it came to pass, that, as they went, they were cleansed.
15 And one of them, when he saw that he was healed, turned back, and with a loud voice glorified God,
16 And fell down on his face at his feet, giving him thanks: and he was a Samaritan.
17 And Jesus answering said, Were there not ten cleansed? but where are the nine?
18 There are not found that returned to give glory to God, save this stranger.
19 And he said unto him, Arise, go thy way: thy faith hath made thee whole.
BIBLE IN ONE YEAR: Job 37-38
MESSAGE:
One expectation of the Almighty God is the appreciation of His children for the numerous blessings He bestows on them. It is unfortunate, however, that humans, from generation to generation have been ungrateful. They forget the goodness of God soon after receiving His blessings and begin to speak against the Lover of their souls. James 1:13-14 says:
ALSO, READ  RCCG Convention Live 8th August 2021 Thanksgiving Service (Day 7)
"Let no man say when he is tempted, I am tempted of God: for God cannot be tempted with evil, neither tempteth he any man: But every man is tempted, when he is drawn away of his own lust, and enticed."
After the Lord Jesus healed ten lepers, He expected them to return and say "Glory to God in the highest." To His surprise, however, only one of the ten came and He asked "…Were there not ten cleansed? but where are the nine? There are not found that returned to give glory to God, save this stranger."
Open Heaven | 8 August 2021 | RCCG Devotional
Ingratitude is an act of robbery against God. The greatest danger of ingratitude is the giving of the glory that belongs to God to someone or something else. This is practical idolatry, punishable for all eternity. In addition, it is dangerous not to be thankful because your joy cannot be full if you are not thankful. The only person we can consider as having the fullness of joy amongst these ten lepers is the one who returned to give glory to God. Jesus then crowned his healing by saying to him "…rise, go thy way: thy faith hath made thee whole." (Luke 17:19).
ALSO, READ  Our Daily Bread 8 August 2021 Devotional
We must note, however, that the first way to show gratitude to God is to accept His offer of salvation which seems free but cost the life of the innocent Son of the Living God. We must embrace this offer with every sense of gratitude.
Indeed, our acceptance of the lordship of Jesus Christ over our lives is the most profound form of gratitude we can ever express to God. The Lord bless you as you do so today, in the mighty name of Jesus. if you have already submitted to His lordship, begin to count your blessings and give Him heartfelt thanks.
PRAYER POINT: Father, I thank You for the salvation of my soul through Christ my Lord. Help me to live by His teachings to the glory of Your Holy Name.
HYMN 3: Be Glad In The Lord And Rejoice
1. Be glad in the Lord, and rejoice,
All ye that are upright in heart;
And ye that have made Him your choice,
Bid sadness and sorrow depart.
Refrain:
Rejoice, rejoice,
Be glad in the Lord and rejoice;
Rejoice, rejoice,
Be glad in the Lord and rejoice.
2. Be joyful, for He is the Lord
On earth and in Heaven supreme;
He fashions and rules by His word—
The "Mighty" and "Strong" to redeem.
3. What though in the conflict for right
Your enemies almost prevail?
God's armies, just hid from your sight,
Are more than the foes which assail.
Open Heaven 8 August 2021 Devotional
4. Though darkness surround you by day,
Your sky by the night be o'ercast,
Let nothing your spirit dismay,
But trust till the danger is past.
5. Be glad in the Lord, and rejoice,
His praises proclaiming in song;
Let gratefulness give all a voice,
The loud hallelujahs prolong!
Open Heavens 8th August 2021 Daily Devotional guide was written by Pastor E.A. Adeboye, the General Overseer of the Redeemed Christian Church of God, one of the largest evangelical churches in the world and also the President of Christ the Redeemer's Ministries. The Open Heavens devotional application is available across all mobile platforms and operating systems: iOS, Android, Blackberry, Nokia, Windows Mobile and PC.
Prayer Points Today 8th August 2021 For Open Heaven Sunday
Prayer Points For Open Heaven 8 August 2021 Today
I worship and adore You, my Father; in Your presence, there is fullness of joy, and at Your right hand there are pleasures forevermore.
2. Father, You're my rock, my fortress, my deliverer; my God, my strength, in whom I will trust; my buckler, and the horn of my salvation, and my high tower; without You, I can do nothing.
3.Father, in any way I have fallen short of your glory, please, have mercy and forgive me, in Jesus name.
4.Father, please, come and make my life, Your permanent place of abode, and make me a permanent carrier of Your presence, in Jesus name.
5.Father, admit me into Your secret place and let me abide under Your protective shadow, forever, in Jesus name.
6.Father, where Your presence will not go with me, please, give the grace never to go there, in Jesus name.
7.Father, give me the grace to run away from iniquity and from every appearance of evil, that Your presence will not depart from me, in Jesus name.
8.Father, help me to do that which pleases You, at all times, that I may be able to retain Your presence in my life, in Jesus name.
Open Heaven 8 August 2021 Devotional
9.Father, in Your presence, let my joy be full, keep me safe, grant me – victory, success, breakthroughs and eternal life, in Jesus name.
10.Father, bless your son, Pastor Enoch Adejare Adeboye; please, let him finish well and strong, in Jesus name.
11.Father, bless Your son that You have been using to prepare these prayer points, beyond measures, and all those who have been rebroadcasting them, in Jesus name.
12.Father, let every challenge, hindrance and obstacle of getting these prayer points across to Your children, timely, and on daily basis be removed, in Jesus name.
13.Your Personal petitions. (Philippians 4:6
14.In Jesus name I pray. (John 14:13-14; 15:16)
15.Thank you Father for answered prayers. (1 Thessalonians 5:18).
Special Note:
These prayer points are not written by Pastor E. A. Adeboye, but by one of his numerous disciples, for Christ, who was inspired and mandated by the Holy Spirit, about 5years ago, (effective January 1st, 2015), to start writing these prayer points, based on the Open Heavens Daily Devotional, authored by Pastor E. A. Adeboye.
ARE YOU BORN AGAIN? IF NO ACCEPT JESUS NOW
Accept Jesus Christ today and secure a life of eternal rest and Glory …
Say this 1 Minute Prayer 

Lord Jesus, I believe you died for my sins, Forgive me of all my iniquities. I accept you as my Lord and Saviour from today and forevermore. Come and Be the Lord of my life and I am willing to obey your command and live according to your will as you help me, Thank you for accepting me into your fold. AMEN

JOHN 3: 3 Jesus answered and said unto him, Verily, verily, I say unto thee, Except a man be born again, he cannot see the kingdom of God.