Open Heaven Devotional
Open Heaven | 8th July 2022 | RCCG Devotional & Prayer Points
Open Heaven | 8th July 2022 | RCCG Devotional & Prayer Points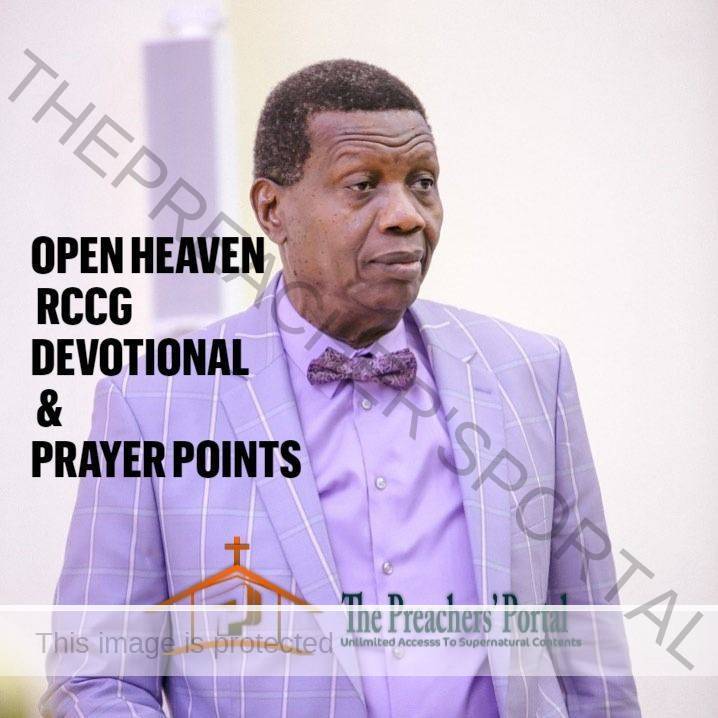 Open Heaven | 8th July 2022 | RCCG Devotional & Prayer Points
Open Heaven | 8th July 2022 | RCCG Devotional & Prayer Points
CLICK HERE FOR PREVIOUS READING 
Open Heaven 8 July 2022 RCCG Daily Devotional For Friday – Written By Pastor E. A. Adeboye – Top Up Your Fuel Tank – With Prayer Points
 TOPIC: Top Up Your Fuel Tank
MEMORISE: "And he said unto them, Come ye yourselves apart into a desert place, and rest a while: for there were many coming and going, and they had no leisure so much as to eat." – Mark 6:31 (KJV)
READ: Mark 6:30-32 (KJV)
30 And the apostles gathered themselves together unto Jesus, and told him all things, both what they had done, and what they had taught.
ALSO, READ Open Heaven | 28th June 2022 | RCCG Devotional & Prayer Points
31 And he said unto them, Come ye yourselves apart into a desert place, and rest a while: for there were many coming and going, and they had no leisure so much as to eat.
32 And they departed into a desert place by ship privately.
BIBLE IN ONE YEAR: Psalms 102-103
MESSAGE
One major thing about how a car works is the fact that cars need a constant supply of fuel to keep running. It does not matter how much fuel is in the tank; after it has run for a while, the fuel will be exhausted, and then it would not be able to run until the tank is refilled.
Similarly, there is always a need for you to refill after you have given out so much. After expending a lot of energy, you need to go aside, rest and eat to regain strength. In memory verse for today, Jesus told the disciples to go aside, and rest after their strenuous evangelism trip.
ALSO, READ Open Heaven | 22 March 2022 | RCCG Devotional & Prayer Points
The reason many men of God are becoming less effective is that they don't rest. There are many people always thronging them because of the anointing, but if they don't get adequate rest, they would break down. You may be very anointed, but you are still flesh and blood. Even Jesus Christ was so tired that He went to the inner part of the ship where no one could disturb Him and slept through a storm (Mark 4:37-38).
Open Heaven | 8th July 2022 | RCCG Devotional & Prayer Points
Sometimes, you also need to refill your anointing tank. After many major miracles that Jesus did, He went aside to the mountain to pray (Matthew 14:16-23). I told one of my sons one day to take things easy because he was attending so many programmes with little time for him to refill. He looked at me in a funny way, as if to say, "But l see you also working just as hard".
ALSO, READ Open Heaven | 29th June 2022 | RCCG Devotional & Prayer Points
I had to point his attention to the fact that l have only very few engagements in a certain period of every year, especially when we fast in the Redeemed Christian Church of God. You don't see me traveling during these periods. If l must minister somewhere, it would be close to my base because l am refilling my tank. If you don't refill the anointing and goes dry, the people will notice and then you would realize that it is not really you they love, it is the anointing you carry.
Every car mechanic will tell you that it is dangerous to run your car on an empty tank. If you do, the fuel pump would suck up some debris and that can cause serious damage to your car. Don't run around empty. When you don't take time to refill your energy or anointing tank, you are endangering your life.
 ACTION POINT:
Always take out time to refill your tank, whether it is knowledge, anointing, energy or whatever you expend.
HYMN 3: Deeper Deeper In The Love Of Jesus
1 Deeper, deeper in the love of Jesus
Daily let me go;
Higher, higher in the school of wisdom,
More of grace to know.
Refrain
Oh, deeper yet, I pray,
And higher ev'ry day,
And wiser, blessed Lord,
In Thy precious, holy word.
2 Deeper, deeper! Blessed Holy Spirit,
Take me deeper still,
Till my life is wholly lost in Jesus,
And His perfect will.
Open Heaven | 8th July 2022 | RCCG Devotional & Prayer Points
3 Deeper, deeper! Tho' it cost hard trials,
Deeper let me go!
Rooted in the holy love of Jesus,
Let me fruitful grow.
4 Deeper, higher ev'ry day in Jesus,
Till all conflict past,
Finds me conqu'ror,
And in His own image
Perfected at last.
Open Heavens 8th July 2022 Daily Devotional guide was written by Pastor E.A. Adeboye, the General Overseer of the Redeemed Christian Church of God, one of the largest evangelical churches in the world and also the President of Christ the Redeemer's Ministries. The Open Heavens devotional application is available across all mobile platforms and operating systems: iOS, Android, Blackberry, Nokia, Windows Mobile and PC.
Prayer Points 8th July 2022 For Open Heaven Friday
Open Heaven Prayer Points Today 8th July 2022
PRAYER POINTS
1.Thank You, Father for creating me in Your image and likeness; and for Your purpose and pleasure.
2.Father, in anyway I have fallen short of your glory, please, have mercy and forgive me; let Your mercy prevail over any judgement of sin in my life, in Jesus name.
3.Father, help me to follow in Your steps, by resting, after much labours, in Jesus name.
4.Father, empower me to withdraw from the hustle and bustle of ministerial life, and retreat into a quiet place, to seek Your face and recharge my human battery, in Jesus name.
5.Father, I refuse to die of exhaustion and burn out; please, give me the grace to withdraw into a quiet place to refuel my tank and regain lost energy and strength, in Jesus name.
ALSO, READ Open Heaven | 27th June 2022 | RCCG Devotional & Prayer Points
6.Father, please, renew my strength and anointing, as I wait regularly on You, in Jesus name.
7.Father, release upon my life, fresh oil and auction for service in You vineyard, as I cannot use yesterday's anointing for today's assignments, in Jesus name.
Open Heaven | 8th July 2022 | RCCG Devotional & Prayer Points
8.Father, fill me to the brim with Your Holy Spirit and let all the works of the flesh in me, be completely subdued, in Jesus name.
9.Father, empower me to run away from every appearance of evil, in Jesus name.
10.Father, bless your son, Pastor Enoch Adejare Adeboye; and, bless his ministry and home forever, in Jesus name.
11.Father, bless Your son that You have been using to prepare these prayer points, beyond measures, and all those who have been rebroadcasting them, in Jesus name.
12.Father, let every challenge, hindrance and obstacle of getting these prayer points across to Your children, timely, and on daily basis be removed, in Jesus name.
Open Heaven | 8th July 2022 | RCCG Devotional & Prayer Points
13.Your personal thanksgiving prayer.
14.Your Personal petitions. (Philippians 4:6)
15.In Jesus name I pray. (John 14:13-14; 15:16)
16.Thank you Father for answered prayers. (1 Thessalonians 5:18).
SPECIAL NOTE: 
These prayer points are not written by Pastor E. A. Adeboye, but by one of his numerous disciples, for Christ, who was inspired and mandated by the Holy Spirit, about 5 years ago, (effective January 1st, 2015), to start writing these prayer points, based on the Open Heavens Daily Devotional, authored by Pastor E. A. Adeboye
ARE YOU BORN AGAIN? IF NO, ACCEPT JESUS NOW
Accept Jesus Christ today and secure a life of eternal rest and Glory …
Say this 1 Minute Prayer 

Lord Jesus, I believe you died for my sins, Forgive me of all my iniquities. I accept you as my Lord and Saviour from today and forevermore. Come and Be the Lord of my life and I am willing to obey your command and live according to your will as you help me, Thank you for accepting me into your fold. AMEN

JOHN 3: 3 Jesus answered and said unto him, Verily, verily, I say unto thee, Except a man be born again, he cannot see the kingdom of God