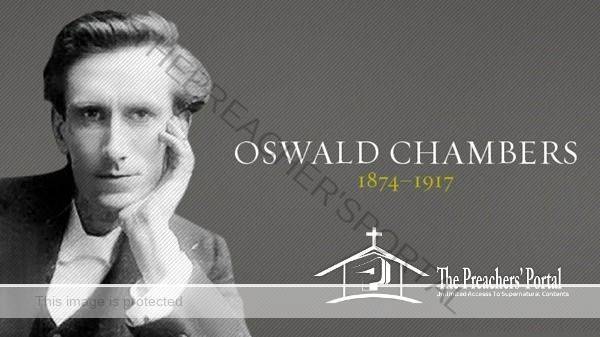 Oswald Chambers Devotional 26th November 2021
Oswald Chambers Devotional 26th November 2021
CLICK HERE FOR PREVIOUS READING 
Oswald Chambers Daily Devotional For Today 26th November 2021 Written By Oswald Chambers | My Utmost For His Highest
TOPIC: The Focal Point of Spiritual Power
If you want to know the power of God (that is, the resurrection life of Jesus) in your human flesh, you must dwell on the tragedy of God. Breakaway from your personal concern over your own spiritual condition, and with a completely open spirit consider the tragedy of God. Instantly the power of God will be in you. "Look to Me…" (Isaiah 45:22). Pay attention to the external Source and the internal power will be there.
We lose power because we don't focus on the right thing. The effect of the Cross is salvation, sanctification, healing, etc., but we are not to preach any of these. We are to preach "Jesus Christ and Him crucified" (1 Corinthians 2:2). The proclaiming of Jesus will do its own work.
ALSO, READ Oswald Chambers Devotional 24th November 2021
Concentrate on God's focal point in your preaching, and even if your listeners seem to pay it no attention, they will never be the same again. If I share my own words, they are of no more importance than your words are to me. But if we share the truth of God with one another, we will encounter it again and again. We have to focus on the great point of spiritual power— the Cross.
Oswald Chambers Devotional 26th November 2021
If we stay in contact with that centre of power, its energy is released in our lives. In holiness movements and spiritual experience meetings, the focus tends to be put not on the Cross of Christ but on the effects of the Cross.
The feebleness of the church is being criticized today, and the criticism is justified. One reason for the feebleness is that there has not been this focus on the true centre of spiritual power. We have not dwelt enough on the tragedy of Calvary or on the meaning of redemption.
ALSO, READ Oswald Chambers Devotional 16th November 2021
My Utmost for His Highest continues to challenge and encourage people all over the world, through more than 13 million copies printed, a mobile app, website, email, and social media sharing. A century after his death, Oswald Chambers still guides people on their journey to knowing God better.
ARE YOU BORN AGAIN? IF NO ACCEPT JESUS NOW
Accept Jesus Christ today and secure a life of eternal rest and Glory …
Say this 1 Minute Prayer

Lord Jesus, I believe you died for my sins, Forgive me of all my iniquities. I accept you as my Lord and Saviour from today and forevermore. Come and Be the Lord of my life and I am willing to obey your command and live according to your will as you help me, Thank you for accepting me into your fold. AMEN

JOHN 3: 3 Jesus answered and said unto him, Verily, verily, I say unto thee, Except a man be born again, he cannot see the kingdom of God