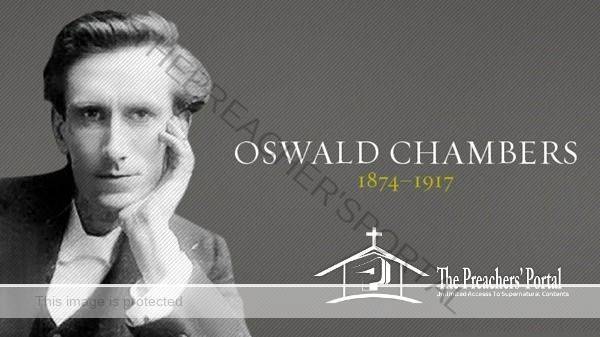 Oswald Chambers Devotional 2nd December 2021
Oswald Chambers Devotional 2nd December 2021
CLICK HERE FOR PREVIOUS READING 
Oswald Chambers Daily Devotional For Today 2 December 2021 Written By Oswald Chambers | My Utmost For His Highest
TOPIC: Christian Perfection
It is a trap to presume that God wants to make us perfect specimens of what He can do— God's purpose is to make us one with Himself. The emphasis of holiness movements tends to be that God is producing specimens of holiness to put in His museum. If you accept this concept of personal holiness, your life's determined purpose will not be for God, but for what you call the evidence of God in your life.
ALSO, READ Oswald Chambers Devotional 14th November 2021
How can we say, "It could never be God's will for me to be sick"? If it was God's will to bruise His own Son (Isaiah 53:10), why shouldn't He bruise you? What shines forth and reveals God in your life is not your relative consistency to an idea of what a saint should be, but your genuine, living relationship with Jesus Christ, and your unrestrained devotion to Him whether you are well or sick.
Christian perfection is not, and never can be human perfection. Christian perfection is the perfection of a relationship with God that shows itself to be true even amid the seemingly unimportant aspects of human life.
ALSO, READ Oswald Chambers Devotional 16th November 2021
Oswald Chambers Devotional 2nd December 2021
When you obey the call of Jesus Christ, the first thing that hits you is the pointlessness of the things you have to do. The next thought that strikes you is that other people seem to be living perfectly consistent lives. Such lives may leave you with the idea that God is unnecessary— that through your own human effort and devotion you can attain God's standard for your life. In a fallen world this can never be done.
ALSO, READ Oswald Chambers Devotional 29th November 2021
I am called to live in such a perfect relationship with God that my life produces a yearning for God in the lives of others, not admiration for myself. Thoughts about myself hinder my usefulness to God. God's purpose is not to perfect me to make me a trophy in His showcase; He is getting me to the place where He can use me. Let Him do what He wants
My Utmost for His Highest continues to challenge and encourage people all over the world, through more than 13 million copies printed, a mobile app, website, email, and social media sharing. A century after his death, Oswald Chambers still guides people on their journey to knowing God better.
ARE YOU BORN AGAIN? IF NO ACCEPT JESUS NOW
Accept Jesus Christ today and secure a life of eternal rest and Glory …
Say this 1 Minute Prayer

Lord Jesus, I believe you died for my sins, Forgive me of all my iniquities. I accept you as my Lord and Saviour from today and forevermore. Come and Be the Lord of my life and I am willing to obey your command and live according to your will as you help me, Thank you for accepting me into your fold. AMEN

JOHN 3: 3 Jesus answered and said unto him, Verily, verily, I say unto thee, Except a man be born again, he cannot see the kingdom of God