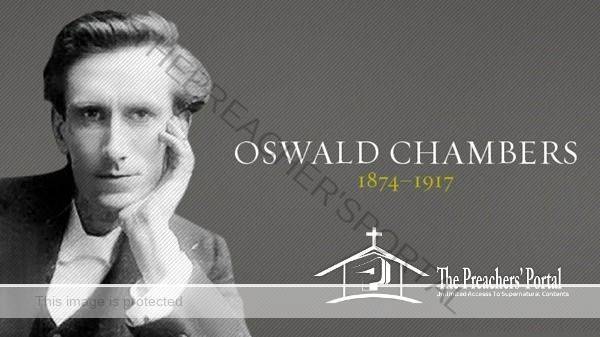 Oswald Chambers Devotional 4th December 2021
Oswald Chambers Devotional 4th December 2021
CLICK HERE FOR PREVIOUS READING 
Oswald Chambers Daily Devotional For Today 4 December 2021 Written By Oswald Chambers | My Utmost For His Highest
TOPIC: The Law of Opposition
Life without war is impossible in the natural or the supernatural realm. It is a fact that there is a continuing struggle in the physical, mental, moral, and spiritual areas of life.
Health is the balance between the physical parts of my body and all the things and forces surrounding me. To maintain good health I must have sufficient internal strength to fight off the things that are external. Everything outside my physical life is designed to cause my death.
ALSO, READ Oswald Chambers Devotional 14th November 2021
The very elements that sustain me while I am alive work to decay and disintegrate my body once it is dead. If I have enough inner strength to fight, I help to produce the balance needed for health. The same is true of mental life. If I want to maintain a strong and active mental life, I have to fight. This struggle produces the mental balance called thought.
Oswald Chambers Devotional 4th December 2021
Morally it is the same. Anything that does not strengthen me morally is the enemy of virtue within me. Whether I overcome, thereby producing virtue, depends on the level of moral excellence in my life. But we must fight to be moral. Morality does not happen by accident; moral virtue is acquired.
ALSO, READ Oswald Chambers Devotional 1st December 2021
And spiritually it is also the same. Jesus said, "In the world you will have tribulation…" (John 16:33). This means that anything which is not spiritual leads to my downfall. Jesus went on to say, "…but be of good cheer, I have overcome the world." I must learn to fight against and overcome the things that come against me, and in that way produce the balance of holiness. Then it becomes a delight to meet opposition.
Holiness is the balance between my nature and the law of God as expressed in Jesus Christ.
My Utmost for His Highest continues to challenge and encourage people all over the world, through more than 13 million copies printed, a mobile app, website, email, and social media sharing. A century after his death, Oswald Chambers still guides people on their journey to knowing God better.
ARE YOU BORN AGAIN? IF NO ACCEPT JESUS NOW
Accept Jesus Christ today and secure a life of eternal rest and Glory …
Say this 1 Minute Prayer

Lord Jesus, I believe you died for my sins, Forgive me of all my iniquities. I accept you as my Lord and Saviour from today and forevermore. Come and Be the Lord of my life and I am willing to obey your command and live according to your will as you help me, Thank you for accepting me into your fold. AMEN

JOHN 3: 3 Jesus answered and said unto him, Verily, verily, I say unto thee, Except a man be born again, he cannot see the kingdom of God