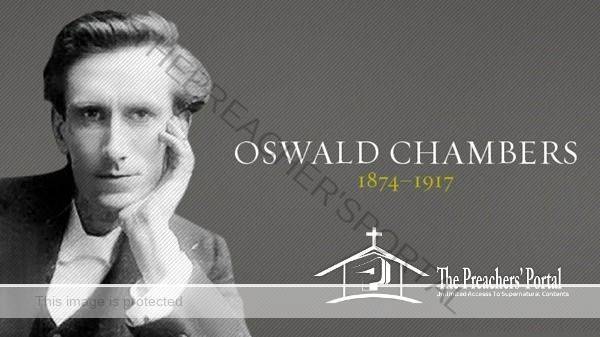 Oswald Chambers Devotional 5th December 2021
Oswald Chambers Devotional 5th December 2021
CLICK HERE FOR PREVIOUS READING 
Oswald Chambers Daily Devotional For Today 5 December 2021 Written By Oswald Chambers | My Utmost For His Highest
TOPIC: "The Temple of the Holy Spirit"
I am accountable to God for the way I control my body under His authority. Paul said he did not "set aside the grace of God"— make it ineffective (Galatians 2:21). The grace of God is absolute and limitless, and the work of salvation through Jesus is complete and finished forever. I am not being saved— I am saved. Salvation is as eternal as God's throne, but I must put it to work or use what God has placed within me.
ALSO, READ Oswald Chambers Devotional 16th November 2021
To "work out [my] own salvation" (Philippians 2:12) means that I am responsible for using what He has given me. It also means that I must exhibit in my own body the life of the Lord Jesus, not mysteriously or secretly, but openly and boldly. "I discipline my body and bring it into subjection . . ." (1 Corinthians 9:27).
Oswald Chambers Devotional 5th December 2021
Every Christian can have his body under the absolute control for God. God has given us the responsibility to rule over all "the temple of the Holy Spirit," including our thoughts and desires (1 Corinthians 6:19). We are responsible for these, and we must never give way to improper ones.
ALSO, READ Oswald Chambers Devotional 29th November 2021
INVEST IN IRAs, SECURE YOUR FUTURE
But most of us are much more severe in our judgment of others than we are in judging ourselves. We make excuses for things in ourselves, while we condemn things in the lives of others simply because we are not naturally inclined to do them.
Paul said, "I beseech you…that you present your bodies a living sacrifice…" (Romans 12:1). What I must decide is whether or not I will agree with my Lord and Master that my body will indeed be His temple. Once I agree, all the rules, regulations, and requirements of the law concerning the body are summed up for me in this revealed truth-my body is "the temple of the Holy Spirit."
My Utmost for His Highest continues to challenge and encourage people all over the world, through more than 13 million copies printed, a mobile app, website, email, and social media sharing. A century after his death, Oswald Chambers still guides people on their journey to knowing God better.
ARE YOU BORN AGAIN? IF NO ACCEPT JESUS NOW
Accept Jesus Christ today and secure a life of eternal rest and Glory …
Say this 1 Minute Prayer

Lord Jesus, I believe you died for my sins, Forgive me of all my iniquities. I accept you as my Lord and Saviour from today and forevermore. Come and Be the Lord of my life and I am willing to obey your command and live according to your will as you help me, Thank you for accepting me into your fold. AMEN

JOHN 3: 3 Jesus answered and said unto him, Verily, verily, I say unto thee, Except a man be born again, he cannot see the kingdom of God