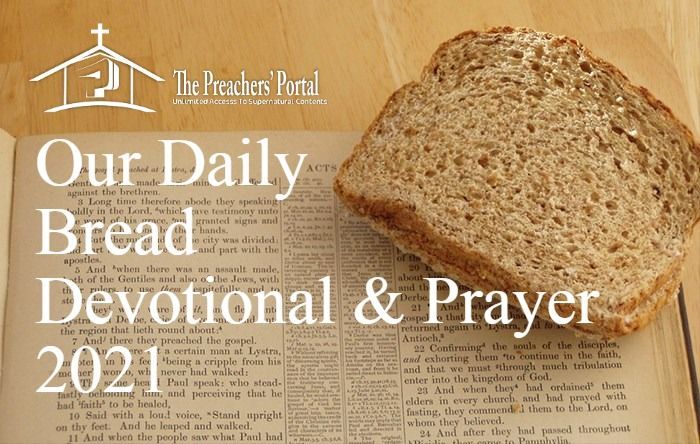 Our Daily Bread | 20th November 2021 Devotional
Our Daily Bread | 20th November 2021 Devotional
CLICK HERE FOR PREVIOUS READING 
Our Daily Bread For Today 20 November 2021 Devotional, Saturday Message Written By  Marvin Williams (Our Daily Bread Ministries)  || ODB Reading
TOPIC: He Fills the Empty
TODAY'S SCRIPTURE: John 10:1–10(NIV)
KEY VERSE: The thief comes only to steal and kill and destroy; I have come that they may have life, and have it to the full. – John 10:10
BIBLE IN A YEAR: Ezekiel 14–15; James 2
TODAY'S INSIGHT: One of the stylistic features of John's gospel is the frequent use of the words very truly (see, for example, John 10:1, 7). In the King James Version, the words are translated "verily, verily" and in the English Standard Version, "truly, truly." These words are a transliteration of the Hebrew word aw-mane, from which we get our English word amen.
ALSO, READ Our Daily Bread | 5th November 2021 Devotional
As demonstrated in Old and New Testament usage and our subsequent usage, the word speaks of things that are "firm," "true," "trustworthy," and "faithful." John is the only gospel where this "double amen" phrase (twenty-five times) comes from the lips of Jesus, the One with the title "the Amen" (Revelation 3:14). The words of the One who provides life "to the full" (John 10:10) are trustworthy indeed.
OUR DAILY BREAD TODAY
MESSAGE
Psychologist Madeline Levine noticed the fifteen-year-old girl's "cutter disguise"—a long-sleeve T-shirt pulled halfway over her hand commonly used by people who engage in self-harm. When the young girl pulled back her sleeve, Levine was startled to find that the girl had used a razor to carve "empty" on her forearm. She was saddened, but also grateful the teen was open to receiving the serious help she desperately needed.
The teen in some way represents many people who've carved "empty" on their hearts. John wrote that Jesus came to fill the empty and to offer life "to the full" (John 10:10). God placed the desire for a full life in every human being, and He longs for people to experience a loving relationship with Him.
ALSO, READ Our Daily Bread Today | 12 September 2021 | Devotional
Our Daily Bread | 20th November 2021 Devotional
But He also warned them that the "thief" would use people, things, and circumstances to attempt to ravage their lives (vv. 1, 10). The claims each made to give life would be counterfeit and an imitation. In contrast, Jesus offers what's true—"eternal life" and the promise that "no one will snatch [us] out of [His] hand" (v. 28).
Only Jesus can fill the empty spaces in our hearts with life. If you're feeling empty, call out to Him today. And if you're experiencing serious struggles, seek out godly counsel. Christ alone provides life that's abundant and full—life full of meaning found in Him.
ALSO, READ Our Daily Bread || 14 October 2021 || Thursday Devotional & Podcast
Our Daily Bread | 20th November 2021 Devotional
REFLECT: In your search for significance and excitement, what kinds of things have left you disappointed? How has Jesus made your life full?
PRAY: Jesus, as I consider the full and abundant life You've provided for me, please help me resist turning from You to things I think will satisfy me.
Our Daily Bread 20 November 2021 Devotional. Our Daily Bread Ministries  (ODB) is a Christian organization founded by Dr Martin De Haan in 1938. It is based in Grand Rapids, Michigan, with over 600 employees. It produces several devotional publications, including Our Daily Bread.
ALSO, READ Our Daily Bread 28 July 2021 Devotional
ARE YOU BORN AGAIN? IF NO
Accept Jesus Christ today and secure a life of eternal rest and Glory …
Say this 1 Minute Prayer 

Lord Jesus, I believe you died for my sins, Forgive me of all my iniquities. I accept you as my Lord and Saviour from today and forevermore. Come and Be the Lord of my life and I am willing to obey your command and live according to your will as you help me, Thank you for accepting me into your fold. AMEN

JOHN 3: 3 Jesus answered and said unto him, Verily, verily, I say unto thee, Except a man be born again, he cannot see the kingdom of God